Lexus LS 460 gets updated for 2010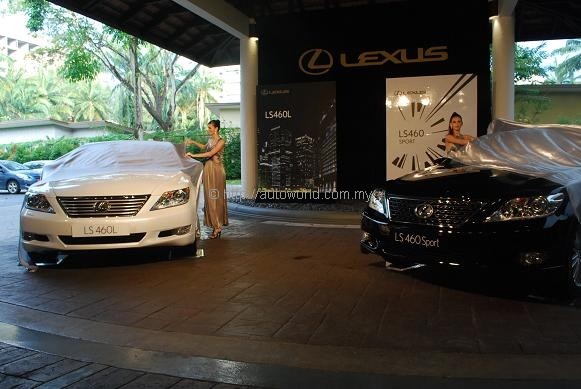 Lexus Malaysia wasted little time to get 2010 going with the introduction of facelift variants of the Lexus LS 460 luxury sedan yesterday. Dubbed as just a 'minor change' in official press materials, Lexus continues to sell the LS with a choice of standard or long wheelbase.
The long wheelbase LS 460L, together with the GS 300, marked the official entry of the Lexus brand into Malaysia in December 2006, following years of parallel imported used examples by private importers. As the brand experienced steady growth in our market, Lexus then saw it fit to follow up with the standard LS 460 in August 2008.
For the 2010 facelift, the standard LS 460 now becomes the LS 460 Sport, with more aggressive design touches, sportier suspension tuning, and paddle shifts to justify the new suffix. The 4-seater long wheelbase LS 460L now does away with the individual rear seats to become a 5-seater, a feature which Mr Harry Loo, newly-appointed Director of Lexus Malaysia, noted 'is the preference of the Malaysian market'.
Loo further added, "We also have transformed the LS 460 with a standard sport package for an enjoyable drive. It is designed for those who want to experience an exhilarating drive that is performance oriented, with racing-inspired design that offers luxury and yet maintains the comfort while driving under challenging road conditions." (ed: Wow!)
Aside from most mainly skin-deep changes, technical alternations made to the LS for this facelift has been minute, with the exception of self-leveling air suspension (Adaptive Variable Air Suspension in Lexus-speak) introduced for this facelift. In the LS 460 Sport, the air suspension is tuned with a higher spring constant (i.e. stiffer) for sportier handling characteristics. For the suspension arms, the all-round multi-link design is maintained, with extensive use of aluminium for the simultaneous benefit of unsprung weight and rigidity.
Power continues to come from the Toyota 1UR-FSE all-aluminium V8 engine. It displaces 4,608cc, but Lexus claims that it rivals 5.0-litre engines in power, but consume fuel at 3.5-litre levels. Quoted figures of this motor are unchanged, with max power at 380hp @ 6,400rpm, and max torque at 492Nm @ 4,100rpm. The 32 valves are managed by a dual VVT-i system, with the intake valves electrically controlled, and the exhaust valves hydraulically operated.
Sending power to the rear wheels is the AA80E automatic transmission, the world's first 8-speed slushbox. It features sequential mode manual overriding, with the LS 460 Sport getting steering-mounted paddle shifts – dubbed M-Mode Control.
Because of its 'Sport' suffix, the shorter of the two LS 460s will receive bigger wheels. Going into the arches of the LS 460 Sport are 19″ x 8J BBS alloys shod in 245/45 tyres. It also gets 6-pot vent disc aluminium anchors all-round from Brembo to boot. The larger LS 460L, while also getting four vented discs, will not be receiving Brembo-branded versions. Its rims are also smaller, 18″ x 7.5J aluminium alloys shod with 235/50 tyres.
Aiding in parking the massive LS is the Lexus Intelligent Parking Assist (IPA), which helps the driver reverse the car into a side-parking bay. The system helps maneuver the steering wheel while the driver only needs to operate the brake pedal. I can think of a few people who could use this in smaller cars, so this is definitely useful.
The new Lexus LS 460 Sport and LS 460L are available for viewing and ordering at Lexus Centers immediately.
Price (OTR with Insurance, Peninsula)
* LS 460 Sport: RM738,275.50
* LS 460L: RM851,135.50
Lexus in 2010
Also at the launch of the Lexus LS facelifts was Mr Kuah Kock Heng, President of Lexus Malaysia. In his speech, Kuah announced that in 2009, official sales of Lexus vehicles exceeded 300 units, with the RX 350 accounting for 226 cars.
From the date of its arrival in December 2006, Lexus Malaysia has put over 700 Lexus vehicles on our roads consisting of the RX, LS, GS, and IS. Seeking to continue strengthening its brand presence, Lexus Malaysia now enters the second phase of its business development strategy.
Commenting on plans for 2010, Kuah announced that a new Lexus 3S centre has just been opened in Penang, with another partner already identified for the opening of another in Johor.
Kuah said, "With the expansion plans set-out, we hope to achieve our target of around 400 units, hence grow our market share in the premium market segment."
After the launch concluded, Kuah embarked on a discussion of the National Automotive Policy, specifically noting that, "The Hybrid incentive announced in 2009 National Budget has made the Toyota Prius Hybrid commercially viable for introduction in Malaysia. I hope these incentives will be extended beyond December 2010."