A travelogue with the BMW 520d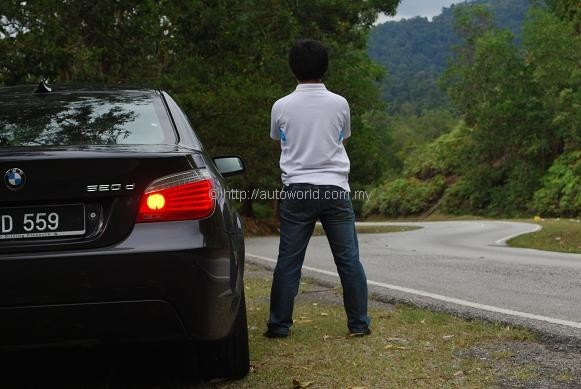 Recently, YS concluded his review of the Volvo XC60 D5 he drove in Australia with a touch of irony. Though our oil rigs dig out the world's best diesel, our pumps are selling one of the worst. This, is not acceptable.
YS' call for clean diesel fuel in our market is similarly made by Daniel Fernandez of Asian Auto, who recently asked, "Why is the biggest car market in ASEAN still being powered by 3rd world fuel?"
For those of us aware of the benefits of clean diesel technology, the authorities' refusal to enforce higher fuel standards is infuriating. Compounding the problem are misconceptions on the parts of the powers-that-be and the general public on the image of diesel engines.
This widespread ignorance continues to leave the future of diesel power, not just in the country, but the region as a whole, in a chicken and egg situation. Without sufficiently strong demand from the consumers, car manufacturers, oil companies and the government will not feel compelled to push for clean diesel. Neither would there be consumer demand without a strong line-up of products for them to choose from.
Support from the authorities is just as important. A case in point is Singapore. Their pumps sell Euro 4 diesel, but oil burners certainly aren't taking off there, because their road tax structure puts diesel vehicles at a massive disadvantage against equivalent petrol-powered variants.
Back home, the government recently gave our diesel fuel quality a much-needed raise from Euro 1 to Euro 2M. It's a step in the right direction, but it's hardly good enough. The current generation of common-rail direct injection diesel engines require a minimum of Euro 3 fuel, if not Euro 4, in order to be able to run efficiently. Euro 2, I'm afraid, is 20th century news. These days, the standard is actually Euro 5, with Euro 6 set to come in force by 2014.
The current diesel roadmap charted by the NAP puts the implementation of Euro 4M diesel standard by 2011. At this stage, we can only hope that when the time comes, we will indeed be getting what's promised out of our pumps. But, we still need to keep our fingers crossed. There needs to exist a consistent push for the standard to go through come deadline from the general public, the car manufacturers, and the oil companies, lest it all be quietly forgotten.
A few months back, BMW went gung-ho in their cause to champion for diesel power, with the simultaneous launch of four Advanced Diesel models – the 320d, 520d, X3 xDrive20d, and 730Ld. They have since followed up the launch with incredibly active efforts to raise public awareness on the benefits of diesel technology. Two lengthy media drives were quickly followed by another outstation drive with the cars organized specially for bloggers.
Additionally, in their attempt to further hammer the message home, all of their test cars have huge "EfficientDynamics" decals emblazoned along their flanks. Thus far, the message has worked to some extent, as even my mother expressed her familiarity with the stickers when I brought home one of the BMW 520d Sports Edition test cars.
If you have read my report from the recent media drive from Terengganu to PD to Penang, you should no doubt be familiar with all the key strengths and weakness of the 520d already. So, I will not bore you with another long and technical test drive report. Refer to the link "Stretching It…" below for that.
This time, my objective in taking the car was much simpler – to see how many extra kilometres I can clock on the odometer without having to refuel. As an additional constraint, I was to do it under normal driving conditions i.e. no hypermiling. I implemented some common sense, so that meant no unnecessary revving, and also to maintain a smooth and steady driving style. My aim was to hit the magical 1,000km/tank figure.
At this point, I shall introduce to you a figure which I called the 'magic number'. It's obtained by the addition of two other numbers – the reading of the tripmeter, and also trip computer's projected range available from fuel remaining in the 70 litre tank. The arithmetic is simple, I need to get the magic number to exceed 1,000km.
My first day with the car saw me clock just over 200km, as I dashed all across the Klang Valley, from Cyberjaya to Sepang to downtown KL to Klang before heading home to Petaling Jaya. When I turned off the keys at night, the magic number of the day was 910km. Sufficient kilometres on the highway ought to bring that up.
Day 2. The original plan for was to clock in the region of 400-500km, which would put me about three-quarter way to 1,000. I set off from home headed to Sepang. My objective was to reach Port Dickson via the Jalan Sepang-Lukut trunk road.
Along the twisty back road, the 520d did not present any unwanted surprises as I launched it from corner to corner. The same sure-footedness that I felt during the media drive last month continued to give comforting reassurance as I took each successive bend faster and faster.
Same goes to its outright responsiveness, which proved very useful during overtaking on the two-laned trunk roads. Whichever mode of the gearbox you use, 'D', 'DS', or manual, the engine twists out more than enough torque for you to dismiss entire line of cars in one overtaking move.
After a quick stop by the seaside upon reaching PD, it was a highway cruise to Malacca, first via the Seremban-PD expressway, then joining the PLUS Highway south bound. Exiting at Ayer Keroh, I drove all the way into Malacca town and back out to add more urban driving miles into the mix.
Traffic was very heavy going in and out of Malacca town, which meant certain penalties to my fuel consumption figures. My magic number at that time was brought down to the region of 890km by the time I re-entered the highway at Ayer Keroh, heading south.
Eager to bring my magic number up as much as possible, I maintained steady pressure on the throttle. But, make no mistake, it was no Sunday cruise by any stretch of the imagination. I only refrained from pinning the accelerator pedal to the floor. Let's just say that with 350Nm of torque at your command, you don't need to floor it to get the 520d going.
During the whole journey on the highway, my mind was busy computing mental arithmetics to produce the latest magic number. As I maintained a steady 140-150kph cruise on sixth, the magic number steadily rose from 910 to 920 to 930 and eventually 960 by the time I reached my U-turn point at Pulai, Johor. It never touched 1,000, though a 2km-long crawl encountered at Sedenak when I traveled north bound certainly did not help matters.
It was at Pagoh when I finally saw the light, and unfortunately for me, it was the fuel warning light – coming on to tell me that there's only 150km of travel left before a refuel is needed. I had only covered 800km, squeezing out an extra 50km of range from what effectively was just a few drops of diesel would have been a very challenging task, to put it mildly.
I drove on. Even if I wasn't going to make 1,000km, the least I want to do is to get as close as possible to that figure. At that point, in the interests of meeting my objective (and also to avoid being stranded), I reneged on my earlier promise, and dug out every trick I learned from the Hypermiling School of Driving, just tickling the throttle as I went along.
With the margin of error narrowing to a hair's breadth, I finally decided to refuel at the Pedas Linggi rest stop, with the tripmeter reading at 924.4km. The trip computer projects another 40km of range available, but I wasn't in the mood to take further chances – not when it's midnight along PLUS Highway.
The fuel filler gun dispensed 66.823 litres of diesel into the 520d's 70 litre tank. With a little more than 3 litres left in there, chances of my getting stranded somewhere along the way were actually very real, and the consequences would have been very messy, to say the least.
When I drove the 520d back to BMW Malaysia's HQ in Cyberjaya, I had clocked a total of 1,200km over a period four days with the car, having managed to slot a quick run to Batang Kali and back via Gohtong Jaya into my schedule. Over the four days, with a good mix of various driving conditions, the trip computer calculated an excellent 7.2 l/100km fuel consumption rate, which tallies with our manually calculated figure as well.
In the 520d, BMW has brought in the perfect ambassador to promote the future of diesel power in the region. We can't comment on the durability of the 520d's N47 engine running on our shores yet, but we can certainly testify to its unbeatable performance and economy.
The biggest problem with this car comes in the emissions part. You see, in order for the cars to run in our Euro 2M fuel (they were actually tested with Euro 1 diesel), BMW had to make a few modifications to the engine, most notably in ditching the diesel particulate filter, which would clog way too frequently due to our diesel's high sulphur content. What really alarmed me was the strong scent of diesel fumes (probably caused by all that sulphur) which can be picked up if you stand outside an idling car.
Diesel particulates have very well publicized adverse health effects. Removing the very contraption designed to neutralize them effectively removes one of the trump cards that BMW has in advancing the cause of diesel power. Even if the other promises in increased performance, economy and durability remain true, this still brings us back to our opening premise – the chicken and egg situation.
The poor quality of our diesel remains the primary stumbling block that keeps most manufacturers from bringing their latest diesel engines to our shores. Our public's lowly and misguided opinions on oil burners then make it doubly difficult for a strong business case to be presented. Viewed in the classic economic model of supply and demand, we are looking at something that is low on both.
For diesel power to take off here, someone needs to stand up and take the initiative to get the ball rolling. BMW has made its move. The ball now, is in the court of the authorities and the petrochemical companies. Euro 4 simply couldn't come soon enough.