MAN launches Cargo Line A series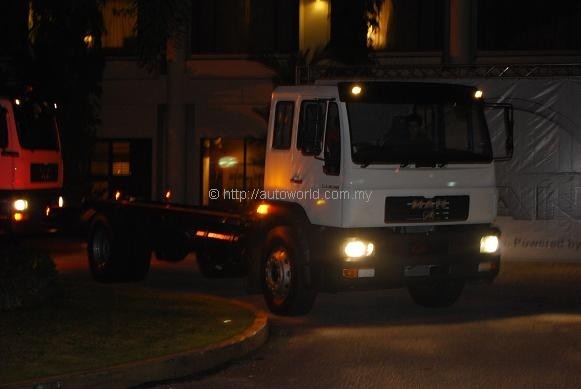 Before I start off, I need to make it clear that I'm no truck expert. I certainly won't try to pretend as one. So, my latest assignment, to cover a truck launch by MAN was certainly an interesting one.
Despite having only joined the motoring media line for a little over half a year, I am already familiar with most of the faces that I would see in any given car launch. Yesterday's was a rare one in which I saw very few familiar faces.
It was at The Saujana, Subang, where MAN (pronounced M.A.N.) launched the multi-award-winning Cargo Line A series of commercial trucks, which are 'aimed at business owners seeking mid-sized trucks for a variety of transport solutions'.
"The CLA range was developed to cater for the industries where the market potential is untapped by the European brands but heavily dominated by the Japanese makes, principally in the rigid chassis segment," said Eric Coste, Managing Director of MAN Truck & Bus (M) Sdn Bhd. "It is a product designed by our German engineers to maintain highest quality standard, but produced in Asia to ensure price competitive level."
When pressed further, Coste did not give us exact price figures. He nevertheless revealed to us that the CLAs are priced slightly higher than equivalent Japanese counterparts, but armed significantly higher tech features.
Three variants of the CLA trucks were unveiled – the 4×2 chassis (hauler), 6×4 tipper, and 6×4 mixer. According to MAN's press release, these trucks were designed specifically for markets outside the EU. An interesting point to note is that the engines are EU 3 compliant, although MAN claims that they have been running without problems in neighbouring countries using lower grades of fuel than us.
"We wanted to develop a product not too high in technology but robust enough, reliable enough and of course with functionality for the application," added Coste.
Also unveiled yesterday was the TGA 6×2 Prime Mover, as introduced by Coste, "Beside the CLA, we also take the opportunity today to unveil in the premium segment our state-of-the-art MAN TGA 6X2 Prime Mover which is tailor-made to meet the highest demand & safety standards of the petroleum industry, including ABS/ASR, stringent ADR, air suspension, on-board diagnostics and unparalleled comfort, which will help reduce driver fatigue and increase safety."
In addition to expanding their range, MAN is also looking to win more customers with improved after-sales support. According to Coste, "In line with our expansion plans, MAN Worldwide have recently embarked on a Customer Proximity program, and this month the program has started in Malaysia."
William Lee, President & CEO of MAN Truck & Bus, Asia Pacific, said "With the establishment of the Regional Operating Headquarter (ROH) in Bangkok we are firmly in Asia Pacific. We can respond and support MAN Truck & Bus Malaysia faster and more effectively with a full team of specialists in their respective fields."
Depending on customer requirements, MAN can supply the CLA trucks in weights ranging from 18 to 26 tons. MAN claims that the CLA offers 'excellent driving dynamics' – a claim which I'm certainly not qualified to judge.
For a car guy, the specs sheets make for interesting reading. The CLA range is powered by a 6.9-litre inline-6 turbodiesel, which churns out 280hp @ 2,400rpm. Of course, for heavy commercial vehicles, the figure of interest is not power, but rather torque. In the CLA's case, it produces 1,100Nm @ 1,300 – 1,700rpm. Sending power to the rear wheels is a man-sized ZF-sourced 9-speed manual transmission with crawler gears coupled to a single plate power assisted clutch.
The 6×2 Prime Mover, meanwhile, draws propulsion from a 10,518cc inline-6 turbodiesel rated at 430hp @ 1,900rpm and 2,100Nm @ 1,000 – 1,400rpm. Its transmission is also ZF-sourced – a 12-speed automated constant mesh gearbox.
At the press conference during launch, MAN's management indicated that together with these new trucks, MAN is ambitiously forecasting a total sales figure of 200 units for 2010.
That concludes my report. Certainly was an interesting assignment.