Modenas launches new CT110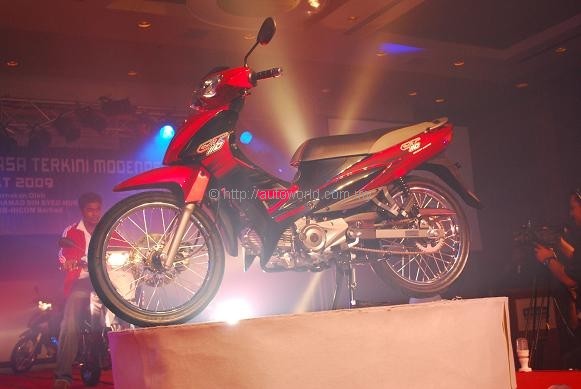 National motorcycle manufacturer, Modenas, has launched a new replacement model for its first motorcycle, the Kriss. The new model, the CT110, was officially unveiled to the media and representatives of Modenas' dealership network at Holiday Inn, Glenmarie yesterday.
Officiating the launch of this new moped (better known as 'kapchai' in Malaysia) was DRB-Hicom chairman Dato Syed Mohamad bin Syed Murtaza, accompanied by DRB-Hicom Group Managing Director Dato Sri Haji Mohd Khamil Jamil, and various other senior executives of the DRB-Hicom group.
Also present at the launch was Modenas' new CEO, En Bastamam Hamzah, who replaced En Abdul Harith bin Abdullah effective 1 October 2009. Introducing himself to all present, Bastamam said, "With continued support from all parties, I hope to continue the with company's drive to success."
Powering the CT110 is the 110cc single-cylinder SOHC 4-stroke engine carried over from the Kriss. It features 'decomp' technology to ease starting of the engine and a rotary gear system. It is equipped with a 'biggest in its class' fuel tank of 5.3 litres, enabling a claimed range of 250km per full tank. Stopping power is provided by a twin piston disc brake up front with a drum brake behind.
Highlighting the company's faith in the new model, Bastamam said, "We believe this model will meet the tastes of users between the ages of 18 and 25, who seek to project a sporty and daring image, with the further attraction of an affordable price tag."
Indeed, Modenas expects the CT110 to boost its market share in Malaysia from 12% to 15% with projected monthly average sales figures to be in the region of 5,000 units per month.
In his speech, Bastamam also paid tribute to various parties who have tirelessly supported Modenas throughout the years, namely their Japanes partners, Kawasaki Heavy Industries Ltd, and Sojitz Corporation, in addition to Modenas' vast network of dealers, stockists, vendors, and customers.
Towards the end of the ceremony, Bastamam also announced the pricing of the CT110, which starts at a shocking RM4,488.00. However, after an (obviously staged) interview with a dealer, who remarked to the audience that the price was too high, Bastamam revealed the actual price of RM3,888.00 for the kick-start model, and RM4,188 for electric-start.