Perodua launches B&P Hub in USJ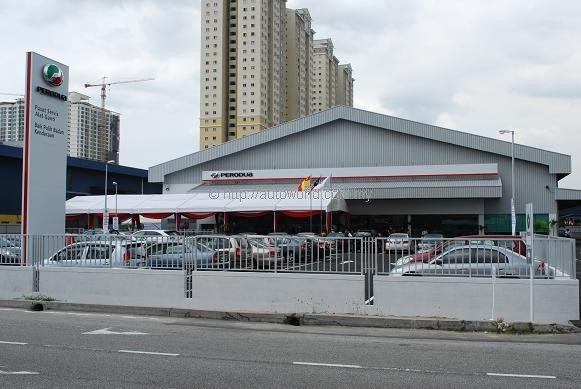 Every month, some 112,000 owners of Perodua cars send their Kancils, Kelisas, Myvis and what nots to their service outlets nationwide, which consists of 45 branches and 118 authorized dealers. This year alone, up to September, Perodua's various service centres recorded a total of 1.2 million intake of cars, and the forecast is that by the end of 2009, the number will touch 1.5 million. That's a lot of cars.
Out of the aforementioned 112,000 monthly service intakes, 1,000 of them require work on the body and paintwork due to various accidents & scratches. In recognition of the increasing demand for affordable and quality body & painting service work on their cars, Perodua will be launching dedicated Body & Paint (B&P) Hubs nationwide just to cater for this purpose.
The first of these hubs is located at Taman Perindustrian Subang. It was officially launched today in the presence of Perodua Sales Sdn Bhd Operations Director En Suhaimi Anuar and Perodua Managing Director Datuk Syed Abdull Hafiz Syed Abu Bakar. Costing a cool RM6 million, the B&P hub has already been open for operations since 1 October 2009.
This hub, encompassing a built-up area of 5,159m2 is fully equipped to perform work on collision repair, spray painting, car servicing and sale of spare parts. It has 35 bays for collision repair, a body aligner, four spray booths, and three ovens for the baking of a paint job.
Next July the service operations of the existing Subang Jaya branch at Jalan SS13/5 will then be merged into the B&P Hub. At full capacity, the new B&P Hub & Service Centre will have 32 service bays – 20 of them with hoists.
According to Suhaimi, "The capacity to service vehicles will also increase to 2,500 intakes monthly at the new centre from the installed capacity of 1,500 service intakes monthly at the Jalan SS13/5 outlet."
Indeed, more is to come from Perodua (no, I'm not talking about the MPV, though that's expected to arrive soon), as this Subang B&P Hub will simply be the first of five such hubs nationwide. By 2010, two new hubs will be up, one each in the northern and southern reaches of the Klang Valley. By 2012, the north and south of the Peninsula will also be getting one hub each.