Lexus Showcase, Pavilion (8-12 Jul 2009)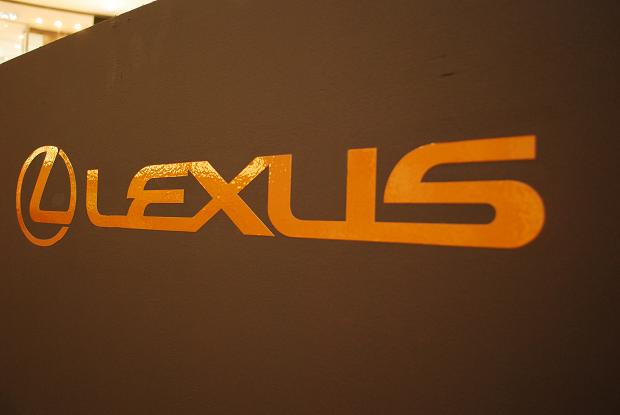 The Lexus brand was setup by Toyota back in the 1980s to spearhead their assault into the luxury car market. Back then, in 1983, Toyota's chairman, Eiji Toyoda wanted Toyota to grow beyond its mass market appeal and challenge the luxury marques as well. Despite best efforts in deploying Toyota's considerable engineering resources and expertise, it became obvious that a badge appearing in mass production models like the Corolla, Starlet and Corona could not possibly be used in a product to challenge the more prestigious offerings from Germany.
In the face of such considerations, a decision was made to setup an all-new luxury brand which led to the birth and creation of Lexus. The new brand debuted in the United States in 1989 with the Lexus LS400. Their original slogan, "The Relentless Pursuit of Perfection", holds true even today, 20 years after its birth. Marketed as the Toyota Celsior in Japan, journalists in the States compared the LS very favourably against the more expensive Mercedes 420 SEL (W126) and the BMW 735i (E32). To demonstrate the standard of refinement in the LS, a demonstration was held stacking a pyramid of champagne glasses on the bonnet of the LS and revving the motor flat out to engine speeds enough to drive the LS to 230kph with the formation of the glasses completely unaffected.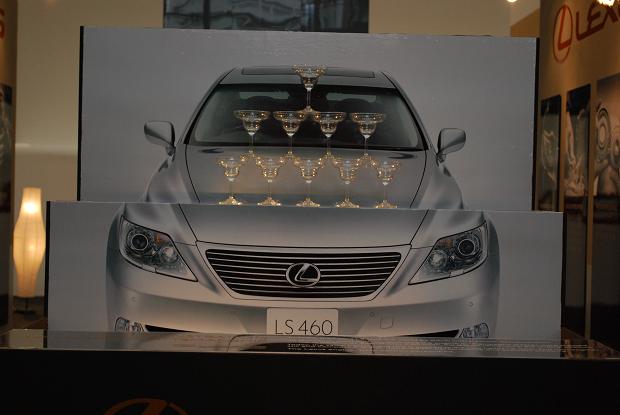 The ultimate demonstration of refinement.
Since then, the Lexus brand has went from strength-to-strength, as even Mercedes engineers concede, in private, of course, that they have no answer to the refinement levels Lex achieve in their cars. Absolutely none. In Malaysia, we have more than a passing familiarity with the brand for quite a number of years, as a steady stream of Lexus RX/Toyota Harrier grey-imports way before the brand was officially introduced here in 2005. In its short history, the Lexus brand has quickly and successfully associated itself with unparalleled refinement, and unrivaled customer service.
Lexus Malaysia (a division of UMW Toyota Motor) is eager to share the success story of the brand they are carrying here with Malaysians, and they are doing so in the Lexus Showcase taking place at KL's premier shopping centre, The Pavilion. According to Lexus, this showcase is part of their outreach programme that aims to introduce the Lexus brand to a wider audience. Taking place from 8 July to 12 July 2009, the Showcase is said to offer a historical perspective of Lexus as well as offer an insight into the brand's success.
Like any good marketing roadshows, the Lexus Showcase features not only a display of cars, but also contains games and other interactive activities to keep visitors occupied. As you walk down the stairway of The Pavilion's main concourse, you are greeted by the sight of two massive banners displaying the Lexus logo and their tagline "The Pursuit of Perfection". If you look slightly to your left, there is a small lounge area with nice comfy leather sofas for you to sit down, relax and may be read a magazine.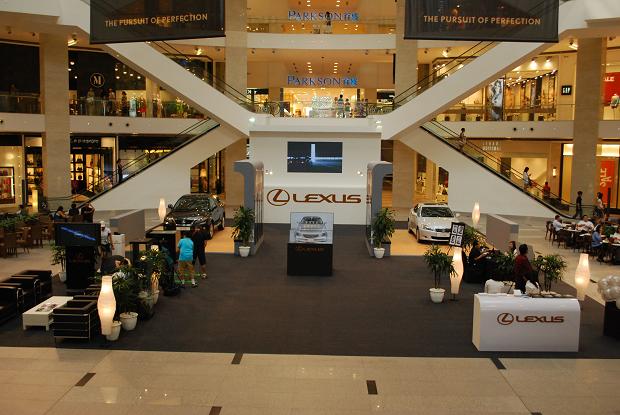 Lexus Showcase, Pavilion
At the right, is a counter where you do the customary form-filling and name-card dropping. Should the prospect of test-driving any Lexus model interest you, registering your interest here entitles you to receive a free Lexus cap when you make the effort to drop by their showroom at Mutiara Damansara to do so. I can tell you from personal experience, and this was before I started working as a writer with AW, that you can turn up in your shabbiest clothes and a guy in suit will still attend to you and give you the best customer service you will ever have.
Lexus has brought only the IS 250 and the RX 350 for you to get up close with at the showcase, but that really is not all there is to it. Golfing kakis can try their hands on a putting game, where anyone who successfully putts one out three balls in the miniature golf course walks away with a black Lexus cap. For a souvenir, you can have a caricature portrait of yourself sketched free of charge by a specially-appointed artist. While waiting for him to finish his work, you can then check out exhibits which highlight how the Lexus 'personifies perfection'.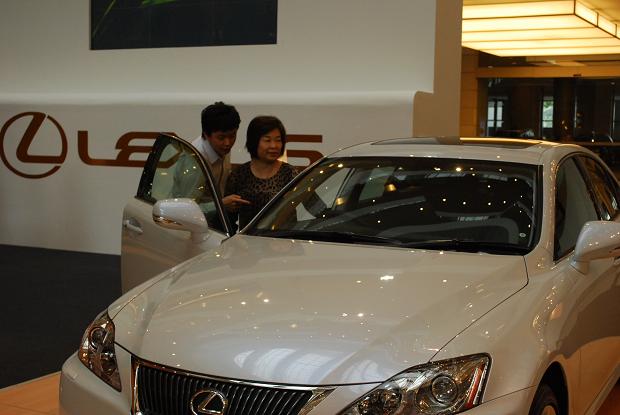 Filial son wants to buy mum an IS 250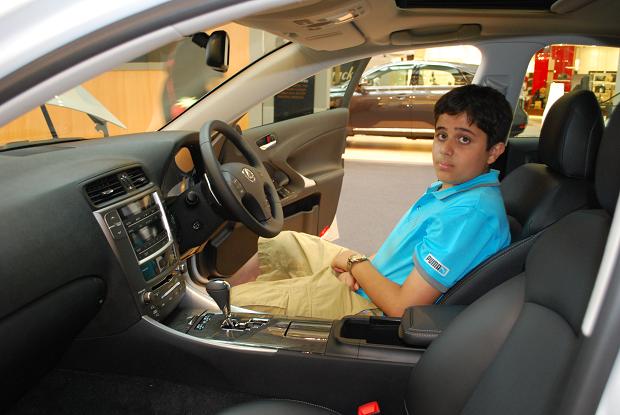 Young kid appreciating a Lexus.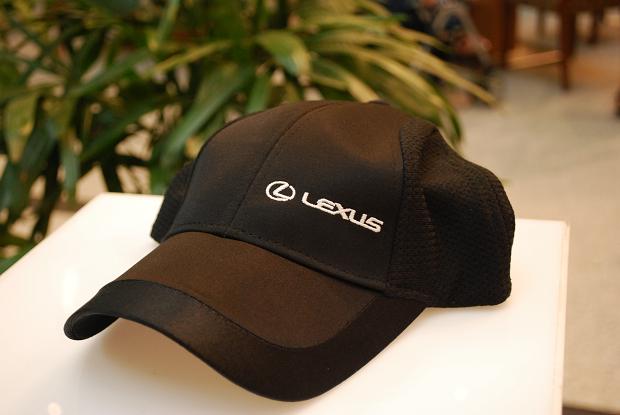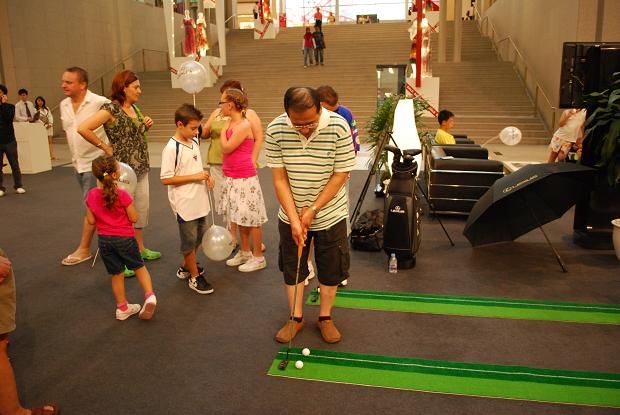 This cap is yours if you can putt a ball.

A touchscreen interface display, but don't hold your breath. It doesn't work very well. I guess even Lexus can make mistakes.
For more information about the showcase, please visit Lexus website www.lexus.com.my or call Lexus Freephone: 1800-88-LEXUS (1-800-88- 53987).
KON