Isuzu D-Max Continues Dominance in AAM 4×4 Rally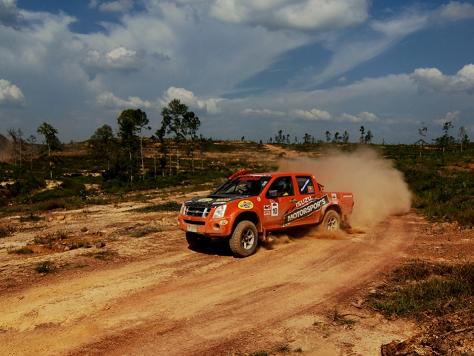 The Isuzu D-Max might have been named like a pasar malam children's toy, but there is no doubt of its sheer ruggedness and outright ability as it continues to dominate proceedings in this year's season of the AAM Malaysian 4×4 Rally Championship. Round 2 of the championship, held recently in Tampin, Negri Sembilan, saw all four competing D-Maxes finish in the top five – a remarkable achievement.
Winning the event was 29-year-old Lohitt V Urs and his co-driver Chandramouli M, after they were locked in a fierce battle with Chong Wee Siang & Au Yong Wei Li. Lohitt, who hails from Mysore (pronounced MAI-SOOR), India, earned his first ever international win after overcoming Chong in the latter stages when heavy rain forced the Johorean driver to ease off. This handed the initiative to Urs, who put his prowess driving in slippery conditions to full use.
"I am absolutely elated. It was a tough race but we kept pushing to the end. I am glad Isuzu gave me a really fantastic car. This is the best rally car I have driven. It is so powerful and tough. I am definitely coming back to drive the D-Max," said Lohitt.
The D-Maxes dominated the race from start to finish. On the first day, Chong was setting the pace, with then second-placed Lohitt a full minute behind. A further minute behind, William Mei & Jagdev Singh's D-Max was closely locked with Lim Seng Hai's Mitsubishi Triton. Gunaseelan Rajoo and Gian Singh, also in a D-Max, joined the battle for third place, as the day finished with Chong, who recently swapped his Mitsubishi Pajero for, you guessed it, a D-Max, leading by a minute and a half.
"I only got the car recently and we did some minor upgrades to the car. The car feels more stable and powerful than my previous car which made it easier to tackle the stages. I am surprised that we have been on the pace all day," said Chong.
Things, however, did not go according to plan on the second day. Firstly, heavy rain in the morning caused the driving surface of many of the open areas to go sodden and soft. Second, an inexplicable tulip error sent the drivers and crews running around like headless chickens after only ten kilometres of the third stage. In the third place battle, Lim Seng Hai in his Triton was back-tracking along a wrong route when he met William Mei's D-Max head-on. Despite Lim's best efforts to avoid the oncoming Mei, the resultant collision destroyed his Mitsubishi's rear suspension, but left Mei's D-Max with only a broken headlight and a cracked bumper.
"I am constantly amazed by the strength of the D-Max. That impact tore the suspension off Lim's car but we hardly have a scratch to show for it. Nothing that a bit of duct tape cannot cure," said Mei's co-driver Jagdev.
In the final stage, the earlier rain has resulted in horrendous driving conditions for the drivers. Chong, leading at this stage, opted for a safe and conservative approach, opening the door for Lohitt to close in and snatch victory, leaving the former in second place. Completing an all-Isuzu podium finish was Gunaseelan Rajoo and Gian Singh in third place, while the aforementioned William Mei brought in the last D-Max in fifth behind Sakchai Hantrakul and Jumpon Poungthip in a Mitsubishi Triton.
"The result is better than we expected. All our D-Maxes finished well in the tough event which proves the durability and reliability of our Isuzu products under extreme conditions. The number of competitors switching their vehicles for the D-Max is also acknowledgement that it is the right product when you want a winner," said CEO of Isuzu Malaysia Takashi Hata.
The win sees Lohitt assuming the lead of the championship table with 21 points while William Mei stays in touch with 18 points. Previous leader Lim Seng Hai, after this non-finish, drops to third in the standings with 15 points.
Final Results
Pos

No.

Driver

Co-Driver

Class

Model

1

Lohitt V. Urs
Chandramouli M

T2A, T1A

Isuzu D-Max

2

Chong Wee Siang
Au Yong Wei Li

T2B

Isuzu D-Max

3

Gunaseelan Rajoo
Gian Singh

T1A

Isuzu D-Max

4

Sakchai Hantrakul
Jumpon Poungthip

T2A, T1A

Mitsubishi Triton

5

William Mei
Jagdev Singh

T2A

Isuzu D-Max
KON