Andy Kow & William Lim steal show in GRA Round 2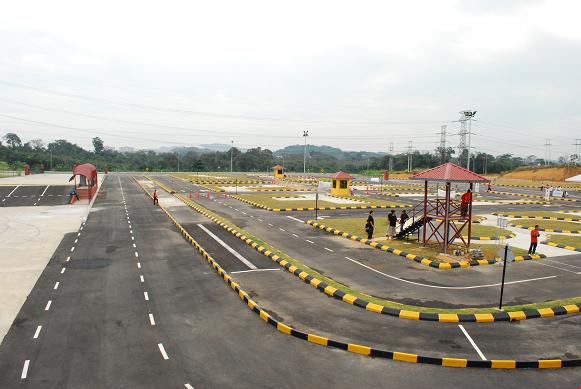 High-flyers Andy Kow and William Lim, driving a Subaru Impreza WRX and a Suzuki Swift 1.5 respectively, continued to dominate in the 2009 season of the Grass Racing Autosport Championship (GRA). Both took top honours at the recently concluded second round of the series organised at the Metro Driving Academy in Puchong. On a field usually reserved for learner drivers to practice their side-parkings and three-point turns, the participants embarked on an exercise of skills and dexterity as they negotiate tight 90-degree corners marked not by cones, but by fender-bending kerbs.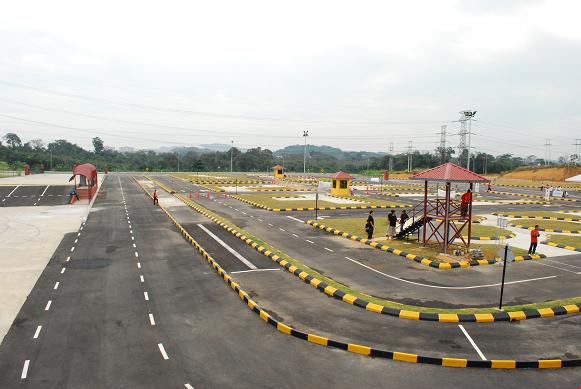 GRA Round 2 @ Metro Driving Academy
Participants of the GRA are divided into two categories, Grass and Pro-Grass. Cars in the Grass category can only be driven by novices and must closely resemble their stock-standard form with only minor modifications permitted. Things are more open in the Pro-Grass category, playground of the more established drivers and the more powerful machines.
Entrants to the two categories are then further divided into different classes. Grass category consists of classes A (below 1,300cc), B (1,301 – 1,600cc) and AA (auto, up to 2,500cc). There are four classes in the Pro-Grass category OA (below 1,500cc), OB (1,501 – 1,600cc), OC (1,601 – 2,200cc) and OD (above 2,200cc and sports cars). For Round 2, 18 drivers signed up under Grass, with a staggering 50 registered in Pro-Grass.
The organisers plotted a short, but technically challenging course for the participants. After safely negotiating a tricky first half having to sweep tight corners and avoiding the kerbs, comes a long follow-through on concrete pavement. At a glance, the follow through seemed like an easy flat-out affair, but the dust that settled on the surface drastically reduced grip, forcing drivers to ease off a little. The final part of the course puts chronic understeers at a huge disadvantage, with a sharp 180 degree turn followed by a doughnut turn, which then led to a 'hammerhead' turn before the finish line. (See the Top Gear inspiration?)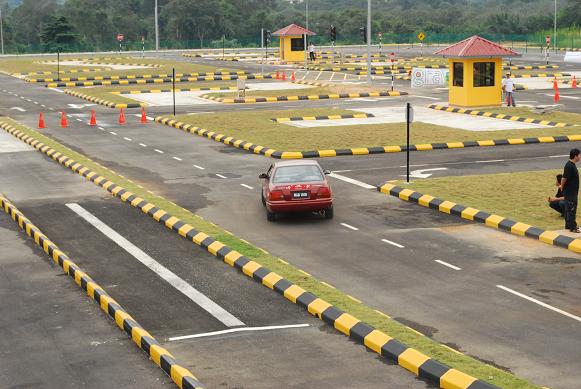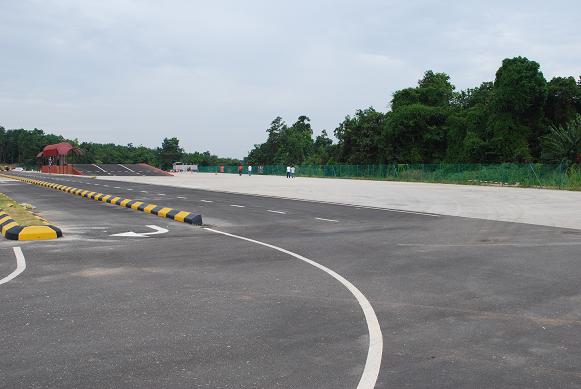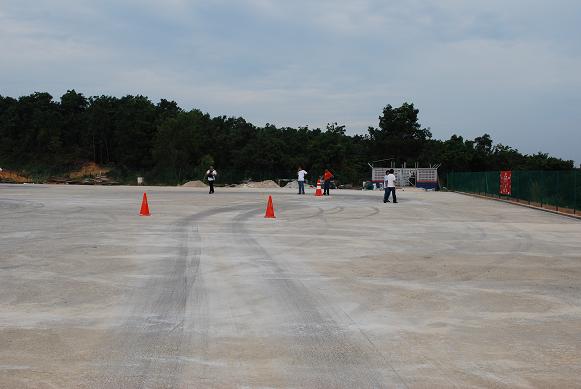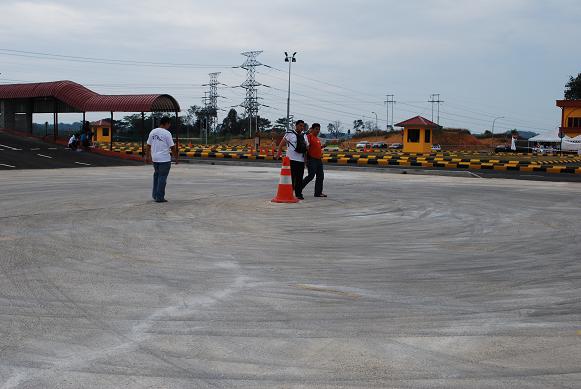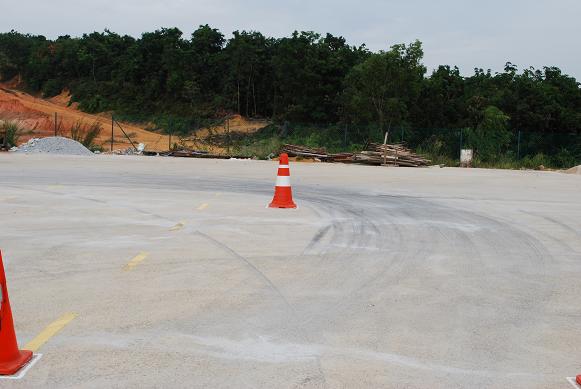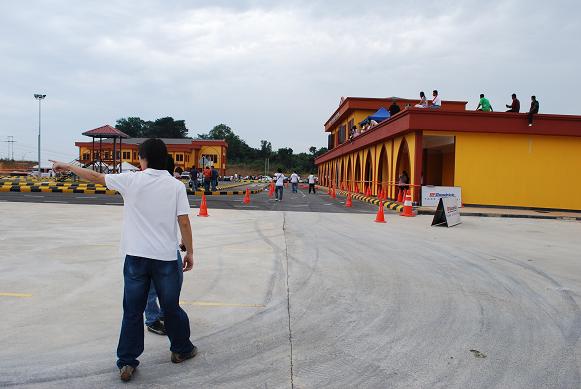 After negotiating kerbs, comes a follow-through, 180-degree turn, doughnut and hammerhead before the finish line.
The 18 Grass category drivers kicked things off in the morning, with each driver getting one practice run and six timed runs. Out of the six timed runs, only the best one time is selected and the drivers are ranked according to that selected time. Amazingly, each of the top five finishers of the Grass category are class AA automatic transmission drivers, with William Lim in his Suzuki Swift 1.5 leading the pack, followed by Fred Foong in a Proton Wira 1.5 and Adam Marcos in a Honda Civic EG8. William's time of 53.811 seconds is more than three seconds ahead of Fred's 57.128.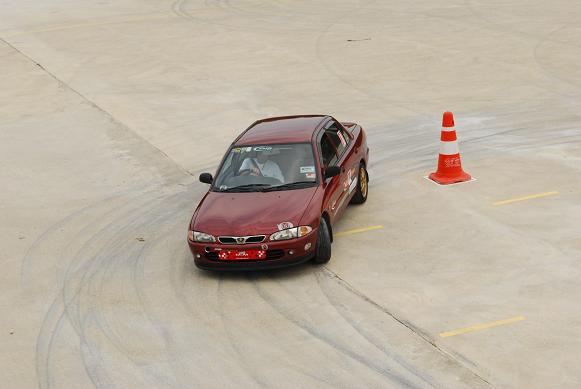 Fred Foong in hot pursuit with his Wira.
Top finisher of Grass Class A was Danial Khairi in his Proton Satria 1.3. However, the star of this category was definitely first-timer Wong Siew Weng, who drove his steel-rim shod Proton Iswara 1.3 Aeroback to finish just 0.3 seconds behind Danial in second place. Sean Siew took the Grass Class B title in his Toyota Corolla AE111, with Autoworld Forum veteran A4dave close behind in his stock-standard Proton Waja 1.6.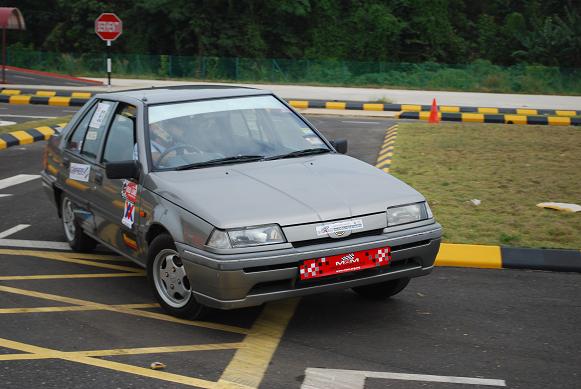 Wong drove his stock-standard Iswara brilliantly.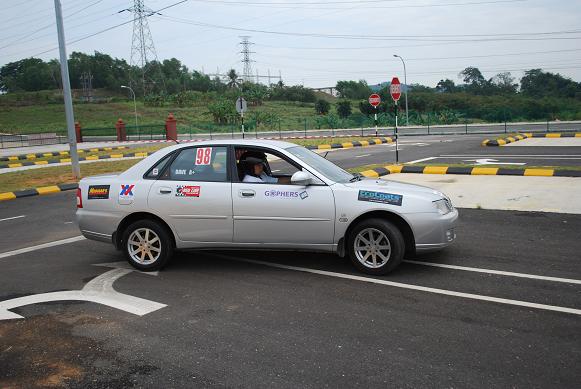 Dave's stock-standard Waja had no answer.
In the no-holds barred Pro-Grass category, the participants also managed to make six timed runs, but are ranked based on the cumulative of their three best times. Andy Kow continued his domination of the category with his Impreza WRX blazing the track at nearly 51 seconds flat in his fastest lap. Two 1.8-litre Protons follow in his wake, Jason Foo in a Satria followed by Julian Pang in a Wira. William Lim's flying Suzuki Swift also competed in the Pro-Grass category and duly finished fourth overall and winning the Class OA title.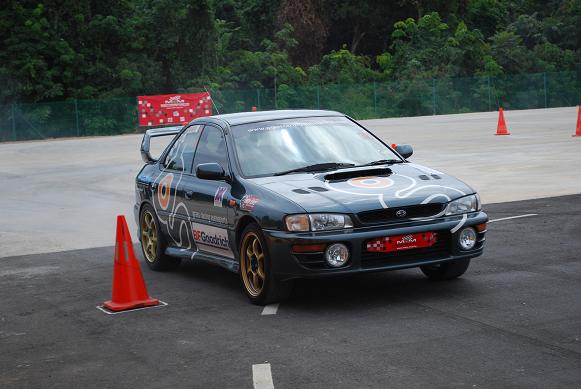 Andy "Damn Kow Fast" surges to the finish line.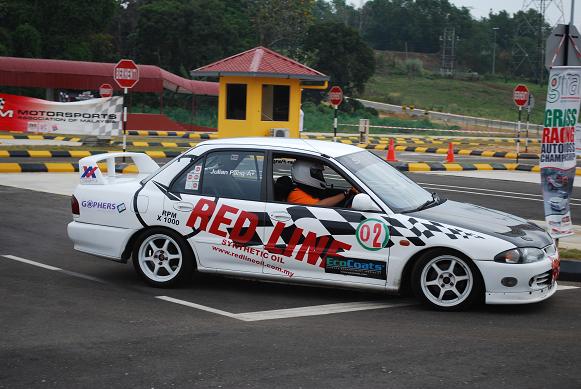 Julian's tight handbrake turns pulled him to third place. Secret: Rear drum brakes!
Pro-Grass Class OB consisted almost entirely of Toyota Corollas from the yesteryears. They posted competitive times, but still finished behind Sia Chee Bin's Proton Satria Neo 1.6 and Tuah Damak's Honda Civic EX8 1.6. Class OC was powered almost entirely by the 1.8-litre 4G93 engine, with twelve out of sixteen cars in this class running on one variant or another of the venerable Mitsubishi powerplant. The aforementioned Jason Foo and Julian Pang secured the top two spots in this class followed by Ang Meng Yee in his Honda Civic SH3 1.8.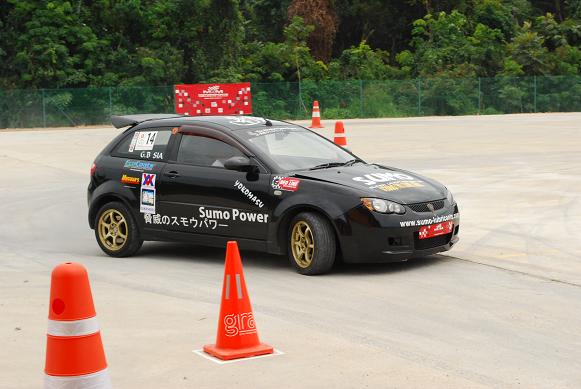 Sia Chee Bin's Neo dominated Class OB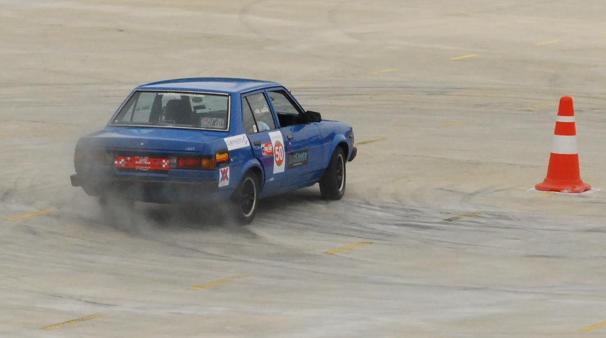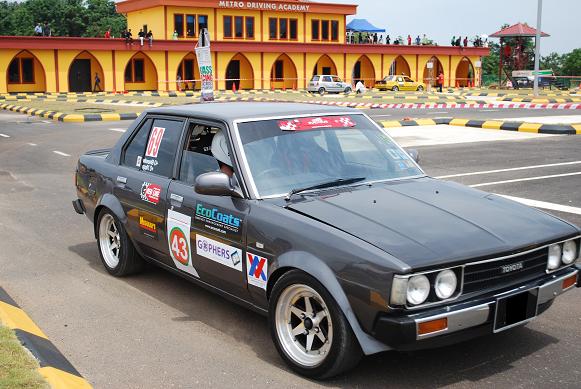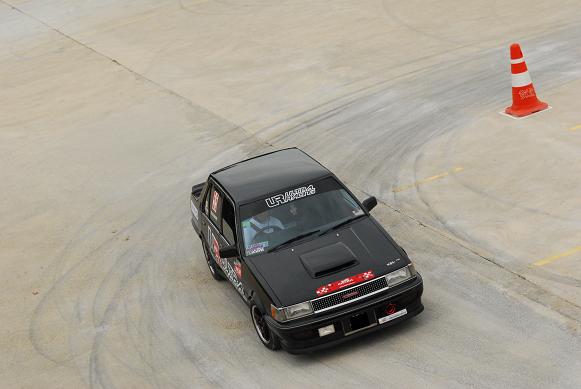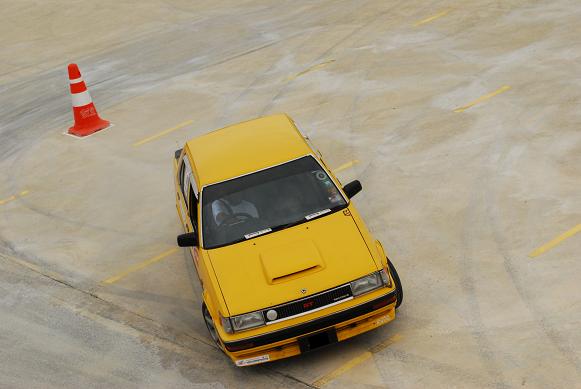 These Corollas are proof of Toyota's durability. (L-R: Azlan Munajat, Woo Wei Kuang, Zulraimi Yunus & Azuan Emam)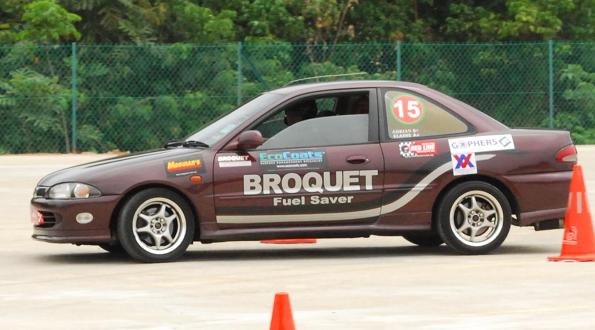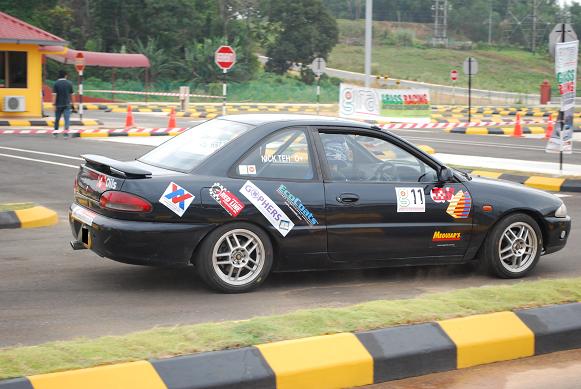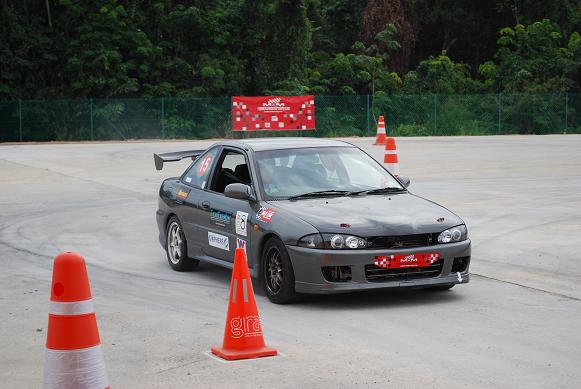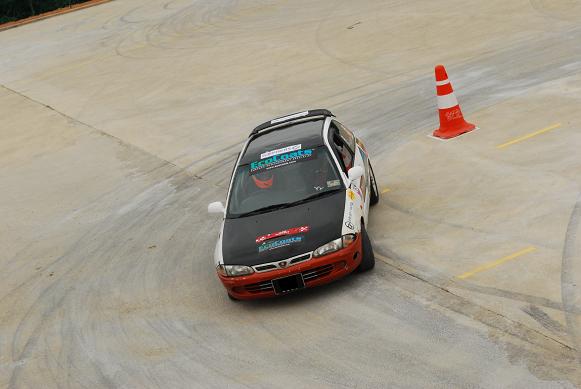 ahead of the other 4G93-powered Protons. (L-R: Adrian Tan, Nicholas Teh, Jordan Saw, Leona Chin)
Class OD is the arena of giants. Here, the most powerful cars and the most seasoned drivers of GRA compete against each other. Almost the entire lineup in this class consists of turbocharged cars save for Johnson Tan's Toyota MRS and Gary Lee's BMW 328i. There were three Imprezas, one Lancer Evo, one Nissan 200SX, and a pair of Satrias with transplanted 2.0-litre turbo engines. Winning the overall Pro-Grass category by a margin, Andy Kow thumped his competitors here, with his cumulative time more than five seconds ahead of second-placed Damian Goh.
As it stands, having won in both Round 1 and Round 2, Andy leads the overall GRA Championship Pro-Grass category for the season with 20 points. Jason Foo and Julian Pang are following him closely, both tied at 16 points. William Lim, with his nifty Swift is holding at a very commendable fourth position with 12 points. William, who also competes in the Grass category, leads in the latter with 20 points from two wins, being followed by Adams Marcos on 14 points, and Fred Foong on 12.
The next round of the GRA, Round 3, is scheduled to take place on 16 Aug 2009, with its venue undisclosed as of now. Will Andy and William continue their dominance? Let's see if the rest of the field can up their game!
KON
Full results and further details available at GRA's website here.