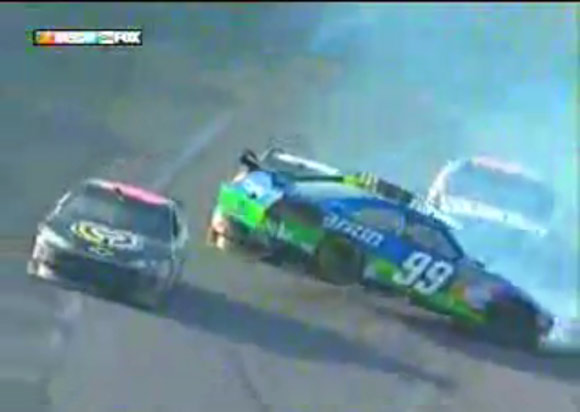 I know that not many people watch American oval racing but I simply could not pass up the chance to have a play with Talladega Nights, that hilarious NASCAR movie..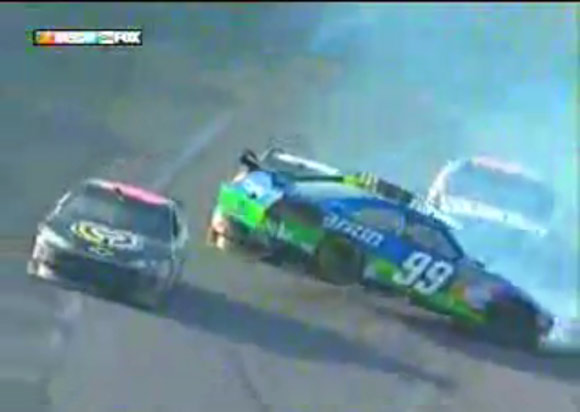 Anyway it was not so funny in Talladega when seven fans were injured when compenents went past the safety fencing and rained on the stands.
A lot of people do not realise just how challenging Nascar racing is because they think anyone can turn left. That's true but these guys are turning left at 280km/h inches from each other so they can slipstream and everyone can go faster and they do it on a steep banking where grip relies on the driver maintaining a steady line and downforce on the car.
A small slip on the banking can mean disaster and this is what happened in Talladega over the weekend.
Carl Edwards' car was clipped by Brad Keselowski on the last lap of the race, sending the number 99 Ford into the fence. Kaselowski was in Edwards' draft on the last lap, and when he made his move to take the checkered flag, Edwards tried to block too late, resulting in a massive wreck. Keselowski won the race in a finish for the ages, but the resulting crash shows just how dangerous 200 mph racecars can be.
The wreck could have been far worse if it weren't for an amazing new fence that kept the Edwards car from killing scores of onlookers. Instead, five of the injuries were not considered to be serious, while the other two weren't considered life threatening, with one woman reportedly suffering a broken jaw.
Just as impressive as the minimal injuries and Edwards' ability to extricate himself from the car unscathed, was this finish. In true Ricky Bobby style, Edwards removed himself from his wrecked race car and ran to the finish. Well played. Hat tip to Leonard!