BMW Malaysia Equips 5 Series with New Generation iDrive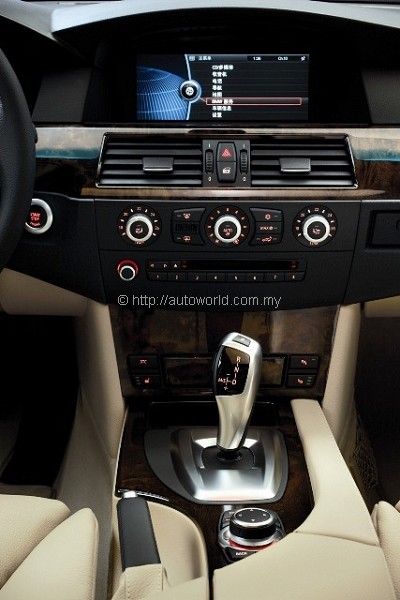 Kuala Lumpur, 16 April 2009 ¡V BMW Malaysia today announced that its BMW 5 Series is now equipped with the new generation iDrive, providing drivers with more user-friendly activation and control of entertainment, communication and navigation functions.
BMW first presented the iDrive control concept back in 2001, as the world¡¦s first car maker to offer a system allowing the user to mastermind essential vehicle, entertainment, navigation and telecommunication functions via a central Controller on the centre console and a multi-functional Control Display in the instrument panel.
In the second generation BMW iDrive, BMW now offers a Control Display measuring either 10.2 or 8.8 inches and exceeding all existing graphic surfaces seen in an automobile so far. Display resolution of 1,280 x 480 pixels allows for clear presentation of true-to-detail graphics with brilliance and focus comparable to a High Definition TV (HDTV).
¡§The BMW 5 series is one of the bestsellers for the BMW Group here in Malaysia. Despite the initial economic ripples of last year, our 2008 sales have grown to 7 per cent from the previous year (2008: 1,347; 2007: 1,261). We are confident that the new iDrive will continue to give the BMW 5 Series the greater competitive edge,¡¨ Geoffrey Briscoe, BMW Malaysia Managing Director said.
The new generation iDrive also comes with eight favourite buttons on the centre console, enabling the user to save radio stations, telephone numbers and navigation destinations, including all menu items subsequently available for direct retrieval via the iDrive.
In cars equipped with the Navigation System Professional (523i SE, 525i Sports, 530i, Individual 540i and M5) an 80GB hard disc drive is used for improved operation speed and navigation data storage. Of this, 8GB of space is dedicated to allow users to store their personal music files (approximately 2,000 songs).
Another innovation to the control concept includes four direct selection keys on the Controller for the menu options used most frequently. The driver is able to spontaneously change between the CD, radio, telephone and navigation functions quickly and efficiently, making the entire system easy to learn and memorise.
¡§The BMW iDrive has revolutionised the control and operation of the car significantly and with a lasting impact. And now this pioneering work is paying off once again, with BMW iDrive remaining the benchmark for all systems of this kind,¡¨ Briscoe said.
In addition, the new range of BMW 525i Sports, like the 530i, now come with a glass sliding roof with electric fingertip control for sliding back or raising the roof. It also has a trap release and comfort opening/closing function.
The retail prices (inclusive of BMW Service + Repair for three years/60,000 km package) the BMW 5 Series are:
"X BMW 523i ¡V RM 343, 800
"X BMW 523i SE ¡V RM 383, 800
"X BMW 525i Sports ¡V RM 415, 800
"X BMW 530i ¡V RM 459, 800
"X BMW Individual 540i ¡V RM 668, 800
"X BMW M5 ¡V RM 898,000