"Belok kiri jika tiada kenderaan"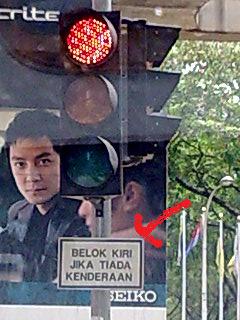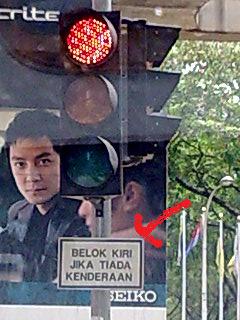 I wonder how many people out there who have been driving on the road notice this little sign just below the traffic light…. this picture was taken at the ever busy intersection between Jalan Sultan Ismail and Jalan Ampang. What does this sign means? Logically (at least to me!), it tells us to ignore the traffic lights, that is, even if its red, you can still turn left if there are no on coming vehicles. During peak hours, skittles would have been placed at the corner to cordon off and indicates that you can turn left anytime; even if you don't, the traffic police will instruct you to turn – listen, don't hog the left lane if you want to turn right!
However, I realized that during normal hours, nobody seems to see or notice the sign at all. Or was it because no one knows what it means? Most people will just wait for the lights to turn green. Some honking may be heard, but still there will be no action until the lights turn green. Pure ignorance? Perhaps people really don't understand what it means? Anyone who knows are welcome to comments.