Showroom Experience: A Tale of Two Showrooms
 CNY @ BMW: Sapura Auto & Auto Bavaria Bkt Bintang
"It was the best of times, it was the worst of times…"
How apt is it that the opening line of a novel published nearly 150 years ago summarize the shape of the world today. Up until half a year ago, everything was skyrocketing to all time highs – stocks, crude oil prices, palm oil prices. All forecasts were unbelievably positive, and everyone was pumping money everywhere. How things have since changed so rapidly, with the US subprime crisis creating a domino effect and sent everything into chaos.
Crude oil prices are still falling, jobs are being cut everywhere, Toyota is bracing for its first ever year of losses, and bookies are probably taking odds to see which of the three American carmakers bankrupt first. Only on the Saturday papers, I read that Ssangyong is filing for bankruptcy protection, citing a 'serious liquidity crisis,' and when the business section carries a report about the Church of England publishing a prayer of comfort, things are obviously bad.
But are they? My mother tells me that in her recent trips to Jusco and Carrefour, people are still out spending in full force. Cars, and I mean expensive cars, are still jamming the roads, many of them wearing new number plates. On one hand, people are telling me that they were happy just to keep their jobs, but on the other hand, they seem to be spending as if as the economy is still in rude health.
As I stepped into the premises of Sapura Auto along Jalan Tun Razak on Saturday, I was quite tempted to think that the status quo is still a bed of roses at the moment. There were more than a few people turning up at the two year old BMW showroom for the CNY @ BMW open house, an event that was taking place in every BMW showroom nationwide over the weekend, as highlighted in our forum's calendar.
Like any other good showroom event, you walk past the glass doors, a beautiful lady will greet you "Good morning/afternoon" and point you to the registration counter.  This, being a joyous Chinese New Year themed event, had each visitor being given a little folding fan (like those you see in ancient China), a Mandarin orange, and an angpow with a random valued voucher for you to redeem BMW merchandises. I got RM50, which doesn't buy much.
You then walk about, check the cars out, and wait for a salesperson comes to entertain you. I was fortunate to be served by a rather courteous and friendly saleslady. She informed me that currently, BMW Credit is offering a few financial packages to make their cars that little bit more affordable, though their definition of 'affordable' might very greatly with yours. There is a 1.38% interest rate financing packaged offered for all models except for the facelifted 3-series, which is offered at 1.88%. Customers can opt to take the low interest rate package, step-up financing or a high overtrade option.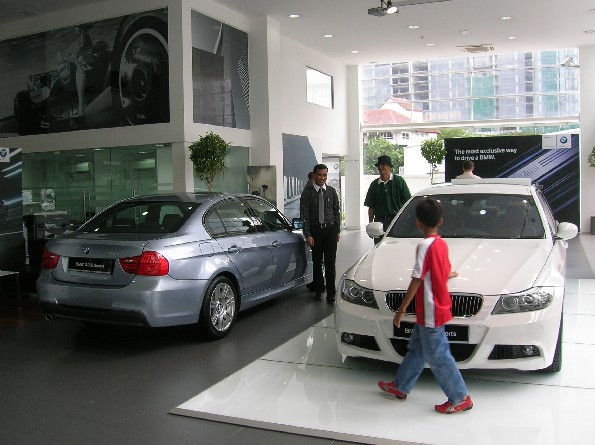 Little kid expects a new ride from daddy.

Turnout shows no sign of economy crisis. RM50 voucher does not get near value of merchandise on display.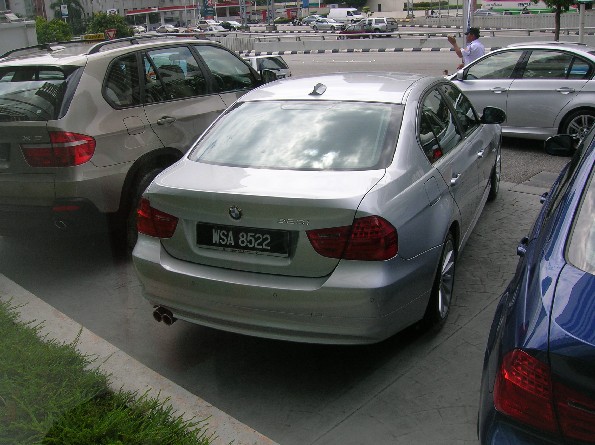 Tested: BMW 323i (report to follow)
I took the new E90 323i for a brief sprint from the showroom up the Ampang Elevated expressway and back.  My saleslady was a new recruit, and had some minor gaps in her product knowledge. Nevertheless, I remain sufficiently happy with her service and honesty. I much preferred that she admitted some of her shortcomings (I hope she doubles her effort in learning up though!), which is far more refreshing than many salespeople who try to bluff their way out of a technical question, as if as consumers know nothing.
After the test drive, I headed off to Auto Bavaria showroom at Bukit Bintang, situated at just a stone's throw away. Walking into the showroom, I immediately felt the atmosphere to be less friendly as in Sapura Auto. For some reason, this branch seems to have adopted the darkest lighting scheme of any BMW showroom I've ever visited. With the exception of the lady manning the registration counter, the staff present also did not seem too eager to attend to me. I walked around the showroom for over 10 minutes with not a soul coming to greet me. Perhaps they saw me driving in with a Waja.
They do have a far more interesting assortment of cars. While Sapura had run-of-the-mill 3-series and 5-series cars on display, AB BB had the whole M3 collection (sedan, coupe and convertible) and the new F02 740Li in their showroom. The official launch of the F01/2 7-series in Malaysia is scheduled for 14 Jan, so I was quite surprised to see it parked at the corner of the showroom.
Note: F01 – normal wheelbase, F02 – long wheelbase.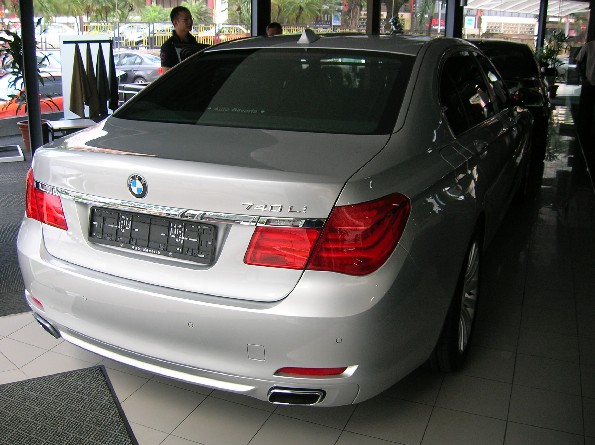 F02 BMW 740Li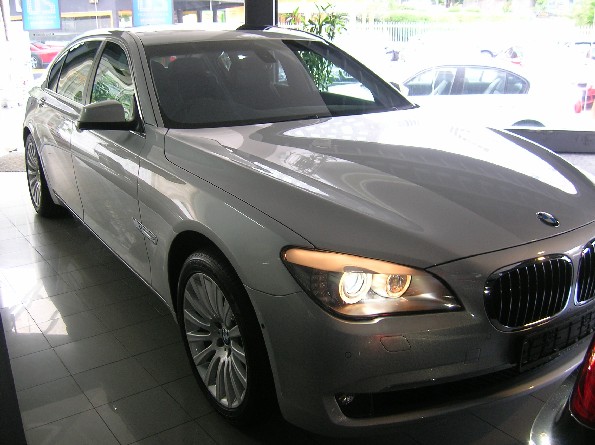 Massive kidney grilles upfront.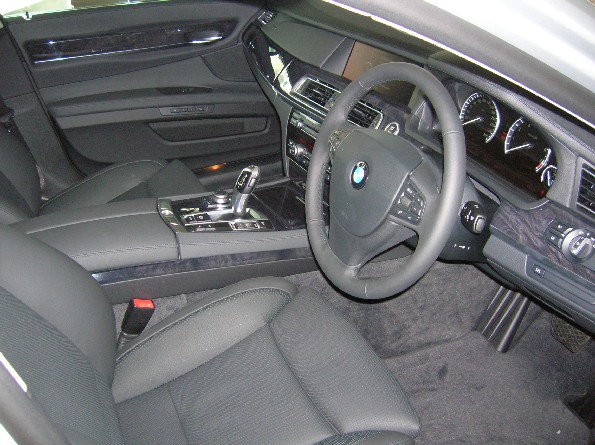 Cabin receives a dose of conventionalism. Gearstick returns, but in the form of 5-series joystick design.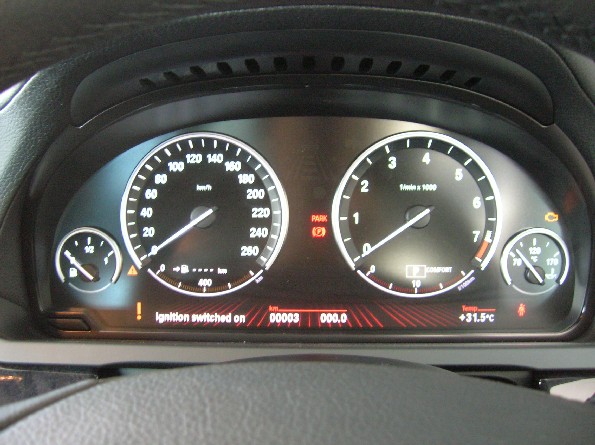 Instrument panel is a big LCD screen.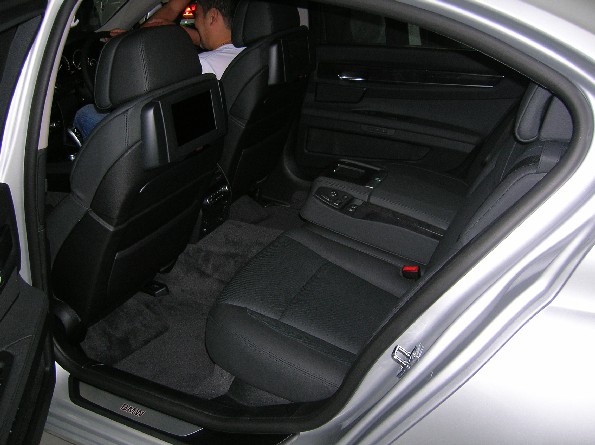 Rear passengers fly first class.
As far as first impressions go, the F01/2 instantly appears to be a massive improvement over the outgoing E65/66. This is a car far more handsome looking than its predecessor, though I find the new kidney grilles to be a little exaggerating. I once test drove the E66 750iL, and felt like I was piloting an aircraft, but the new F01 takes a couple of welcomed step backwards, with the gear lever placed where it should be and the parking brake operated by means of a switch a-la Audi A8 style.
The 7-series have almost always finished on the losing end in its eternal battles against its arch-nemesis from Stuttgart, the S-class. It is one market segment that BMW have never quite managed to get the measure of Mercedes, but I daresay that this might finally be the model to change that status quo, but that's just an impression for now, I am not putting that as a verdict yet.
I do, however, have a verdict for the two BMW showrooms that I've visited. If you're shopping for a BMW in the city centre of KL, go to Sapura Auto for the service. Auto Bavaria Bukit Bintang has the more interesting variants of the range. They do give you good service, though I suspect only if you turn up in a Ferrari.
"It is a far, far better thing that I do, than I have ever done; it is a far, far better rest that I go to, than I have ever known."