History of the Honda City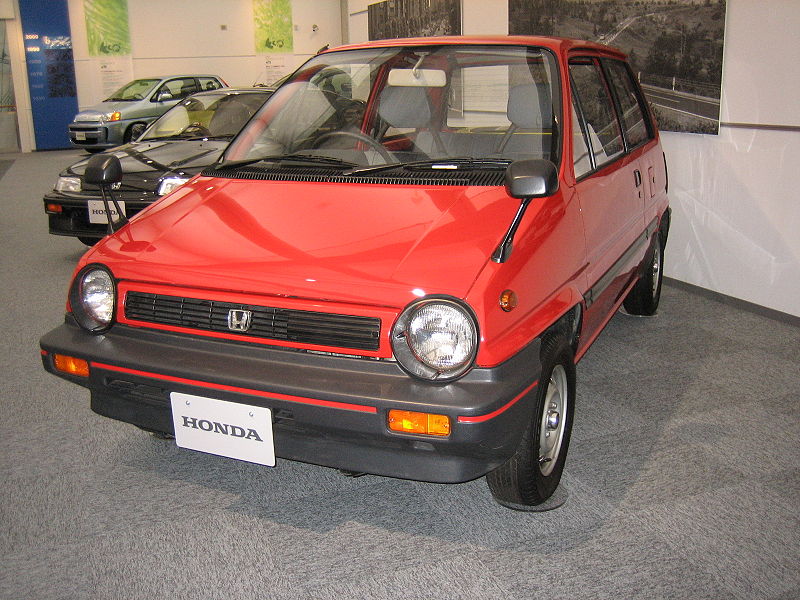 Back in September, the fifth generation Honda City was officially unveiled in Thailand, then later India. Now, the bosses in Honda Malaysia are gearing up for its launch over here in mid-December. They're certainly stepping up the promotional blitz with adverts in the print media and prominently placed billboards.
It is one of the most anticipated car launches of 2008 in our market. Having allowed the outgoing City to soldier on against the new Toyota Vios for over a year, it's time for Honda to respond. The new City will be wearing a nameplate that was introduced as early as 1981, but only made it to our shores in 1996.
1. First Generation (1982 – 1986)
The first generation City was launched as a three-door hatchback back in 1981. It was also available as a convertible and in Australia, was sold as a two-seater van. In some export markets, this Honda City was sold as the Honda Jazz. I distinctly remember a HK film that featured this car badged as the Jazz.
Engine tuning specialist company Mugen, made its name by developing a turbocharged variant of this car, dubbed the Honda City Turbo. The 1,237cc turbocharged engine, with all of Mugen's best work, was good for 108hp @ 5,000rpm and 160Nm @ 3,000rpm, which is impressive even by today's standards. It also featured an uprated suspension setup over the standard City, being independently sprung all-round.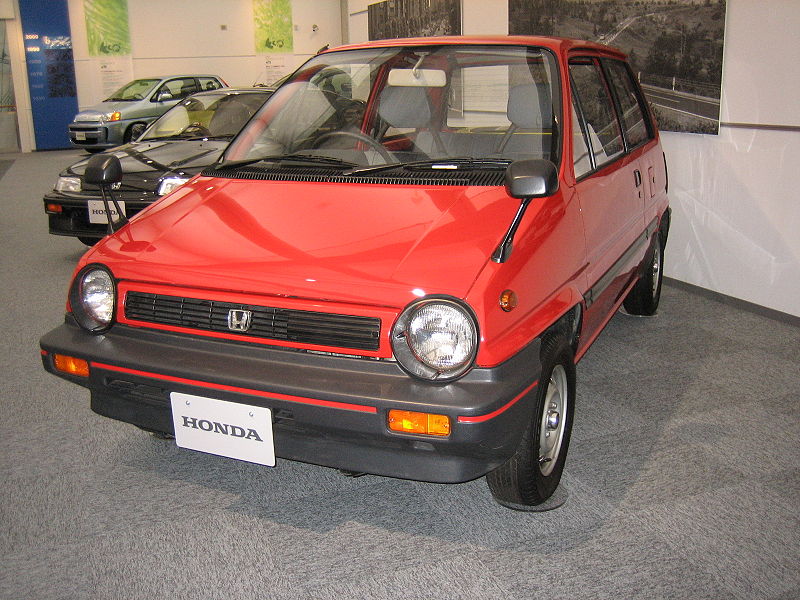 First gen Honda City
(image from Wikipedia)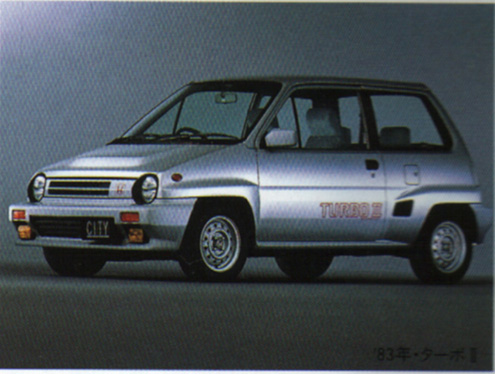 Honda City Turbo
(image from http://asia.vtec.net/scrap/archive1.html)
2. Second Generation (1986-1994)
Quote from Wikipedia:
Honda replaced the original City in 1986 (designated GA1), with an update in 1989 (GA2). This model was produced until 1994. The Fit name also first appeared as a trim variant of the City. There was no convertible model. In most European and Australasian markets, the City's market position was filled by the Honda Logo in 1999.
Writer's note: Surprise, surprise, in the said markets, the Honda Logo was then succeeded by none other than the Honda Jazz.
3. Third Generation (1996-2002)
This was the first Honda City sold officially in Malaysia, although it was the third model to bear the name. This car, based on the Civic EF platform, was available in 1.3 and 1.5-litre versions and was designed solely for South-East Asian markets. I hitch rides from my friend to work almost daily in her '97 City 1.5 and despite being parked under the hot sun daily, the car seems to be holding together quite well and returns excellent consumption figures.
In 2000, a facelifted version was introduced, with the higher end 1.5-litre versions wearing Type-Z badges and packing VTEC power under their hoods.
4. Fourth Generation (2002 – 2008)
Launched in 2002, the fourth generation City was a major revolution over the previous model. It garnered as much praise for it's excellent practically and economy as it did with criticisms to its awkward looks. Its curious proportions was due in no small part to it being a sedan derived from the hatchback Jazz. Honda did an excellent job packaging a fantastic interior (in terms of space and design) into a small footprint, but neglected to give the overall look some cohesive proportions.
Initially, the City came only with the 1,497cc SOHC 8-valve engine with Intelligent Dual Sequential Ignition (iDSI). Coupled with a CVT that gives 7 virtual gears in manual shifts, the City offered class-leading fuel economy. In certain markets, it's even offered with the option of all-wheel drive. But this City's trump card comes inside. It boasts nearly 500 litres of boot space and comes equipped with the excellent Ultra-Seats, which you can reconfigure in a variety of manners and connect the interior to the already cavernous boot. I heard that with the seats down, you can even slot a mattress in there to.. uhh…. sleep.
Offering all that, and more, Honda's asking price of RM78.9k (undercutting even the previous City) completely reshaped the market as knew it, placing a Japanese car within striking distance of Proton. It also famously blew Toyota's pricing strategy completely to bits, as they were ready to launch the Vios priced at RM85k for the 1.5E and RM95k for the 1.5G. To counter the threat of the City, the UMW wisely lowered the asking price of the respective Vios models by RM10k each.
The City VTEC was launched in mid-2004 to attack the Vios 1.5G with a pricetag of RM86k. With VTEC technology and 16 valves, this City is good for 110bhp @ 5,800rpm and 143Nm @ 4,800rpm. It still transmits power to the front wheels via the CVT, but the rear wheels are now stopped by solid disc brakes.
A mid-life facelift came in 2005, where the front end was completely revamped, giving the car a more balanced look. Disappointingly, for this facelift, the designers opted to remove the Ultra-Seats for the VTEC version, a decision that did not sit well with buyers, and was eventually reversed.
I have tested a few units of this City, and I was thoroughly impressed by the space, practicality and build quality of the interior. Despite being a dated model, the City's interior is still light years ahead of the new Toyota Vios. The VTEC version had great pull, but the iDSI was no slouch either, if one doesn't expect too much. Unfortunately, the electric power steering (EPS) was overly light and overly assisted, a setup not condusive for more spirited driving.
A known issue with the fourth generation City, at least among Malaysian users, is failure problems of the CVT which costs RM20k to replace – a situation that could really put some owners into a quandary. In most cases, the problem is caused by incorrectly using automatic transmission fluid (ATF) in place of continously variable tranmission fluid (CVTF). However, it is worth noting that certain batches of the City did in fact come from the factory filled with ATF instead of CVTF – a major blunder by Honda.
Nevertheless, the City has found homes in the place of countless car porches. It definitely was great value for money, offering an economical drivetrain (if the CVT doesn't fail), and a superb interior. It remains a hot seller even now, with the imminent introduction of its successor – which definitely has big shoes to fill.
5. Fifth generation (2008 – )
Coming soon to a showroom near you, the fifth gen City will debut in Malaysia within the next couple of weeks. Honda has developed more variants for this City, with 1.4, 1.5 and 1.8-litre powerplants to couple with either a 5-speed manual, a 5-speed auto or a 6-speed automated manual transmission. However, most of those variants will go to Europe and China as Malaysia makes do with only the 1.5-litre engine coupled with the 5-speed automatic (fingers crossed for the 5M/T).
The 1.5-litre 16-valve SOHC i-VTEC motor produces 120hp @ 6,600rpm and 145Nm @ 4,800rpm, a healthy increase over the outgoing engine, and very close to Proton's Campro CPS engine. The torque curve shows a dip similar to the famous Campro torque dip, though not as severe, at between 3,300 and 3,500rpm. According to paultan.org, "Honda actually acknowledges this and claims the torque dip provides a smoother drive, whatever that means!" I am glad Proton didn't use this excuse.  
Curiously, however, a couple of areas of the specs sheet has regressed a little, with the omission of the CVT and Ultra-Seat function most notable. Honda claims that 5A/T is better suited for the ASEAN market's driving style, but that's definitely only telling half the story. It's a most unfortunate omission, for the CVT is a wonderful piece of technology. I firmly believe that most of the outgoing City's CVT failure is due to improper care rather than poor design.
Amusingly, the City's preview website (link here) trumpets the 60:40 split folding and rear reclining seats as a 'class achievement'. While the rear reclining seats is a notable feature, it remains a step backwards from the Ultra-Seats as far as I am concerned.
The outgoing City is living some pretty big shoes to fill. Let's see if the new one is up to the task.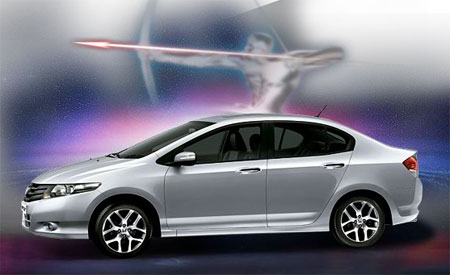 Fifth gen City – coming soon 18 Dec 2008
(image from paultan.org)