Showroom Experience: Mazda RX-8 (Part II)
I remember the very first time I took a showroom car for a test drive, I was only 18 years old and was still holding my P-license. On that day, EON was having a Test Drive Carnival at Glenmarie, and I walked in and enquired if I could take the Waja for a test drive. At that point in time, I have only ever driven, not including the Kancils during my L-license time, a Wira 1.6, Wira 1.5 and an Iswara 1.5 – and they were all autos. I filled in the necessary forms, surprised that my P-license did not raise any eyebrows, and also the fact that the salesman was chatting with me as if as I was buying!
No matter, on the road I went. Having only driven other Protons, the Waja came off as a truly impressive car to me. On the long stretch of straight to the old Subang airport, I thought I was doing a mere 80kph until I saw the speedo pointing at 120kph. The car felt planted and stable. Of course, with the test drive lasting about 10-15 minutes, I did not pick up on the inherent ergonomic errors, massive blind spots, and questionable build quality. Nevermind that, I was impressed, and I posted it on Autoworld's forum (or more popularly known as "AW Forum" in short) . Don't bother searching, the thread is gone – it was that long ago.
Of course, if I were to test drive that same Waja today, I probably won't be half as impressed. No doubt I would have appreciated the tight handling and stable riding even more – I would also have noted the coarse nature of the 4G18 at high revs and the cheap nature of the materials used inside. Fortunately, this didn't happen back then, and it only whetted my appetite to go out and do more test drives. I went on to add the Toyota Vios, Hyundai Elantra and the Nissan X-Trail into my list of driven vehicles.
Not satisfied, I also went on to test expensive and powerful continental cars like BMW, Audi, Mercedes, Peugeot and Alfa Romeo. There was a period of time where I went to every test drive event there was in the Klang Valley. The most memorable ones include a BMW test drive at Souled Out, Sri Hartamas and a Mercedes event where I got my hands on the E55 AMG – I suspect that was a blunder by the showroom staff, because the E55 was parked at a secluded corner after I was done with it.
A very quick and rough estimation tells me that up till now, I've easily driven a total of RM15-20 million worth of cars. Somehow or rather, news about test drive events organised by car companies just never seem to escape my attention. Many of them are grandiose events that are part of the company's investments into good brand building and public relations, some are also haphazardly done and poorly organised. There were quite a few events that I went to with a newspaper advertisement promising test drives, only to be turned away because of one excuse or another.
One event I went to recently, which was advertised in a local paper. It was just a small ad (not occupying more than 2 square inches of area) in the listing of events which was very very easy to miss. Fortunately though, my eyes were sharp enough to spot the words 'Mazda RX-8 Test Drive Campaign'. The event was listed as happening 'today' at the Bermaz Motor outlet at Glenmarie. Needing no second invitation, I headed there after lunch for my first drive of the highly rated sports car.
I have read a lot about the RX-8, thus I know all about the fantastic handling, the suicide rear doors, and the rev happy 1.3-litre Renesis motor. Unfortunately, the closest I got to feeling all these are in the Need for Speed games, which hardly beats the real thing. Driving with the keyboard means you lose out on feedback, you lose on precision, and you don't get to develop a good old-fashioned bonding with the car.
Arriving at the showroom, I felt a little underwhelmed. For a car with such a massive and enthusiastic following the atmosphere could have been injected with a lot more enthusiasm. There wasn't really much of a crowd to speak of, and the overall atmosphere was too sombre for a car as exciting as the RX-8. No matter, all the better actually, since I won't have long queues to deal with.

RX-8 test drive here, are you sure?
I signed up for the test drive, with only one customer ahead of me in the queue. He and his mate left as I was filling in the request forms. He was gone for quite a while, which also excited me to an extent because it meant that I would be out on the road for just as long. As I waited for my turn, I strolled around the showroom, inspecting their range of products that also includes Skoda cars and a Mercedes van.

On display: Mazda6 2.0, a Mercedes van, and the CX-9

The Octavia 200FSi, with the VW Group's famous 2.0 FSI engine. In NA guise, this engine feels just as powerful and revs smoothly all the way to the redline.
My turn came soon enough, after the previous customer's long awaited return. I felt like I should have timed his session, because my turn on the wheel felt much shorter than his. Nevermind, I still got a good enough feel of the Renesis motor powering its way to the 7200rpm redline. My test car, was worth RM230k that sports a 6-speed automatic transmission channeling 212 bhp to the rear wheels. There's an option package worth RM14k that includes a nice bodykit enhancement.
Turning the ignition key not only brings the engine to life, but lights up an ultra-cool looking three-binnacle instrument panel that houses the all important tachometer in the centre with the fuel and temperature gauges in the flanking binnacles. The digital speed indicator is in the centre binnacle together with the tacho, and while it gives the panel a cool racing game feel, it also makes the side binnacles look decidedly empty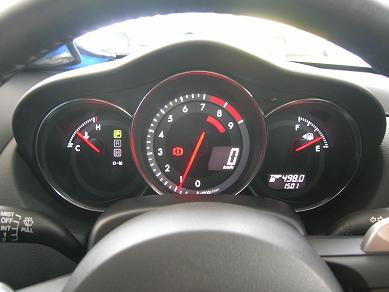 Instrument panel… cue Knight Rider music.
The 6-speed auto is equipped with paddle-shifting manual override mode, and as I said before, all these manual overrides wear off their novelty eventually because under the skin, it's still a torque converter automatic transmission that's best left to its own devices. However, in the case of the RX-8, you do need to go to manual mode for more spirited driving – be it to explore the full range of revs or to give you the extra control of traction when taking a fast corner. Having said that, it is a massive disappointment that manual transmission is not even offered as an option for the Malaysian market.
It was also most unfortunate that I was only given a short test route, which did not give the car its chance to sufficiently display the finest qualities of its engine and chassis. I was able to push the car all the way to the 7200rpm redline, but never did I manage to feel the car at the three-figure speeds it was meant to cruise at, nor was I able to fully test the car's handling abilities with fast sweeping bends.
I have to be frank in saying that it was neither an event nor a test drive that did the RX-8 any justice at all. I truly applaud Bermaz Motor for bringing in fantastic cars like the RX-8, Mazda3 and Mazda6, and I think they deserve even more praise for giving free test drives to the public for this exciting model. Unfortunately, despite the good intentions, the execution lacked enthusiasm and energy, thus undermining the whole exercise. 
See also: Showroom Experience: Mazda RX-8