Chery Eastar MPV launched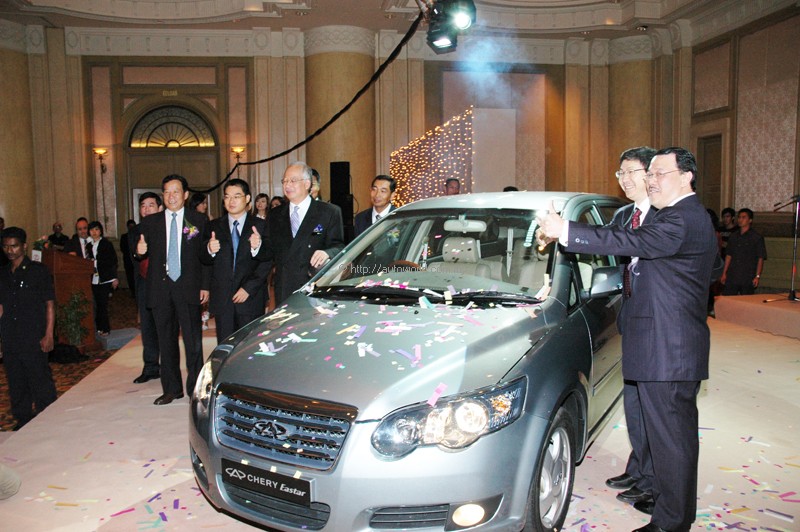 KUALA LUMPUR – Today ,Chery Alado Automobile Sdn Bhd launched its first CKD MPV Eastar at JW Marriot Hotel Kuala Lumpur. The event was officially launched by YAB Dato' Sri Mohd Najib bin Tun Haji Abdul Razak, the Deputy Prime Minister of Malaysia. The event was also graced by Mr Gu Jing Qi, the chargé d'Affaires of The People's Republic of China to Malaysia .Mr Yin Tongyao, The President of Chery Automobile Co, Ltd , Tan Sri Dato Dr Cam Soh, The Chairman of Chery Alado Automobile Sdn Bhd, Mr Zhou Bi Ren, The Vice President of Chery Automobile Co, Ltd China.
Rightly said, work and leisure constitute life. A myriad of products that pander to such demands have invaded the market recently. The fashion, mobile, computer, or even the real estate industries find no exceptions. Cognizant of the evolving market needs, the automotive industry has refined its features to offer the drivers the best of both worlds.
Chery Eastar is quintessentially a product of this evolution. Chery Eastar parades 5 characteristics of the concept: Create, Room, Overall, Science, and Safety.
Create – Chery Eastar epitomizes the work of modernistic design, beautifully built and elegantly styled.
Room- A measurement of 4662mm×1820mm×1590mm places Chery Eastar on par with class B cars, and thus roominess is assured. A choice ofr seven-seaters with foldable seats, complemented with 28 readily accessible compartments, offers ample room utilizable for multitudinous purposes.
Overall- Chery Eastar is a great package of MPV's commodiousness, SUV's (reliability and impressive handling and comfort. Its spaciousness and flexibility of seats arrangement cater to any commercial and leisure needs. The highpositioned driver seats ensure the swiftness of SUV maneuvering. Its seats can be leveled horizontally, unleashing the requisite space called for during leisure activities and long-distance driving.
Science- Ergonomically designed seats that can fold away horizontally greatly enhance usable space. Automatic thermostatic air-conditioning system, embedded antennae, all together mould Chery Eastar into a delight.
Safety- Chery Eastar is substantially equipped with sophisticated features : Dual SRS airbags, ABS and EBD, intelligent anti-theft device(immobilizer), a four-prongs visual Reverse-Radar(sensors), ELR VW (Emergency Locking Retractor – Vehicle and Webbing sensitive) seat belts, etc for we believe that safety is paramount. It is compliant to European NACP four-star rating on Automobile Safety Rating on crash and impact designs.
Chery Eastar is a unique Crossover, exquisitely exhibiting the '3M' core values of 'Room, Home and Team'. Ideally structured to accommodate more passengers, Cross has intelligently presented to you "ROOM", which essentially means space.
"HOME" translates into the 3+2 +2 structure of a typical modern-day family. Chery Eastar speaks for pleasant transport for your every family outing. With respect to "TEAM", Cross has got much to offer. A mobile office, we call it. It maneuvers your team to the desired destinations. Compared to the other conventional cars, Chery Eastar is undoubtedly a clear winner to gratify your multifarious needs.
Currently, Chery Alado Automobile S/B have 28 sales dealers and after sales dealers throught out Malaysia inclusive of Sabah & Sarawak. Chery Alado Automobile is also please to announce that there are many more new models that will be introduced soon.