SSANGYONG ACTYON ACED RAIN FOREST CHALLENGE 2007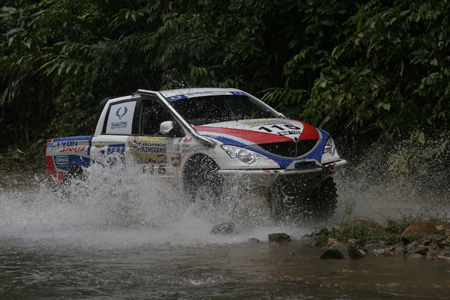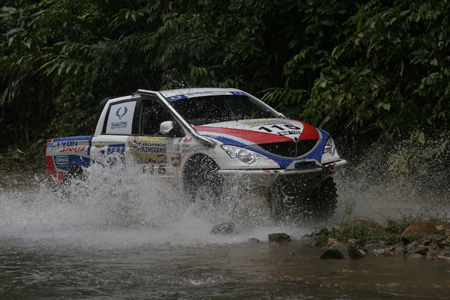 The SsangYong Actyon is not generally regarded as a tough pick-up truck, because it looks too civilised but Competitive Supreme Sdn Bhd, the sole importer and distributor for SsangYong Motor Company did not allow that to stop them from sending one machine to do battle in the Rain Forest Challenge, one of the toughest off-road event in the world.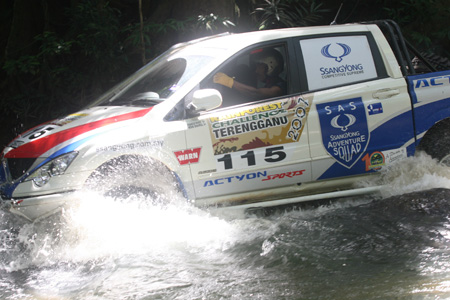 Thanks to its unique design, the Actyon was a crowd pleaser and they called in 'The Rocket'.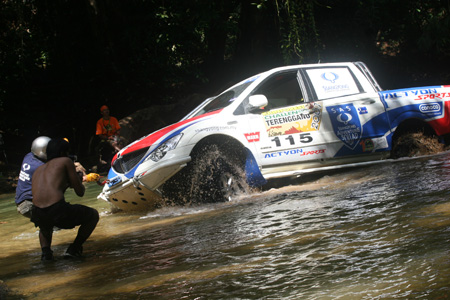 Of course 'The Rocket' was not a bog standard machine they had to make some changes to give it extra clearance and bolted a winch to the front so The Rocket could pull itself out of trouble in the thick jungle. Apart from that and the snorkel, it is mechanically identical to the machine you can get off the showroom.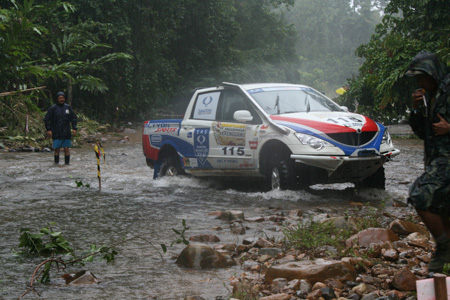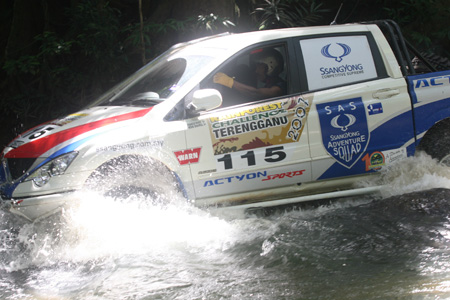 Here is a list of modifications they made to the car and as you can see the changes are made mostly for safety reasons and to adapt it to the rough terrain.
CHASSIS
i. 3 inch Body-lift.
ii. Heavy duty coil springs and shock absorbers.
iii. Mud terrain tyres – Simex Extreme Centipede – 32″ x 9.5″ x15″.
PROTECTION
i. Custom built front bulbar.
ii. Reinforced rear towing points.
iii. Heavy duty Side Steps.
iv. Rear Deck Roll Bar complete with Hi-lift Jack and spare Tyre-Mount.
v. Front cabin Roll Bar.
vi. Racing Seats with 5-point safety harnesses for the driver and co-driver.
vii. Removal of rear seats and floor carpet.
viii. Large survival box mounted in the rear cabin.
RECOVERY
i. Warn Winch – 8274 rear mounted with plasma rope.
ii. Warn Recovery Set.
iii. Heavy Duty Ground Anchor.
Overall, the Actyon Sports performed better than expected and successfully survived the RFCT 2007, touted as one of the world's toughest 4×4 events. The SAS team completed all 16 special stages before the Elephant Mud-hole and clocked one of the fastest times in the Special Stage 4 during the Prologue Stage.
The SsangYong Actyon Sports that participated in the RFCT 2007 is a stock standard vehicle with some technical upgrading to meet the minimum technical requirements for participating vehicles outlined by the organizer of RFCT 2007.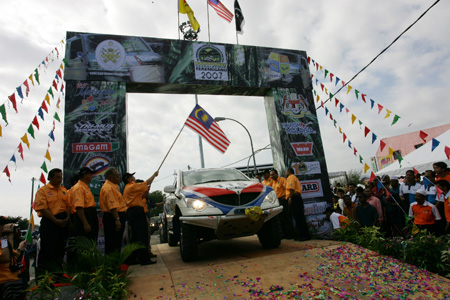 The SsangYong Adventure Squad (SAS) Team
i. Team Manager : Stiven Sim
ii. Driver : Francis Khoo (Monsoon & Rainforest class champion)
iii Co-driver : Mohd Sharul Bahrin (Monsoon & Rainforest class champion)
iv Technical Support
Technical head: Ho Siong Peng
Mechanics: Liau See On, Simon Sim, Chan Meng Wai and Kamal
Support Truck Driver : Ken Chin