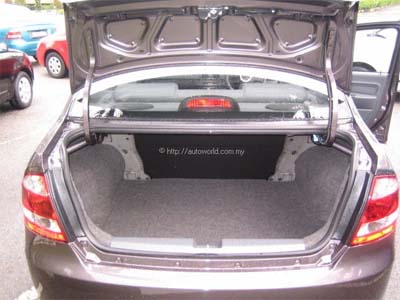 Is it Friday, 18th Jan 2008 today? Is it 5.30 pm yet??? Quick!
There is sure a lot of anticipation on this new Proton model.. well, in fact, most Proton model has somehow manage to create some kind of 'suspense' to all Malaysian at large. The ever popular 'cover up' of the car with some canvas in its ads…
I grab the opportunity to test drive the BLM in Cyberjaya on Monday, and here's my humble opinion. Guess everyone would like to know a lady's point of view in cars, right? (don't bash me ya! .. I am just a newbie in writing… it all will come with lots of grammar, typo, spelling mistake, etc okie!)
Here' let's take a look at the picture first, a picture is worth a thousand word!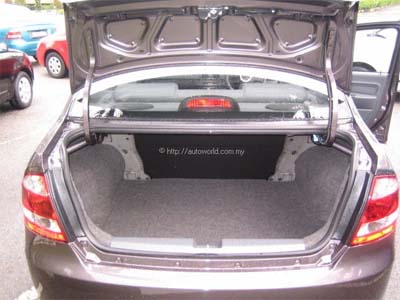 Opps… that was the car boot! Yeah.. its big, so I can put lots of my shoes and shopping bags too! In case you don't know, you will most likely finds lady cars be full of shoes either in the car or in the boot – from my own personal experience – sister's car, sis-in-law's car, friends car, they all has!
More pictures will be available in Autoworld Gallery, follow this link here.. Proton BLM gallery.
The exterior looks good to me, I like the rear lamp the most, I think it has the Merz look in there. See here my favorite picture.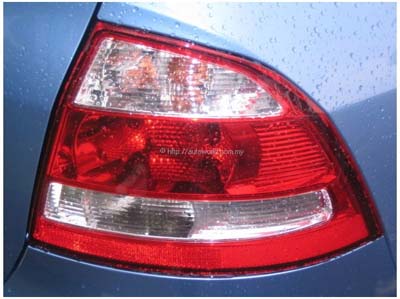 With seven colors to choose, you are spoilt for choice. I like the black – Metallic black – best.
Interior is spacious too, sometimes it makes you wonder how a small looking car (about the size of Hyundai Accent) can have so much space. Leg room is just nice for me.. (well maybe my legs are short!). And the next thing I am looking for is the clock! Was wondering for a while where is the clock? Does it have one? Oh dear..don't tell me there's none! Finally realize it was right beside the speedometer.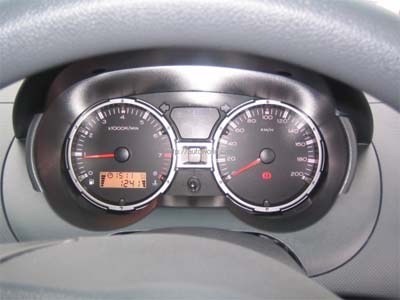 There space for your tissue box, keys, Starbuck, makeup, and even used tissue! See picture on the right. (No, I don't do that, I hate it when I drive someone's car with those thing stuck in there!). "Storage space is surely one of the Saga's stronger points" as mentioned in the media handout.
Overall = 1910mm (160mm more compared to old Saga)
Interior height = 1190mm
Interior width = 1355mm
Front legroom = 877mm
Rear legroom = 744mm
As I drove the auto version, I feel that the gear transmission is not as smooth, that's probably the only drawback, but that's possibly due to my driving style – probably press the accelerator too hard! It was raining, and I took the corner 'a little bit fast' but it handles well, shying away from the car behind who try to take a video shoot! And it feels quite stable; at least I don't get 'the car moves' feeling like I was driving my Kembara, when a faster car goes besides me.
The manual version.. argh… I just realize I haven't drove a manual car for more than 5 years at least. Not sure how to comment, but if you have any question, feel free to post a comments here!
Lastly, a quick look at the price:
Entry line (Manual) RM31,500 (OTR)
Base line (Manual) RM34,998
Base line (Auto) RM 37,998
Medium Line (Manual) RM37,498
Medium Line (Auto) RM39,998
More info on spec available in our Autoworld New Car Section
That's it!