8000 Bookings for Proton Persona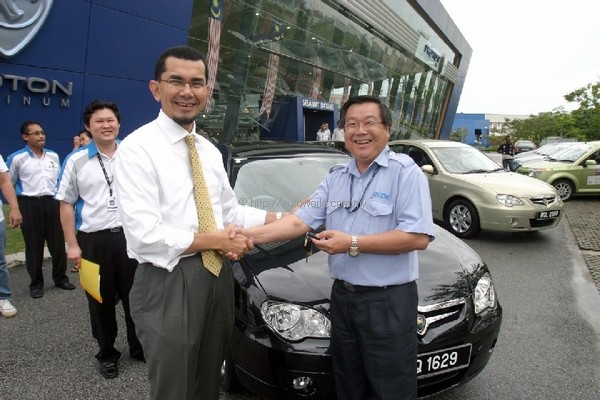 PETALING JAYA, 23 August – Persona, the newborn in the PROTON stable, has received a better than expected response from consumers with over 8,000 bookings since PROTON began marketing the sedan.
"We are happy with the response received thus far. We are also touched by our consumers' belief in us. Two thousand two hundred of them booked the Persona without seeing it during the pre-launch activities and now we have over 8,000 bookings. On behalf of PROTON, I would like to thank all those who have and are continuing to support us. "
Syed Zainal, who made an unscheduled visit to the PROTON showroom in Mutiara Damansara here and personally delivered cars to a few Persona owners, said the enthusiastic response towards the Persona is a testament to the quality of the car.
Developed with the PROTON i-CARE commitment to improve every quality aspect — from design, styling and production to sales and after-sales — the Persona is a personification of PROTON's new philosophy of producing the right car for the right market at the right price.
"Quality issues previously brought up by consumers have been addressed in the Persona. The PROTON i.CARE initiative was rolled out specifically with this in mind. We want our consumers to know that we are not merely paying lip-service to the You Can Count On Us promise but every PROTON employee, myself included, will strive towards delivering this promise" he added.
The Persona, PROTON's fifth fully built model, with its advanced styling, generous interior and luggage space, practical with safe attributes and value-for-money proposition, is in every sense the pride and joy of not just PROTON but also Malaysia.
The Persona is available in five variants – the 1.6 base-line automatic and manual; 1.6 medium-line, automatic and manual; and 1.6 high-line automatic only. The model currently comes in six colours; Blueberry tea, Light gold, Tranquillity black, Metal grey and Solid red. The seventh colour, Solid white, will be made available from September onwards.
It is the most competitively-priced model in the 1,600 cc category, with the price ranging from RM44,999 to RM55,800