Isuzu D-Max 2.5 Litre Introduced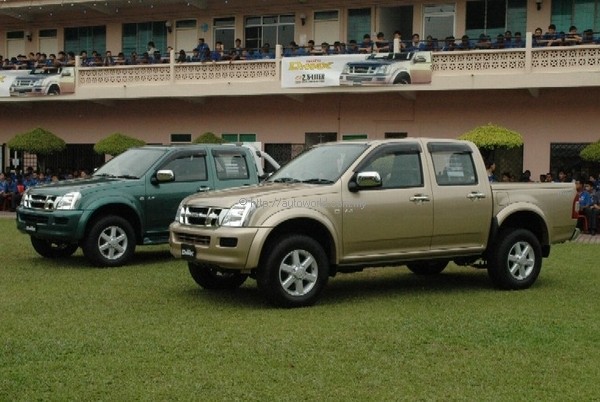 Kuala Lumpur, 17 November 2005 – Isuzu Malaysia introduced a new addition to their D-Max line-up, the 2.5 litre 4 by 2 light truck today. Powered by what is claimed to be an extremely fuel efficient engine, the D-Max is targeted at those who regard fuel economy as top of priority.
To prove the economy of the new vehicle, the launch at the Montfort Boystown in Shah Alam was crowned by the arrival of a test D-Max 2.5 litre diesel that had traveled for more than 1,400 kilometres on its 76 litre fuel tank, with a little more to spare. This feat was witnessed by AAM officials who later presented a certificate of achievement to Isuzu Malaysia. The very same vehicle was later presented to the Montfort Boystown in a small ceremony.
The D-Max 4 by 2, as the numbers suggest, is a two-wheel drive diesel light truck that does have a turbocharger, but as a result of the skew towards fuel economy, it only churns out 79PS at 3,900rpm. Fitted with a 5-speed manual gearbox, the D-Max is obviously targeted as a workhorse.
Suspension is made up of wishbones at the front, and leaf springs at the rear.
Priced at RM67K plus, it does seem to be quite a bargain, but with a weight of around 1.8 tons, and gross vehicle weight of 2.85 tons, it might not satisfy those who want a little more grunt, especially those who need to carry heavy cargo over hilly terrain.+