Isuzu D-Max Launched in Malaysia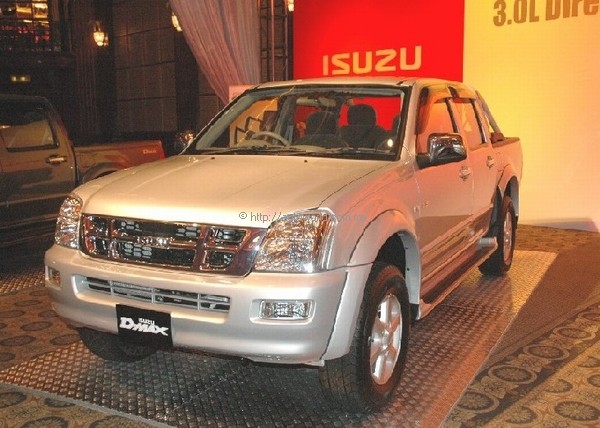 Isuzu D-MAX Joins the Double-Cab Battle
Petaling Jaya, Monday 13 June 2005 – Isuzu Malaysia Sdn Bhd, a member of the DRB-HICOM Group of companies, today added yet another double-cab pick-up truck to the market with the launch of the ISUZU D-MAX. Isuzu Malaysia was incorporated in September 2004, with an investment of RM20 million. 49 percent of its shares are held by DRB-HICOM, 32.6 percent is held by Isuzu Operations (Thailand) while 18.4 percent is held by Isuzu Motors Asia.
Under the joint-venture agreement, Isuzu Malaysia will undertake the importation, assembly and distribution of Isuzu D-Max and other identified Isuzu models such as Sports Utility vehicles (SUV), and Multi-Purpose vehicles (MPV) in the future. The distribution rights of Isuzu D-Max is granted to Isuzu Malaysia by Isuzu Motors Asia, a wholly owned subsidiary of Isuzu Motors Limited, Japan.
The Isuzu D-Max is immediately available in 4 x2 Automatic, 4 x 4 Manual, and 4 x 4 Automatic. Prices range from RM87, 395 for the 4 x 2 Auto, to RM89, 011 for the 4 x 4 Manual, and RM96, 443 for the 4 x 4 Automatic. All prices are on-the-road with insurance.
The heart of the Isuzu D-Max is a 3.0 litre OHV, 4-cylinder, 12-valve diesel engine complete with a turbo charger and intercooler. Power output is 130 PS at 3,800 rpm, and torque is 294Nm at 2,000 rpm. A 5-speed manual gearbox or a 4-speed automatic is available. The 4 x 2 model only comes as an auto.
For the 4WD models, the drive train is 'part time' 4WD, with 'touch on the fly' shift capabilities when shifting from 2WD to 4WD.
Suspension is independent double wishbones with a torsion bar spring, hydraulic shock absorbers, and a stabilizer bar at the front, while the rear has leaf springs and a solid axle. Wheels are alloy fitted with 245/70 R16 tyres.
The steering mechanism is rack and pinion type, which promises pin-point steering accuracy, with a turning radius of 6.2 metres. In the brakes department, the D-Max is equipped with two-pot calipers acting on ventilated discs at the front, and drums at the rear. ABS and EBD are standard features. Dual airbags are standard features in the 4 x 4 automatic and the 4 x 2 Auto, but not available in the manual 4 x 4. Side impact beams and a laminated windscreen complete the picture.
Instrumentation is analog type, and the interior layout is simple and functional. This is a no-nonsense machine, built with practicality and durability in mind. The interior seats five in comfort, with plenty of legroom to go around.
No, we did not have a chance to test drive the D-Max, but it will happen soon. Keep watching this space.