More Powerful 2005 Volvo S60 T5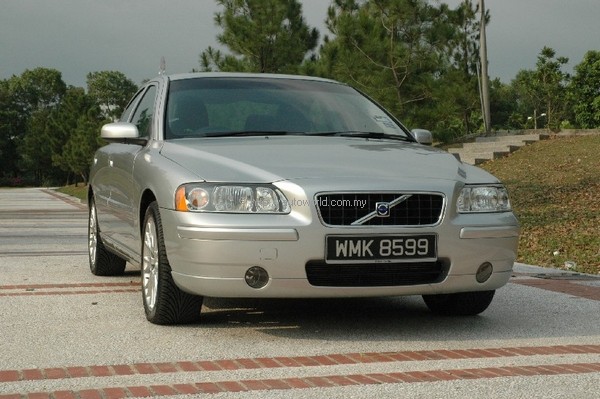 Just say Volvo, and 'SAFETY' immediately appears in your mind. Safety has always been top of the list with Volvo. It still is, but it appears that there is a necessity to move on to other things in response to customers' demands and expectations. The quest for more power and better performance has been on going since the invention of the horseless carriage a century ago. Having established itself as the safest car in the world makes the Volvo a 'must have' to that certain segment of buyers who demand the best in safety, but there remains a large part of the market not fully tapped.
Enter the new 2005 Volvo S60 T5. This face-lifted model gets a little more grunt, with the 5-cylinder DOHC engine up-rated to 260 bhp at 5500 rpm from the previous 250 bhp, and maximum torque of 350 Nm peaking between 2100 rpm to 5100 rpm. This is yet a further sign that Volvo is moving more into performance, ever since the introduction of the S series in the late 1990s. Mated to the power plant is a 5-speed automatic transmission with 'Geartronic' (read manual shift option) and shift lock. The good thing about this Geartronic shift mode is that it will not shift up until you physically do so, unlike those poor excuses for manuals that shift up when you hit a certain rev limit. On the road, this above combination translates to a claimed zero to 100 km/hr acceleration of 6.9 seconds. On a clear and somewhat level stretch of road, with three people in the car, and the air-conditioner on at full blast on a hot afternoon, we managed 8.03 seconds in manual 'Geartronic' mode. In fully automatic mode, we got 8.14 seconds, both very respectable times. Under ideal conditions, the claimed time of 6.9 seconds is probably achievable, but if you are looking at that occasional drag from a traffic light just to put paid to that young punk with a noisy hot hatch, the 8.03 seconds is what you would be getting, unless you switched your air conditioner off, and your car is in perfect tune. Top speed is claimed to have improved from the previous model's 245 km/hr to 250 km/hr. We managed exactly 250 km/hr on the clock before we ran out of safe road.
The engine gets the additional power from some parts which are common with the S60 R (which stands for the Racing model), namely, the cylinder head, turbocharger, manifold, air filter and housing, in addition to the routing of the charge (intake) air pipe.
Inside, the seats are bound in leather, and are as good as ever. The driver, being the most pampered, gets the luxury of full electric controls, while the front passenger gets to exercise muscle power. There is an excellent air-conditioner with separate temperature controls for left and right, and air vents located on the B-pillar for the rear passengers. Legroom is good for the front driver and passenger, and is reasonable for the rear passengers. (After having experienced excellent rear legroom in another car that I have recently reviewed, I have gotten a little more finicky.) Other creature comforts include an excellent Pro Logic II sound system that can deliver soft music with great clarity, or loud music if you so wish, with little or no distortion. The main instrumentation remains the analogue type, lending a sporty flavour to the S60.
On the exterior, you will notice slight cosmetic changes that make the 2005 model stand out from the 2004 model it replaces. New headlamps, with fog-lights incorporated in a new bumper that features a lower air intake, and a newly designed front grille (that still retains its Volvo character) adorns the front. The bumper inserts (protective strip) plus the body side and the lower mouldings are now colour coordinated instead of being plain black. The rear bumpers are extended slightly, and look a little more angular than the current model. Slightly redesigned tail lights make up the last of the exterior changes. The overall effect is a much more elegant looking car. Complemented by new design 17-inch wheels, the new Volvo S60 looks a little better than the current one, but the changes are subtle enough to pass off unnoticed if you are not a Volvo fan.
On the road, the S60 T5 can be an elegant cruiser or a monster car; it depends entirely on the driver. If you so wish, you can drive it around sedately, and it will purr its way to wherever you want it to go. You will arrive comfortable, unflustered, and in style. It will never look out of place in the grandest of settings. Should you be in a hurry, the S60 T5 will respond readily to your demand for power. It will accelerate with great urgency, and its high torque will allow you to maintain a high cruising speed at all times, traffic permitting of course. At mid-range speeds, the turbocharger spools up instantly in response to throttle pressure, and you can feel the G-forces pushing you back into your seat. It is not a thoroughbred, but it will give a good account of itself.
With DTSC (read traction control), it will allow anyone to push it to its limit, but never beyond, as the system will throttle down, and apply braking force to individual wheels as necessary to keep you from exceeding the set thresholds. The basic set-up of the S60 already makes it an extremely well behaved vehicle on the road; I personally found it very civilized and comfortable at normal speeds, and good up to about 220 km/hr. After that speed I would have liked it to be a little stiffer, but then, the average buyer of such a vehicle probably would never even think of hitting such a speed, so it really does not matter.
In terms of safety, the usual Volvo package of air bags, side curtains, SIPS, WHIPS, ABS, etc, etc apply. No need to travel this route; it's all there.
At RM260,000 a pop, it is a lot more car for your money when compared to its competitors in the same category. The buyer who has this budget to spend on a car will have many choices. The Volvo S60 T5 would be the natural choice of the individual who appreciates the Volvo values on safety, but wants that added performance to allow a little self-expression on the road.