Introducing The Ford Ranger 4 X 2 Auto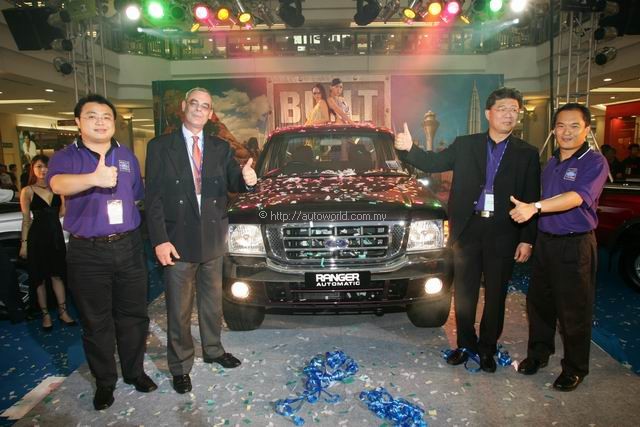 The Ford Ranger XLT 4 X 2 Automatic is the latest offering from Ford's class-leading line of pick-up trucks. The spacious double cab layout of the Ranger provides comfortable seating for 5 adults with its plush cabin. Behind the rear passenger seats is a truck bed that carries a maximum payload of 869kg.
From the beginning, the Ranger 4 X 2 Auto was meant to be a formidable street machine, not easily thwarted by flood water, pothole-riddled roads, and construction debris. It is a machine that can take its occupants to places in the urban jungle where passenger cars fear to roll, thanks to high ground clearance.

Fine weather sees the Ranger 4 X 2 Auto lugging fishing equipment, surfboards or even towing a trailer to holiday venues anywhere the driver pleases. Long wheelbase ensures stability for longer trips, while the Euro 2-compliant engine returns excellent fuel economy and helps reduce air pollution.
The spacious interior creates a comfortable atmosphere for family and friends to commute together. Generous leg-room allows occupants to travel in a relaxed manner while 5 cupholders means nobody has to hold their own cup or can. Gone are the days of fighting for the front seats, as the excellent lumbar support for the rear passengers makes even long journeys no less pleasant.
Putting some passenger cars to shame is the sound system which comes fully equipped with a speaker on each door and is capable of playing MP3 music files, the format which is becoming more popular. The grey dashboard with aluminium inserts gives this pick-up a distinctive look, complementing the grey and black seat fabric well.
The center console with an armrest and two-tier storage compartment provides plenty of space to store CDs, passports and enough change for fuel and toll on a drive to Hanoi, just in case a Ranger 4 X 2 Auto owner decides to do it on a long weekend. In spite of all that space for cargo and people, parking is not a problem with the Ranger. Large wing mirrors and good visibility makes parking easy and power-assistance makes it a no-sweat task too. Driving the 4 X 2 Auto is as easy as driving a big car, and definitely offers more fun!
At the heart of every good vehicle is a reliable and proven engine. The Ranger 4 X 2 Auto's 2.5-litre turbodiesel powerplant inherits the muscular 121Bhp spread of power, 262Nm of torque, and unburstable qualities of the renowned Ranger Automatic and all the variants.
The beauty of the Ranger 4 X 2 Auto lies underneath. The new 4 X 2 drivetrain is a first for the Ford Ranger family. Made for those who might not need the full 4 X 4 capabilities of their pick-up truck, but providing better fuel economy and weight savings.
The 4 X 2 Auto is built around the Ranger's tough chassis. Its suspension system has been carefully tuned to suit the 4 X 2 layout as well as the expected usage. With less weight to carry, 4 X 2 is lighter but still has similar capabilities as other Rangers when it comes to the rough stuff.

With a 4 X 2 drivetrain, handling and acceleration are also better, ideal for city driving, as there is less weight to propel forward and less inherent drag in the drivetrain. The 15-inch wheels and 265/70R15 tyres can take abuse, soaking up road undulations with ease, whilst still providing plenty of grip for cornering and braking.
Stopping safely is regarded as one of the bigger challenges of heavier vehicles. To ensure that the Ranger gives its occupants a high level of protection during an accident, the Ranger 4 X 2 has standard four-wheel ABS (Anti-lock Braking System) with EBD (Electronic Brakeforce Distribution).
ABS prevents wheel lock-up, particularly on slippery surfaces, and retains steering control for the driver to avoid hazards even while applying full pressure on the brake pedal. EBD ensures that, whatever the load on board, and where it is situated, braking forces are always optimised between front and rear. The balanced braking enhances safety and stability on slippery roads.
Safety features such as driver and passenger SRS airbags and seatbelt pretensioners keep the occupants protected in case of a frontal collision.
Ford has made sure that the Ranger 4 X 2 Auto is safe for carrying the entire family and satisfies its own tough in-house standards.
The Ford Ranger XLT 4 X 2 Automatic is available in 2 new colours; Poison Purple is a toned-down fusion purple shade, much like a cloudy evening sky and perfect for cruising the countryside. Sublime is a beautiful greenish hue that makes driving around the city look more cool than ever before. It is also available in Steel Silver and Panther Black.
Priced to be affordable, the Ford Ranger XLT 4 X 2 Automatic is perfect for the urban warrior who wants a Ford Built Tough.