BMW X5 Diesel Available in Showrooms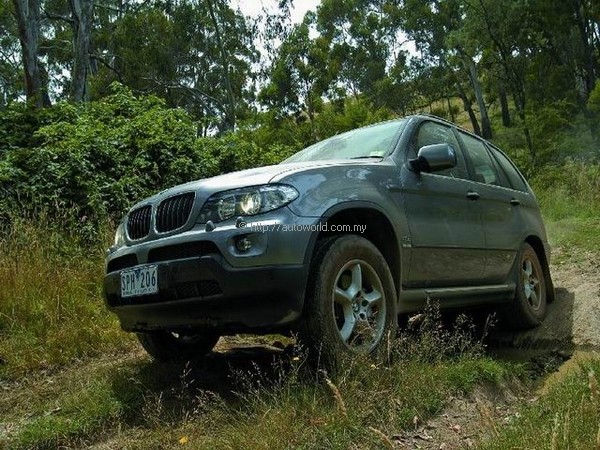 Kuala Lumpur, 23 September 2004 – BMW Malaysia today announced the local availability of a diesel-powered version of its popular BMW X5 Sports Activity Vehicle (SAV). The new BMW X5 3.0d retains the same high-end features found in the X5 4.4i and 3.0i combined with a high-performance BMW diesel engine.
Available from October 2004 onwards in dealer showrooms nationwide, the new BMW X5 3.0d will be the first diesel-engined SAV available in Malaysia, marking BMW Malaysia's continued efforts in introducing BMW Diesel Technology to the local market.
According to Wolfgang Schlimme, Managing Director, BMW Malaysia Sdn Bhd, the introduction of BMW Diesel Technology is a key component of the company's strategy to become the No. 1 premium automotive manufacturer in Malaysia.
"The diesel engine is a great option because of its superior practicality and reliability. Not only are diesels incredibly efficient and economical, they are also powerful," he said.
"Coupled with the new X5 platform, the result is a combination of supreme performance, high efficiency, and unrivalled economy. The new BMW X5 3.0d is set to be the perfect vehicle for the driver with sporty ambitions, who wishes to combine the excellent handling and drive characteristics typical of BMW with a unique commanding driving position and the ability to master a wide range of driving situations, including off-road," he added.
The new diesel engine features an optimised combustion chamber and turbocharger geometry that is mated with the use of the second-generation common rail fuel injection system. This essentially translates into an astonishing 500Nm of torque at 2,000rpm and a maximum output of 218 bhp at 4,000 rpm.
The pride of BMW Diesel Technology, the straight-six diesel engine offers unmatched levels of power and performance, low noise levels and a high standard of fuel economy coupled with clean emission management. Excellence in these attributes alone set BMW diesel engines apart from the competition in this segment.
"Diesel-engined vehicles have a unique character that is defined by a responsive and high-torque drive which is translated into sheer driving pleasure. As we endeavour to make available more options for our customers, we also want to allow our customers to have a choice between different engines and the different characters that come with them," said Schlimme.
The new X5 3.0d also comes with BMW's revolutionary xDrive intelligent all-wheel-drive technology. In addition to the clear increase in agility and driving enjoyment, the xDrive system also provides great safety benefits. Whether the driving surface is rough or smooth, it only takes a few milliseconds once friction is lost between the wheel and the surface for the drive forces to be redistributed to those wheels currently gripping. The electronically controlled multi-disc clutch loses no time and reacts immediately.
In terms of interior trim, the new BMW X5 3.0d maintains a high level of quality finishes to match its premium positioning with fine-wood trim in Poplar grey and Dakota leather seats. Other equipment include bi-Xenon lights, rain sensor, automatic headlight sensor, self-leveling pneumatic suspension as standard, panorama glass roof; electrically adjustable Comfort seats, Radio BMW Business with CD changer for 6 CD's and a HiFi loudspeaker system.
"The launch of the BMW X5 3.0d marks yet another milestone for us as the introduction of BMW Diesel Technology is a key component of our strategy for success here in Malaysia. We began the year with no diesel-engined models available and now, we have brought in both the 530d and X5 3.0d. Moving forward, we aim to continue strengthening our line-up of diesel engined vehicles, we will be making more diesel models available for other model-lines," said Schlimme.
The new X5 3.0d will be available in showrooms nationwide in October, 2004 onwards, priced at RM 478,000 (on the road, without insurance).