Smart Coupe for Hole-in-one prize in RMCC Charity Golf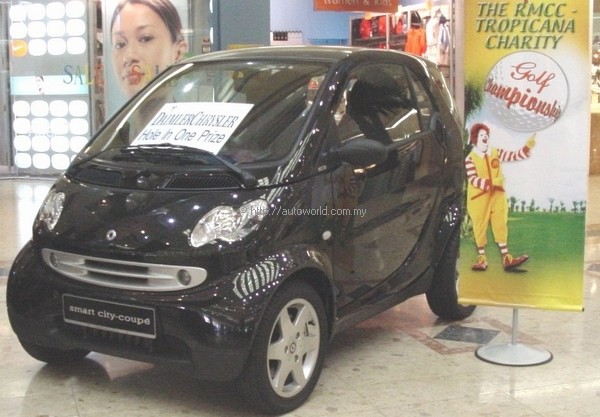 Smart Car for RMCC Hole-in-One Prize.
Put a small ball into a small hole in one stroke, and win a Smart Coupe in the RMCC-Tropicana Charity Golf to be held on October 2nd, next month.
The RMCC-Tropicana Charity Golf Championship just got a little more exciting- get a hole in one in any of the four par three holes during the golf tournament, and that will win you a cute little Smart Coupe.
In addition to more than RM230, 000 pledged by some very charitable organizations, DaimlerChrysler Malaysia, the official distributors of the Smart car, sponsored the Smart Coupe for the hole-in-one prize.
Rumour has it that there are close to two hundred more units of the Smart car awaiting customs clearance at a nearby port; it certainly looks like we are likely to see these little cuties double-parked in the Telawi/Bangsar area and Sri Hartamas on Friday nights. Officials from DaimlerChrysler were notably absent at the press launch of the golf championship at the Bangsar Shopping Centre today.
Puan Fadillah Yakin, RMCC president said that this year, the proceeds from the charity golf would go to a very meaningful cause that will go a long way for special children who really need them. The proceeds will go to the Special Children's Society of Ampang (SCSA) to construct special facilities for the 32 disabled children who come to the centre daily. Said Puan Fadillah, "We know from past experience that special children respond very well to sensory and emotional therapy and that's why we want to build a Ronald McDonald Snoezelen room and a Ronald McDonald soft-play room."
A Snoezelen room is a room for the development of sensory skills. It is interactive and provides tactile experiences, lighting effects, aromatherapy and sound to stimulate all the 5 senses, especially for children with learning disabilities. A soft-play room has special play equipment to encourage creative as well as emotional exploration, movement and social interaction.
Also present at the event were children from the Special Children Society of Ampang, accompanied by committee members and the president, Ms Christine Wong.
For interested golfers, the RMCC-Tropicana Charity Golf Championship shall take place on 2nd October 2004. Places are limited to 144 only. Entry fee is RM1, 000.00 per head. To register for this championship, call the secretariat at 03-77261888, extension 379/203/202