Honda Racing Team in MME 2004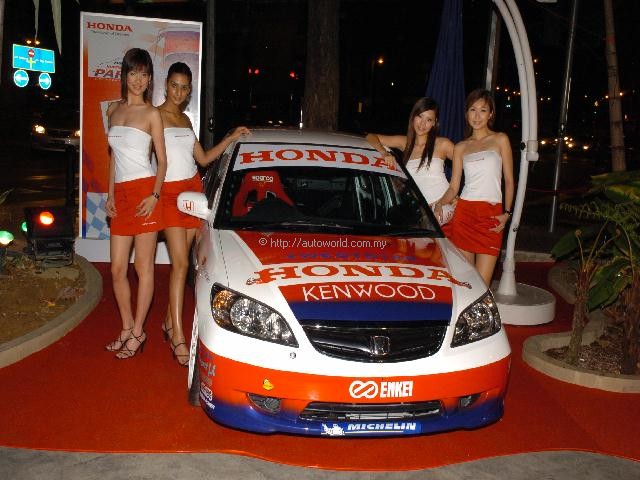 Following up on the success of the Honda Integra Type R, which won Class A in last year's Merdeka Millennium Endurance Race, Honda Malaysia launched its very own race team. The Honda Malaysia Racing Team (called HMRT for short) is fielding two Honda Civics in the Merdeka Millennium Endurance race that will take place on the 28th of August 2004.
HMRT's immediate objective is to win again at this year's MME and promote Honda's 'Racing Spirit', as well as to prove the sporting capabilities and full potential of the Honda Civic 2.0 DOHC I-VTEC to the motoring public.
The team principal is none other than Mr. Seiji Kuraishi, CEO of Honda Malaysia, while Team Manager is Zainuddin Taib, Marketing Manager of Honda Malaysia. The two cars used for the race carry competition numbers 26, and 27, and are production Honda Civics with some modifications to the engine, suspension and brakes. The transmission is standard, but the vehicles have been lightened to 980 kg.
For the MME, all cars entered must have three drivers who will take turns to drive the vehicle for the 12-hour race that will start on 28th August and run for 12 hours non-stop.
Kunimitsu Takahashi 64, Hidetoshi Mitsusada 36, and Tommy Lee 35, a local racing ace, will pilot car #26. Takahashi has a string of titles and wins that are too many to list down, but his most colourful one is that he has the distinction of being the first Japanese motorcycle rider to ever win a motorcycle GP in 1961.
Mitsusada is a well-known personality in the Japan GT Cars race, and has raced in Formula 3 as far back as thirteen years ago. Tommy Lee started racing in Malaysia in 1987, and is no stranger to the track at Sepang. He won the MME with two others for three years running between 2000 and 2002.
Hiroki Katoh, Eddie Lew, and Farriz Fauzy will drive car # 27. Hiroki Katoh also races in the JGTC series, and has 14 years of motor racing experience, including a third overall placing in the Japan F3 Series in 1995.
Eddie Lew is 31 years old, and has had numerous successes in the Proton Cup races since 1996. He was 3rd overall in the Proton Satria Gti Championship in 2003. Farriz Fauzy is the youngest member of the team at 20 years of age. He started his racing career in go-karts in 1996, winning the junior class championship in that year. He also completed the British Formula 3 Championship last year.
Racing fans can keep a look out for the red and white Honda Civics in the MME. This event is traditionally broadcast over television. AW wishes the Honda team 'Best of Luck'.