Honda Malaysia introduces the new Honda Civic 2.0L i-VTEC – advanced, luxurious, sporty and powerful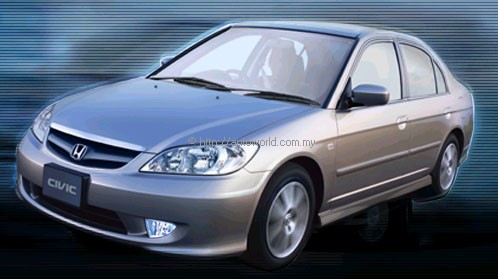 Petaling Jaya, 18 May 2004 – Honda Malaysia Sdn. Bhd. today introduced the
new Honda Civic 2.0L i-VTEC that harmoniously combines class-leading luxury,
sporty appeal, high performance and world-class safety technologies.
Honda Malaysia also reintroduced the Honda Civic 1.7L VTEC with some minor
enhancements to its exterior. This model now comes with newly designed
headlights, fog lights, front and rear bumpers followed by a new sporty front
grille.
"Designed as the century benchmark sedan, the Honda Civic never fails to
respond to the needs of customers, continuously delivering innovative style and
new values. The Civic 2.0L i-VTEC is best suited for the individual who seeks a
sophisticated yet sporty sedan with a high performance engine whereas the Civic
1.7L VTEC will appeal to those seeking a stylish quality sedan with value for
money," said Honda Malaysia Managing Director and Chief Executive Officer Mr.
Seiji Kuraishi.
Hailed as one of the most important models of Honda, the Civic has earned
itself a loyal and passionate following among motoring enthusiasts worldwide.
Reputed for its continuously evolving sporty image, high-performing power and
outstanding build quality, the Civic has steadily built itself an endearing
reputation over the years.
The New Honda Civic 2.0L i-VTEC
< Exterior >
The Civic 2.0L i-VTEC has a striking new look, enhanced by the following:-
Smoked front headlights and rear combination lights
Newly designed fog lights
Newly designed front and rear bumpers
Newly designed front grille
Hydrophilic side mirrors
Body-colored front and rear mudguards
< Interior >
The interior is tastefully luxurious with full comfort amenities such as:
Red self-illuminating meters
Leather-covered steering wheel
Hi-Mesh Metal Center Panel & Door Panel
Black leather and vinyl upholstery
Sporty front head rest
2-DIN CD-Tuner / MP3 player with remote control
< Dynamic Performance >
The new Honda Civic is powered by 16-valve, 2.0-litre DOHC i-VTEC four
cylinder engine that delivers a maximum of 155 PS at 6500 rpm and 18.0 kg-m
maximum at 4500 rpm.
A member of Honda's new generation "i-Series" engine lineup, The DOHC
i-VTEC engine was first introduced in 2000 and it derived its name from
"intelligent" combustion control technologies that optimize fuel economy,
boast cleaner emissions and achieve higher performance. The DOHC i-VTEC is an
"intelligent" engine that combines world-class top fuel-economy and cleaner
emissions with high power and robust torque in all speed ranges.
Key engine technologies include Honda's VTEC system, which varies the timing
and amount of lift of the valves according to engine speed, and VTC (Variable
Timing Control), which continuously adjusts the intake valve timing to best
match the current engine load.
< Safety Performance of the Civic 2.0L i-VTEC & 1.7 VTEC >
For safety, the new Civic comes with G-Force Control (G-CON) technology that
controls and absorbs collision impact, a 4-wheel disc brake, Anti-lock Braking
System (ABS), Electronic Brake-force Distribution (EBD) that properly
distributes the brake-force to all wheels, not to mention the Brake Assist
System for rapid and effective response under all circumstances. The front seats
have Dual SRS airbags that work in synch with the pretensioner seatbelt and
load-limiter system for maximum safety.
In addition, the new Civic offers more confidence, featuring an immobilizer
system that requires a wave key with codes matching those in the ECU.
< Suggested Retail Prices >
Model

Price

Colour

Honda Civic 2.0-litre i-VTEC

RM 124,900

Silverstone Metallic

Nighthawk Black Pearl

New Vogue Silver

Satellite Silver Metallic

*Royal Ruby Red Pearl

*Only available for 2.0-litre i-VTEC

Honda Civic 1.7-litre VTEC

RM 109,900
To view the new Honda Civic 2.0L i-VTEC and Honda Civic 1.7L VTEC, the public
can visit its roadshow which starts from 19 – 23 May 2004 at the Suria KLCC
Lower Ground Center Concourse.
**Article extracted from honda.net.my**