BMW Experience 2004 at Auto Bavaria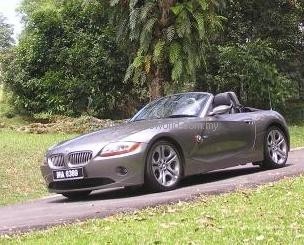 Auto Bavaria, the largest authorised BMW dealer in Malaysia, is hosting a series of special test drive events at its branches across the country aimed at providing first-hand experience to prospective customers.
Car enthusiasts who attend the event, called the BMW Experience 2004, can – for the first time – test drive almost the entire range of BMW models currently available in Malaysia. These include the Z4 roadster, X5 SAV (Sports Activity Vehicle), the 7-Series limousine, the new 5-Series executive sports saloon and the enhanced new line 3-Series sports saloon.
More than 300 people attended the first BMW Experience 2004 at the company's Sungai Besi, Kuala Lumpur, branch on April 17 and 18 where aside from test drives, there were bargains galore with good discounts on original BMW spare parts, accessories and lifestyle items. There were also various fun activities to keep families entertained.
The next BMW Experience 2004 will be at the Segambut, Kuala Lumpur, branch this weekend (April 24 and 25), followed by Glenmarie on May 15 and 16; Bukit Bintang on May 22 and 23; Johor Bahru on May 29 and 30; Penang on June 26 and 27; and Kuantan on July 10 and 11. Auto Bavaria also plans to bring the BMW Experience 2004 to Kuching but has not confirmed the date at this time.
According to Auto Bavaria Managing Director Dato' Tunku Putra Badlishah bin Tunku Annuar, close cooperation with BMW Malaysia Sdn Bhd, the subsidiary of BMW AG which handles marketing and distribution activities, enabled the wide range of cars to be made available for test drives at every one of the eight Auto Bavaria branches nationwide.
"Our main task is to get prospective customers into the driver's seat and behind the wheel. If we can do that, half the battle is won. A BMW is a driver's car and not many can resist the sheer driving pleasure of one," he said.