Ford Concessionaires Customers Get Their Dreams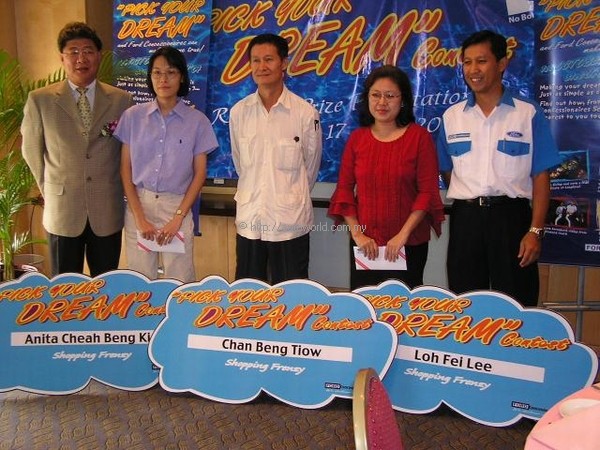 Five Ford customers who chose to have their vehicles serviced by Ford Concessionaires or bought original parts from the company were rewarded for their patronage and loyalty today when they won a prize of their dreams.
The five owners had participated in the 'Pick Your Dream' Contest organised by Ford Concessionaires which saw some 15,000 entries received during the contest period from October 1 2003 to February 29 2004. Eligibility in the contest was through purchasing parts or services from a Ford Concessionaires facility which was RM100 or more.
"It was certainly a well received contest for our loyal customers and within the first month alone, we had close to 10,000 entries," revealed Zaifullizan Abdul Aziz, GM of Ford Concessionaires.
Koo Kuan Siah from Sabah, one of the five winners, chose a RM3,000 downpayment for a Ford vehicle as his 'dream prize' while three female winners – Chan Beng Tiow, Anita Cheah Beng Kim and Norliha bt Pg Duraman – got their 'dream prizes' of RM3,000 shopping vouchers.
Loh Fei Lee, who represented a company, was the fifth contest winner and said he would use the prize money to improve the looks and performance of his car.
Special consolation prizes were also given to 15 participants for their commendable efforts.
Addressing guests at the prize-giving event, Encik Zaifullizan said that Ford Concessionaires would continue to deliver the best possible services and strive to meet customers' ever-increasing expectations.
"Our customers stay with us because we have delivered value and we aim to go further than that in years to come," he added.
Ford Concessionaires has been in the Ford retail business since 1982 and has 16 showrooms and 15 service centres nationwide. Its network is the largest among Ford dealers in Malaysia.