Test-drive report: Perodua Kembara DVVT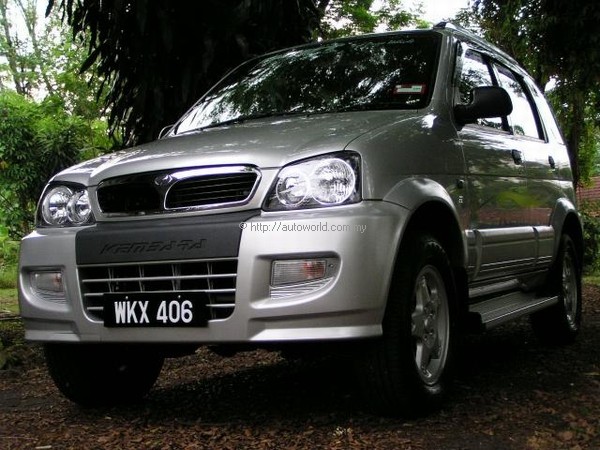 In August 1998, the ill wind of the Asian economic crisis had already stormed in a year earlier. Consumer confidence was gone and where car sales were concerned, each month from the fourth quarter of 1997 had seen declines. The whole market would contract substantially and for the SUV segment, the decline would be a massive 70% that year. The decline of this segment in particular was also due to the fact that the government had increased duties for SUVs and 4WDs in October 1997, causing many popular models to go up in price suddenly.
Against this background, Perodua launched an all-new model, the Kembara mini-SUV. It seemed crazy to launch at a time when monthly sales were one-third of what they had been a year earlier. But the product planning had been done, the investments made and the national carmaker had to go ahead. Other plans for that year were deferred but the Kembara launch had to carry on as planned.
I remember the press launch well, a time when there were grim thoughts behind the smiles. They held it at Tanamera, a sprawling estate near Sungei Buloh belonging to a rally driver. The grounds were ideal to show off the new SUV which had been adapted from the Daihatsu Terios.
I had a brief drive that day and that was my only experience with the Kembara till this weekend. For some strange reason, the person in charge of dealing with the press at that time didn't understand that motoring journalists are loaned cars for testing. It was the case with the Kancil and the Rusa but when I enquired at the event, I got a most amazing response: "You have to write in to us officially and then we will think about your request."
In 1998, I had already been in this line for 20 years and must have been loaned hundreds of cars, sometimes without even having to ask. And here was this kind of response which had me totally stunned that I did not know what to answer back. And so I didn't bother after that since I was already going through my own woes with the economic crisis and didn't have the inclination to 'beg' for a testcar.
I mention this episode because, five years later, at the press preview of the Kembara DVVT, there was an entirely different – also surprising – occurrence related to the same matter of a test-drive vehicle. Unlike other such events where a new model is introduced and then it is a while before test vehicles are loaned out, Perodua had 14 units of the new Kembara DVVT fully registered and ready to hand over right after the event. No more 'writing in' and needless to say, the person who hadn't a clue about such matters is no longer in the company.
Anyway, I was really happy to be able to get behind the wheel of the new Kembara as I have always liked the styling. When I first saw it in 1998, it was not long after I had tested the Mercedes M-Class in Alabama and I was struck by the similarity in the looks. The shape of the rear side glass especially had similarities and the Kembara looked to me like a scaled-down version of the German SUV.


The latest version retains the styling with a bolder front end and a sporty touch with those twin beam headlamp units. I don't go much for the dark section that runs from the bottom of the grille onto the airscoop but I guess it does add to the character in some ways and if nothing else, you'll be able to tell the new from the old!
In fact, at a glance, it will be hard to tell the difference unless you work in Perodua. That's not surprising since all the body panels are unchanged and this new model is not, in industry terms, a 'model change' but a mid-life upgrade. So the focus has been on cosmetic changes to freshen up the looks.
However, unlike most mid-life upgrades, the Kembara has received a substantial engineering change in the form of an all-new engine. This is the new K3-VE engine and a separate article describes it so I won't get into it again here. But it is notable that this is the first 1.3-litre engine in Malaysia (among locally-assembled models) to feature variable valve timing, a mechanism which broadens the effective powerband, improves combustion and reduces toxic emissions.
It's a concept which was first seen in an Alfa Romeo in 1985 but not so well known, and it was only when Honda introduced its VTEC that it became a familiar idea to enthusiasts. And more recently, Toyota has put VVT-i in its latest engines too.
DVVT (which stands for Dynamic Variable Valve Timing) does make a difference to output and raises it to almost that of a 1.5-litre engine like that of the Honda City. More significantly, as I discovered, it enables the engine to provide good low-end torque and still have enough 'breath' at the higher end.
For those who have driven the previous Kembara, this should be good news (that is, if you are going to change to the new one) because it was one of the issues that Perodua wanted to address. While the low end zippiness is also a function of the gearing (I'll get into that later), I found that the top end performance was strong and in my test runs at the famed (but secret) Ladang Tihsllub, I found that Perodua had lied about the maximum speed.
They claimed 151 km/h (6.3 km/h more than before) for the Kembara DVVT EZ which has automatic transmission but my test unit maxed out at 155 km/h with 5260 rpm showing on the tachometer. Mr Ooi (this is the guy who made the claim in the presentation)… you have some explaining to do about giving us misleading claims!
The engine had a nice feel to it (Microchips, my 11-year old sidekick, commented that it sounded like a 'Tamiya engine') and I found that it offered very linear power delivery from the low end to high end. There was some shift shock in the transmission during kickdown but the vehicle would accelerate smoothly past lorries on the highway.
In town use, the Kembara DVVT proved a great little vehicle to use. Though larger than the Kelisa and Kancil, it still had the same maneuverability with good low-end torque to nip ahead of traffic. It was also great for parking although I found that the view backwards was not so good to judge distances and you would have to rely on the reverse sensor (which was too sensitive).
In the previous Kembara with the old engine and gearbox, one of the issues was its high revs which led to noise and high consumption. The high revs were due to a gearing strategy which was intended to provide nippiness at the low end where most people would be driving. Maybe the strategy was okay for Japan where driving speeds are low but in Malaysia, with our North-South Plusway especially, consistently higher speeds are possible and so the issue of noise and high revs surfaced.
To address this, there is a new first gear ratio in the manual gearbox which is 7.2% higher and for the automatic, which is an all-new electronic transmission, all the ratios are different and higher than before (with the exception of the 1:1 in top gear). However, the final drive ratios for both transmissions remain the same but with the higher power output, it means that you can get the same speed for less rpm.
I asked a Perodua owner about the rpm at 110 km/h and was told that it was at about 4000 rpm which is pretty high. Well, the new one is down to a more reasonable 3600 rpm which brings noise down and of course, burns less fuel (14.8% less than the old engine, claims Perodua).
Talking of noise, Perodua also makes claims of significantly lower noise levels, mainly as a result of the new engine and transmission. In fact, the claim is that it is quite close to the Toyota Corolla Altis and quieter than the Proton Waja. This, I would presume, is then a lot quieter than the old Kembara and having tested the other cars, I would say that it is comparable in terms of cabin ambience. At highway speeds, I found that a conversation didn't need shouting and I didn't feel that I had to go slower in that respect.
The handling is what you would expect of a tall and narrow vehicle although I must say that if you can pick a clean line through a corner and are a bit brave in spite of the roll, you can get round at a fairly brisk speed. The full-time 4WD helps and the Sime Alpinas also gave a good account of themselves in such a situation. Of course, I would not recommend everyone to try it as you must understand the dynamics of a tall vehicle and drive accordingly.
The Kembara was never intended as a serious off-roader but with the high ground clearance, you can certainly go further off the tarmac than a Kenari or Kelisa (unless it happens to be the one that is used by the Perodua rally team). I didn't find a situation where the 4WD was really needed since it's been dry.
There's a manually-operated centre differential lock as standard and I have often wondered why they would put this feature in for such a vehicle that is meant more for the 'urban jungle'. Using the diff lock means that there's exactly 50:50 split of torque between front and rear axles and if you use it on a surface with good grip, the wheels on one axle will be dragging since front and rear axles usually spin at different speeds.
The Perodua people tell me that while the ordinary motorist won't need the diff lock, those in the construction industry do. The Kembara is the cheapest 4WD around and so it is ideal for them to use as transport on site work. Having the diff lock is therefore welcome when they get stuck in muddy areas.
Off-road, the ride comfort is not too bad (of course, you do not speed around in such terrain) and on the highway, the vehicle is comfortable enough for long journeys. Thought the wheelbase is not long, there isn't pitching and passengers behind reported no discomfort over bumps.
The seating position is nice and high, something which people. However, I must say the cabin does feel a bit narrow although I would not complain either. There is reasonable storage space with a small console box between the seats but no cupholders, though. And for those who don't make use of the handsfree audiophone which is installed in some versions, there is still space along the centre console to keep your phone.
When I first saw the audiophone in the Kelisa (or was it Kenari?), I thought it was a clever idea and commended Perodua for being the first to offer such a feature. Unfortunately, it was primarily developed with Nokia handphones in mind and those with other brands had to ask for an adapter. I was very curious about its operation so I insisted on getting a demonstration by the Perodua people, just to be convinced it worked. It did but I told them that I thought the flaw was that it was not 'universal' enough.
Well, I still don't have a Nokia but when I connected my Motorola to the cable, I was able to hear the other party on the audio speakers! Maybe you Perodua owners find it no big deal but to me, it was like 'wow… cool!' since I have never used such a feature (although I did try the phone in the Volvo S80 once). The only thing was that my friends remarked that there was echoing in the sound and I felt I had to shout at the microphone stuck on the instrument panel.
What else can I tell you about the new Kembara? I consider it a very practical vehicle indeed and I realized this on a trip to the supermarket yesterday. I bought a bookshelf and a lot of groceries. I had not realized that that the back seats can fold down; so rather than having to put the long bookshelf box on the seat and maybe hitting the ceiling, I found I could let it lie flat and there was still space for Microchips to sit behind.
The fact that the back door is side-hinged is really great because it is easier to open. The floor level (there is a depression under it for hiding things) is high so it is also easy to dump the grocery bags in. I am pretty sure that many Kembara owners do this regularly but were it a top-hinged door (which requires lifting up), they would be less inclined to do so.
Finally, a word about build quality, always of concern to Malaysians when it comes to our national cars. I found nothing that didn't work properly and there were no rattles from anywhere. The gaps were all consistent and in overall terms, I would rate the Kembara DVVT as well put together – not surprising since their QC target is much higher in 2003 than it was in 1998… and they are aiming higher still.
I liked the Kembara DVVT – maybe I might have felt differently about the first one considering the remarks I have heard from owners – and I've always told friends that it's probably the vehicle I would buy when I retire and need something small and affordable, especially since I like SUVs. It is practical and nippy enough, plus with the new DVVT engine, should be reasonably economical to run too.
Claimed performance figures:
Top speed: 151 km/h
0 to 100 km/h : 13.6 secs
40 – 80 km/h: 5.84 secs
Fuel consumption: 11.02 kms/litre
Technical Details of the Kembara DVVT