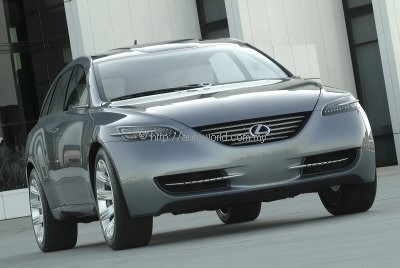 The HPX (High Performance Crossover) is a Lexus said to combine the versatility of a luxury utility vehicle and the performance of a sports sedan in a sleek and stylish package.
A design proposal initiated by Calty Design Research, Inc., Toyota's California-based design centre, the HPX is considered a 'next-generation SUV' that can help lead Lexus into the future of luxury sport utility vehicles.
"Our objective was to look beyond the current SUV formulas and define a vehicle that expresses strong emotional styling with high levels of performance, utility, comfort and luxury. We see the HPX as an intelligent evolution of the SUV," said Calty Vice President Kevin Hunter.


The Lexus GS430 luxury sport sedan platform provided "technical inspiration" for the HPX and the concept proposes the security of all-wheel drive with a dynamic form that yields utility and dramatic styling. The HPX is powered by a 4.3-litre 220 kW/300 bhp V8 engine paired with a 5-speed automatic transmission. It has an athletic chassis with height-adjustable suspension to match high-performance expectations.
The HPX concept also serves as the first expression of a new Lexus design philosophy. This design philosophy is not a strict formula that will be used to calculate new forms and styles for Lexus; rather, it is an idea that will be adapted in many forms to introduce more continuity to the Lexus line-up.
Thus the HPX incorporates key characteristics representative of the new approach that includes innovation, confidence, dynamic posture, intriguing elegance and the infusion of technology.
The overall shape of the HPX seeks to communicate the strength of all-wheel drive capability and the power of the highly capable GS430 underpinnings. The distinctive shoulder form and low-set Lexus brand grille confirm the high performance intentions. LED light modules imbedded in the jeweled head and taillights suggest a rich, high-technology look.
"We strived to convey a dynamic profile that expresses speed and agility," said Hunter. "At the same time, we also wanted the HPX to give clues to its technical sophistication."
Intended to evoke the sophistication, functionality and luxurious comfort of an executive jet, the interior is remarkably clean and uncluttered with a driver-oriented feel. The instrument panel uses advanced technology to allow drivers to customize displays and information to their needs. Read-outs can be scaled, repositioned, and colour-adjusted for individual preference. Small cameras situated on the side and rear of the vehicle feed their images to the front display. A drive-by-wire steering system is employed and a single interface is used to navigate various control menus as well as the GPS navigation system.
Full-volume bucket seats are provided for the front and middle rows, while a third row seat designed for children folds into the rear floor. LCD display screens deploy from the centre console to provide DVD entertainment for the second and third row passengers.
"Recognizing the increasing complexity of vehicle interiors, we really tried to simplify the environment for drivers, while allowing customizing features to fit their special needs and preferences," said Hunter. "The simple, clean environment helps drivers relax and minimize distractions while driving."
HPX DIMENSIONS
Wheelbase: 2960 mm
Length: 4935 mm
Width: 1984 mm
Height: 1646 mm