Home
Motorsports
FORD Rally Team – Silverstone Tarmac Rally Series 2003 – Series One
FORD Rally Team – Silverstone Tarmac Rally Series 2003 – Series One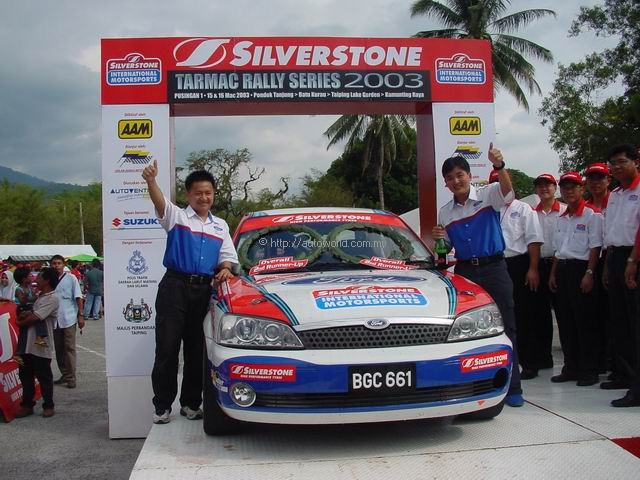 The Ford Lynx Rally car performed flawlessly at the first round of the Silverstone Tarmac Rally Series held in Taiping on 15–16 March 2003 to clinch third overall position and a place on the podium.
The rally began on Saturday 15 March, flagging off from the famous lake gardens of Taiping, a popular weekend retreat for the local populace and tourists. A section of the lake gardens was cordoned off to make a 'spectator' stage as a treat for the public, at the same time giving the event and team sponsors a chance to showcase their cars and colors. Prior to the event, thousands thronged the car park area to drool over the many high performance cars. The spectator stage was run twice on Saturday, and a spot of rain during the second stage did not deter the crowds that lined the entire stage from start to finish.
The Ford Lynx was originally entered by Ian Khong, the official Team Ford Driver, but at the last minute, Ivan Khong, Ian's brother, was asked to take over the wheel as Ian had to attend an urgent business meeting. Ivan, who normally manages the service team for Ian, last rallied in 1996, when he and his brother Ian won the two-wheel drive Group N category in the Malaysian Rally Championship. Ian's regular co-driver, Gary Lee co-drove Ivan. Some adjustments to the seats were required to fit Ivan into his preferred driving position, and the car was ready for the rally.
A total of 15 cars started in this first round of the Silverstone Tarmac Rally Series 2003. The field was about ten cars short of the regular participation, and the high attrition rate resulted in only 11 cars at the finish. The intense competition meant the drivers had to push their cars very hard, and inevitably transmissions, and engines get blown, and some cars took excursions into ditches and the undergrowth.
Sunther S and co-driver Sangat Singh in a Mitsubishi EVO6 took a narrow one second lead over Ivan Khong and Gary Lee in the Ford Lynx, followed by Mustafar Rahadi and Mohd Hizaruddin Hasan in a EVO3 powered Satria Gti, 4 seconds behind. It rained lightly during the second special stage, and the 4-wheel drive advantage allowed Sunther to extend his lead by another 11 seconds over Ivan. Mustafar Rahadi ended the day one second behind Ivan Khong.
Day two was dry as a bone, and the 300 or so horses in the EVO6 began to take effect, allowing Sunther to pace the competition, and cruise home to an easy win. The relatively smooth and sweeping country roads around Kamunting allowed the more powerful cars to put the ir full power down onto the road. Close behind was Mustafar Rahadi in the Satria Gti Turbo, with Ivan Khong in third position in the Ford Lynx.