Nissan Murano Ready For Sale in North America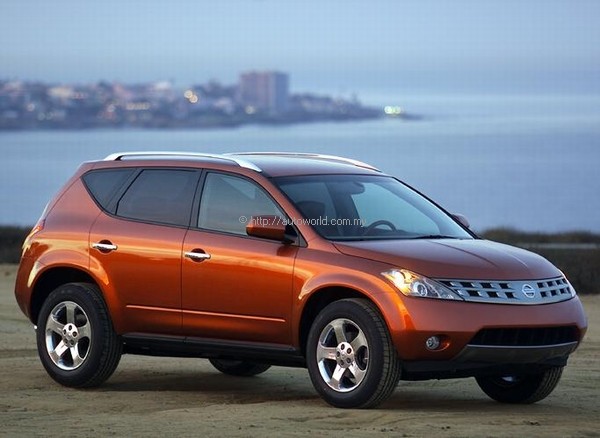 At first glance, the Nissan Murano looks like a concept car and indeed, when it first appeared at the New York autoshow last year, many thought it was still a 'work in progress'. So it came as a surprise when, at the North American International Auto Show in Detroit this month, Nissan unveiled the same car and declared it ready for the showrooms later this year.
As can be seen, the Murano is a SUV but it is classified as a 'cross-over' vehicle, the new term for those vehicles which are not '100% SUV' (as in Nissan Terrano or Patrol) but not 100% MPV either. It is one of the new generation of models that were signed off by Nissan boss Carlos Ghosn as part of the Nissan Revival Plan – now proven to be very successful – and includes the 350Z as well as another two models.
This is Nissan's first entry into the cross-over SUV segment, now the fastest growing segment in US automotive history, and will rival models such as the Honda Pilot and Toyota Highlander, both medium-sized SUVs sold only in North America.
The name is taken from some islands near Venice, Italy, which are noted for elegantly-sculpted glass and this association with expensive Italian glassware allows Nissan to describe the new model as 'sculpture on wheels'. The design is bold with a distinctive front grille that juts forward assertively and incorporates styling elements from various new Nissans including the 350Z. The headlights have an advanced look with vertically stacked xenon bulbs.
The sporty upswept shaped D-pillar blends with the rounded rear cargo door to project a very 3-dimensional feel. To moderate the weight, the rear door is lighter than usual, thanks to the use of advanced composite plastics reinforced by a steel frame for strength. Lightening the top-hinged rear door is also a consumer benefit as it will be easier to lift up. Aerodynamic body enhancements include use of an under engine body cover, front and rear tire deflectors and rear spoiler.
The unique, modern design is made possible, in part, by the use of Nissan's new FF-L (front engine, front-drive) platform, which is conceptually similar to the new Altima sedan. The FF-L platform pushes the wheels out to the corners, allowing a long wheelbase (2824 mm) and wide stance within an overall length of 4765 mm (185 mm longer than the first generation Lexus RX300 and still 30 mm longer than the new Lexus RX330).
In spite of its aggressive appearance, it seems to appeal to a broad range of consumers. "On our media preview drive in California, we were surprised by the excitement it generated. It not only drew hotel valets – and those in California see all the latest and greatest cars so little will thrill them – but also elderly ladies!" said Paul Lienert, a veteran automotive journalist.
At this time, Nissan is fitting only 3.5-litre V6 engine of the award-winning VQ family. This latest version puts out 180.1 kW/245 bhp at 5800 rpm and 333.5 Nm of torque at 4400 rpm.
While the all-aluminium DOHC 24-valve engine is familiar, the transmission is something that has never before been seen in a Nissan sold in North America. It's the Nissan Xtronic CVT (Continuously Variable Transmission) which, unlike conventional stepped gear automatics, operates as essentially 'one gear' through use of a high-strength steel belt and two pulleys. By infinitely varying the working diameters of the two pulleys, the transmission eliminates the 'steps' between gears, resulting in a smoother, more efficient operation by keeping the engine in its optimum power range under a variety of driving and load conditions. This benefit is especially apparent in long uphill drives where the traditional hunting for the proper gear is virtually eliminated. Furthermore, there can be a broad 'spread' of ratios which effectively range from 2.371:1 to 0.439:1.
All-wheel drive (AWD) is the main drivetrain for the Murano but customers in regions which have generally flat terrain may also order the FWD-only version which is about 5.5% cheaper than the US$29,799 (RM112,300) of the lowest-priced AWD version. The AWD system is one of those 'intelligent' types which varies torque to front and rear axles according to surface conditions. It can be 100% to the front wheels on dry surfaces with good grip and vary to a maximum spilt of 50:50 front-rear for stability and traction in slippery conditions.
There is also a diff-lock which can lock the drivetrain to send exactly 50% of torque to each axle in extremely slippery conditions. This, however, is for use only at speeds no more than 30 km/h; if the speed goes above that, there is an automatic over-ride to prevent damage to the axle components.
Other available features include Vehicle Dynamic Control which helps improve vehicle stability by controlling brake pressure and engine torque automatically in understeer, oversteer or slippery road surface conditions, Traction Control System and a tyre pressure monitor system are also present for enhanced driving safety. The ABS brake system has 4-wheel vented disc brakes with Brake Assist and Electronic Brake force Distribution.
The Murano has 4-wheel independent suspension with an advanced multi-link arrangement at the rear, a cradle-type front subframe and stiff stabilizer bars. Large 18-inch alloy wheels are standard and customers can order a sport-tuned suspension with firmer front/rear springs and struts and shock absorbers, unique 6-spoke sporty alloy wheels.
Like any other manufacturer selling such vehicles nowadays, the target audience is expected to have 'active lifestyles'. As such, the interior designers have made sure there's an abundance of storage and cargo capacity with 'first class seating' for two couples and ample, flexible luggage space.
The interior, highly integrated with the exterior styling, reflects the Murano's clean, dynamic overall design. The seats are specially designed to provide ample roominess and comfort. The driver's seat has a wide range of adjustability (including a standard 8-way seat adjuster), along with adjustable throttle and brake pedal locations. The instrument panel and dashboard has aluminium trim for a high-tech appearance.
The split fold-down rear seat includes a reclining feature and a remote flip-down function, so the seats can be released from the rear cargo area. Other interior amenities include standard dual zone climate controls and rear air-conditioning vents located on the pillars.
The combination of long wheelbase, wide stance and compact rear multi-link suspension design helps create a rear cargo area that is claimed to offer exceptional room and utility. Storage systems include a two-tiered lockable centre console storage box with room to hold a notebook computer or purse and door pockets with a flip-out function. Additional storage areas include a tray and two bins under the cargo floor and spaces in the centre console for cell phones, sunglasses, coins, cups and bottles.
Safety is, of course, provided in generous doses with the usual safety features such as dual-stage supplemental front airbags with seat belt sensors, front seat side-impact supplemental air bags and front and even rear seat curtain side-impact supplemental airbags. Also standard are seat belts with pretensioners and load limiters, LATCH child seat anchors and tether system and front seat active head restraints.
Though it is said to be developed, designed and engineered specifically for the North American market, the Murano will certainly be offered in Japan and other markets before long.