Best Fit for Japan in 2002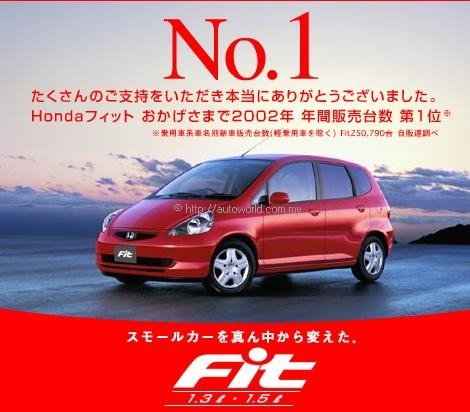 The 33-year reign of the Toyota Corolla as the best-selling model in Japan ended in 2001 as a Honda model, the Fit, became the new title-holder in 2002. Total sales of the Fit, introduced in 2001, more than doubled to 250,790 units in 2002 while the total Corollas sold were 226,222 units, 4.3% lower than in 2001. It is the first Honda to ever become Japan's best-seller.
The fight between the Fit and Corolla was close throughout the year, a tussle which had started from November 2001 when the Fit overtook took the Corolla and then held the best-selling position for two months. By the third quarter of the year, the battle heated up and Toyota became more aggressive, introducing a lower-priced Corolla. This helped it hold on to the top position till October but in November, the Fit again grabbed back first position in spite of overall Toyota sales rising during the fourth quarter.
In third place was the Nissan March (139,332 units) while the new Toyota Ist (103,579) and the Toyota Vitz (100,801 units) were fourth and fifth, respectively.
While the final figures for 2002 sales in Japan are still to be announced, it is expected that the figure will be below 4 million, the first time in three years. A large part of the decline is due to the stagnant commercial vehicle market which has been bad enough to hurt the major commercial vehicle makers such as Nissan Diesel, Hino and Mitsubishi Fuso.
The forecast for 2003 is no better as the Japanese economic situation still seems to move along in low gear, with global uncertainties of the Middle East situation not helping at all.