TYRE ROTATION – THE WHOLE STORY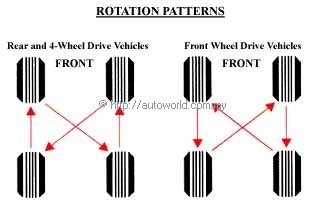 WHEN IS A GOOD TIME TO ROTATE?
Tyres should be rotated at regular intervals of 5,000km. Allowing tyres to remain on the same wheel position for longer than 5,000km, produces unwanted wear pattern which may not be totally eliminated by rotation. This will lead to imbalance and other problems.
If your spare tyre is to be included in the rotation process, you should begin by inserting it at the right rear position. And the tyre which has been replaced will now become the spare.
REGULAR ROTATION – A WISE DECISION
Regular rotation will result in all five tyres wearing out at the same time. But in terms of cost saving, it'll be wiser to replace only a pair at a time if the tyre does not indicate any uneven wearing.
ONE LAST POINT
Always remember, re-balancing is a must after rotation. Also ensure that tyre pressures are adjusted where necessary for the new position.
Note: Articles extracted from Simenet.com/simetyres website.