Headlights That Shine Around the Curve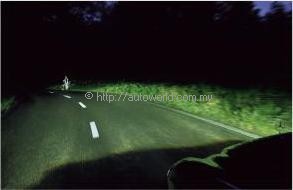 Light shines only in a straight line and can't bend around corners unless it is reflected. That's a physical law which cannot be altered and because of it, motorists have been disadvantaged when taking a corner at night. The headlamps, being in a fixed position to point straight ahead – as most driving is done in a straight line – cannot illuminate the part of the road that curves away.
One solution to have the light shine 'around' the curve has been to allow it to swivel and indeed, Citroen actually used this idea with its short-lived SM model that was produced in the first half of the 1970s. It was a revolutionary concept for the headlamps to turn in sync with the steering wheel movements.
The idea was great but strangely, other manufacturers never adopted it and it is only now that Mercedes-Benz (in conjunction with Hella) has revived the idea and will offer it on some models from 2003.
The Active Cornering Headlamp System, as it is called, is said to improve illumination of the road ahead by as much as 90%. Whereas conventional low-beam headlamps are able to provide illumination for a distance of some 30 metres when entering a curve with a radius of 190 metres, the new headlamp extends this range by another 25 metres.
As the light distribution is matched to the steering angle, the driver is able to see the course of the curve at an early stage when steering in, and can adapt his or her driving style accordingly. The active cornering headlamp system operates in both low and main-beam mode and constantly adjusts itself in response to the speed of the car.
In developing this innovative technology, Mercedes-Benz has advanced it as well from that which was used in the Citroen SM, deliberately choosing an active system rather than a static light which could be operated when cornering, since the former also enhances safety significantly on country roads and in extended curves.
Light technology is another area which sees Mercedes-Benz remaining true to its proven principle of "real-life safety", as it is known in the trade. After all, accident statistics show that the most serious accidents occur during the hours of darkness on country roads and motorways.
Indeed, you are twice as likely to be seriously injured in a road accident during the night as you are in daylight – and that is despite the considerably lower volume of traffic after dark. In Germany, over 2500 people were killed in night-time accidents in the last year alone, accounting for almost a third of all fatalities on the country's roads over that period.
Analysis of Mercedes-Benz accident research data reveals that the majority of car drivers involved in accidents through unlit corners lost control of their vehicles – in many cases because they could not see the course of the curve in the darkness and were thus unable to adjust their speed accordingly.
The new active cornering headlamp system from Mercedes-Benz can therefore play a significant role in pre-venting accidents through corners on unlit country roads and motorways.
Innovative vehicle headlamps which adapt the distribution of light according to the situation in hand are poised to bring about lasting improvements in night-driving safety over the next few years.
The active cornering headlamp system can be seen as a breakthrough development in this new field of adaptive headlamp technology, paving the way for a host of further details over the coming years, such as special light functions for use on motorways, in city traffic and during adverse weather conditions.
Also in the pipeline is a system which uses accurate route information from the vehicle navigation to adjust the adaptive light functions of the headlamps in anticipation of the road ahead.