VW To Take Dakar 2003 Challenge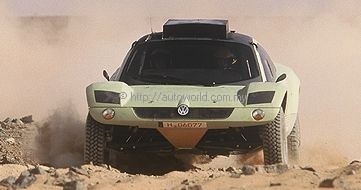 2003 will be the 25th year of the legendary Dakar Rally (which started off as the Paris-Dakar Rally) and on this anniversary event, Volkswagen will make its official works debut in cross-country rallying.
For the event, the German carmaker has developed the Tarek which was shown at the Essen Motorshow in Germany. Buggy in design, the Tarek will compete in the FIA T2 class which is for prototype models.
"The selection of vehicle concept and event mirror our ambitions at this terrain that is new to us", explained Rudolf-Helmut Strozyk, head of Volkswagen Racing. "As a light tubular construction, a buggy provides us with the chance to gain initial experiences at the world's toughest cross-country rally with a rigid and reliable concept. Moreover, it is the first opportunity for the entire crew to get to know the geographical conditions in cross-country rallying. Also, we want to get used to competition conditions as soon as possible. At the Dakar Rally, we will be facing the elite of those adversaries we want to compete with in the next years."
The first tests of the 4600 mm long Tarek (with a 3060 mm wheelbase) were carried out in the south of France and a further test in Morocco last month, providing several thousands of kilometres of experience.. In the process, the model, powered by a 160 kW (218 bhp)/390 Nm 1896 cc 4-cylinder VW TDI engine proved to be reliable and competitive.
Development of chassis and bodywork was carried out together with the Italdesign-Giugiaro-group from Italy. The Volkswagen TDI engine is based on the diesel direct injection unit that has already been tested in endurance circuit races, with further development done in Germany.
The team will have Jutta Kleinschmidt – the first female to win the Dakar event – and her Italian co-driver Fabrizia Pons, who was by the side of top female WRC driver Michele Mouton in the 1980s. The other drivers will be Belgian Stéphane Henrard and Dieter Depping.
VW Racing boss Strozyk has set ambitious goals for the team: "Given the top class and also quantitatively impressive line-up of our opponents, we do not aim at a fixed position in the overall classification. Instead, we want to complete our first outing as 'seamless' as possible. We have a lot to learn, organisationally, technically and competitively. I am certain that, with such a strong team, we can reach the finish at our debut."