About Jutta Kleinschmidt and Fabrizia Pons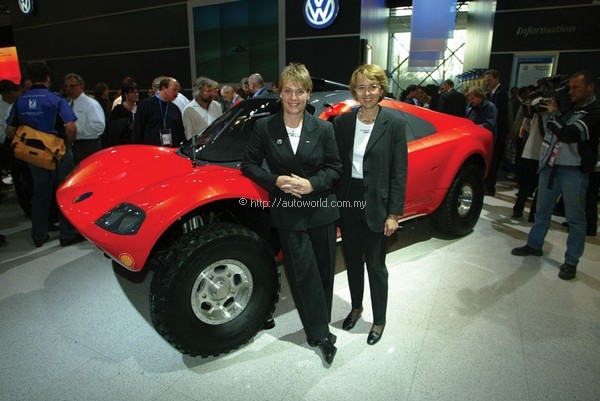 Since 1987, 40-year old Jutta Kleinschmidt, a physicist, has been competing in cross-country rallies all over the world. Her first event was in Egypt that year before which she was a motorcycle racer. Initially, she took on the role of a co-driver but soon enough, she got behind the wheel herself. In 1997, she became the first woman to win a leg of the Dakar Rally and in 2001, driving a Mitsubishi Pajero, she became the first woman to win the Dakar Rally. Her contract with VW Motorsport began in May this year and is for three years. When Kleinschmidt isn't racing across deserts, she also offers courses to share her experience and help develop aspiring drivers.
The biography of co-driver Fabrizia Pons, 47, shows striking similarity to Kleinschmidt's: the Italian started her career in motorsport as a teenager in the 1970s, also on two wheels. Then Pons spent a while as a fairly successful rally driver before becoming a co-driver to Michele Mouton. Together with the French driver, the female duo would finish runner-up in the 1982 WRC with three victories, the biggest success of her career. She later became co-driver to Ari Vatanen, another famous rally driver, when he took part in cross-country rallying in 1995, scoring two overall wins.
Before joining Kleinschmidt, Pons (who describes herself as a 'housewife with two children') was with the Subaru WRC team, partnering Piero Liatti (and one round with Vatanen). Her association with Kleinschmidt and VW began in August this year when she became co-driver for the ADAC German Rally.