New Advanced Mercedes Trucks Launched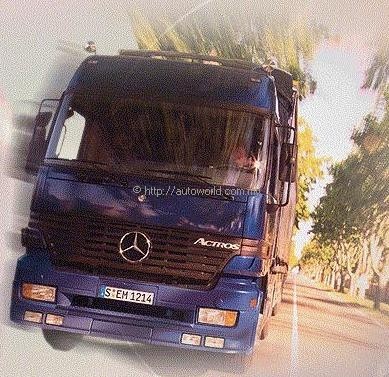 In the 1960s and 1970s, before the 'tide' of Japanese heavy vehicles washed over Malaysia, Mercedes-Benz trucks were the one and only choice of transport operators. They were tough lorries which could last years and years.
However, as with passenger cars, the advent of less expensive alternatives from Japanese makers drew the fleet operators away from the German make although when it came to really serious haulage, Mercedes-Benz was still a popular choice. But what reduced the German maker's share in the market was the fact that its products evolved with greater advancements which were demanded by European customers in particular. Such advancements in engines, safety and performance meant that the trucks with the Star began to cost more and by the 1990s, M-B had only 20% of the heavy vehicle market (although it still has 90% in East Malaysia, mainly in the logging industry) because its products were not competitively priced.
With a stated objective of making the Asian markets a more significant contributor to revenues in this decade, DaimlerChrysler (which encompasses Mercedes-Benz) has given greater attention to offering heavy trucks that are suitable for the region in size, performance and more importantly, price. Now that DaimlerChrysler has affiliations with Hyundai and Mitsubishi Motors/Fuso, there is likely to be an 'Asian truck' being developed although the program has not actually started.
"Such a program is possible with our partners and while we will examine the truck concept with Fuso, we also intend to develop truck engines with Hyundai. However, at this moment, there is no Asian truck program underway yet," Thomas Rothe, Regional Manager – Sales & Marketing (Commercial Vehicles) for DaimlerChrysler Southeast Asia, told AUTOWORLD.COM.MY.
In the meantime, though, C&C Bintang is not waiting for the 'Asian Mercedes truck' to come along and has embarked on a plan to refresh its truck range with a brand new series known as the 'Actros'. The new range is assembled at the company's own assembly plant in Petaling Jaya, Selangor.
"Actually, we had planned to introduce the Actros in 1997, shortly after its launch in Europe in 1996. But the economic downturn hit suddenly and we knew that all our customers suffered major drops in their businesses and had no interest in buying new trucks, so the plan was deferred," revealed Lee Eng Eng, C&C Bintang's GM of Sales & Marketing. "But now that things are looking better and indeed, the commercial vehicle market is picking up, we think it is the right time to assemble the new range."
He said that a sample unit was brought in last year for evaluation and to show potential customers, who helped formulate the right specifications. Assembling the vehicle locally was a must because the 30% import duty on completely built-up units from Germany would have made the Actros too expensive.
Despite the low volume – only about 200 units a year – C&C Bintang is keen to assemble the Actros which was voted Europe's 'Truck of the Year' in 1997. Initially, three variants will be available – the 2640S, 2640LS and 1835LS. With the recent announcement on the increase in axle and vehicle weight limits which will be implemented by year's end, a larger variant in the form of the 2035S will also be added in the near future. There will also be an Actros 3340K logging truck for the East Malaysian market in 2003.
In Europe, drivers of such trucks travel extremely long distances – from Italy to Scandinavia to Spain or England to Turkey – and so comfort, performance, low maintenance costs and reliability are major demands. So is safety, which is also high due to strict regulations.
Thus it is not surprising to see the Actros having a cab that is spacious and almost like a caravan with lots of conveniences and in some variants, even a bunk to sleep in. The driver's seat has its own springing and the entire layout is ergonomically laid out for efficiency and comfort.
Maintenance costs are the thing that fleet operators look at because that affects profits and in this area, Mercedes-Benz has a lot of experience in making fuel-efficient, reliable and powerful engines for trucks. The engines for the Actros have turbochargers, 4-valve technology and are able to meet mandatory Euro-2 emission control standards set by the Malaysian authorities. They are mated to 16-speed direct-drive transmissions designed with extra-low friction characteristics for greater efficiency.
Safety is, of course, a major thing for Mercedes-Benz and the company prides itself in offering the safest vehicles on the road – and this extends to the big trucks as well. Among the numerous safety features in the Actros, the Telligent braking system deserves highlighting because it offers superior stopping power and is standard on all Actros trucks.
The Telligent Braking System consists of a pneumatic brake system with electric signal transmission and disc brakes for all wheels. The system, which can also be linked to a trailer, is claimed to shorten stopping distances by 25% from a speed of 80 km/h. Other elements in the system provide stability control and anti-skid, giving the driver a high degree of control to avoid a hazardous situation.
Airbags are also available as an option for fleet operators who value the lives of their drivers. At this time, they are not being installed as standard because fleet operators may not be prepared to pay the extra RM3,000 – RM5,000 but according to C&C Bintang's Mr Lee, the company plans to make airbags standard later on.
"We think it is an important safety item and will examine our costing to see if it can become a standard item, just as in our passenger cars for many years now," he said.
The new Actros range in prime mover configuration is priced at between RM274,858 – RM302,889 (excluding painting, insurance and body construction), inclusive of roadtax for 12 months. Customers can additionally configure the trucks according to their needs at additional cost. According to Mr Lee, one of the first customers for the Actros has purchased a fleet of 20 units for petroleum tanker usage.
"We foresee a growing demand for our large trucks in years to come as AFTA boosts regional trade. Such trucks have the ability to travel effortlessly from Johor Bahru to Hanoi and even to China, which is what the haulage scenario will be like later in this decade," said Mr Lee.