The Silverstone Tarmac Rally Championship 2002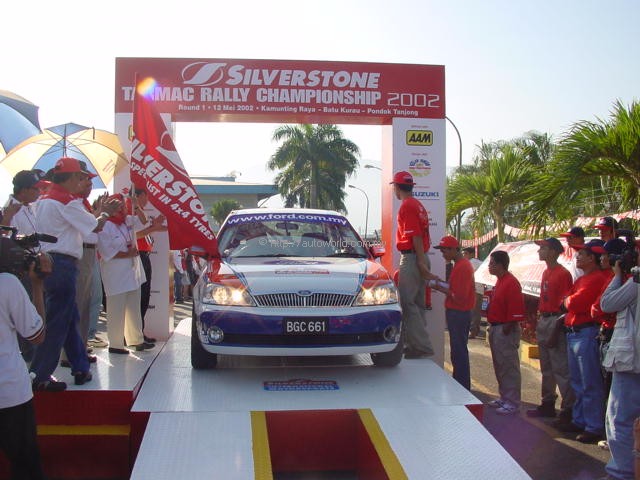 The Silverstone Tarmac Rally Championship kicked off with its first round of the championship yesterday amidst much pomp and fanfare at the Silverstone tyre factory at Kamunting. This is the first of a planned three round championship, although rumour has it that there may be a total five events. Round 2 will be held in Kuantan, while round 3 is planned for Johore. Twenty-eight cars made it to the start, and twenty-two finished the event.
The event was organised by the Advanced Motorsports Club (AMC), and the clerk-of-course was En Ahmad Suhaimi, who also organised the Silverstone Tarmac series of events last year. The very 'open' regulations, which allow almost any modifications to the car, make it less restrictive for drivers of prototypes, and non-homologated cars. It is therefore commonplace to have Wiras and Putras with four-wheel drive and turbos running alongside Honda Civics converted with 2.0 litre CRV blocks, all fighting for top class honours.
The stages were all on tarmac, and the organisers cleverly juggled three special stages, running them forwards and backwards, and also repeating some of them to make a total of seven stages covering about 50 stage kilometres. Spectating is excellent, and the timing of the stages is relaxed enough for spectators to move from one stage to another to watch their favourites in action. Being run entirely on tarmac, and being relatively short compared to conventional dirt road rallies, the Silverstone Tarmac rally championship remains the cheapest form of high speed motorsports event in Malaysia.
Tommy Lee of Team Breakaway drove flawlessly with co-driver Damien Dielenberg in his Putra 4WD turbo to win first overall in a total time of 29 minutes 36 seconds, beating an incredibly fast Mohd Hafizy
In a Satria Gti by 12 seconds. Jerry Ng /Lee Chee Hoong were third overall in a Civic EG. Fourth overall position went to S Sunthar/Gulvinder Singh in a Mitsubishi EVO 6.
Team Ford Lynx Racing made their debut appearance in the rally with a very smart looking Ford Laser Lynx, driven by Ian Khong and Adrian Koh. This bodes well for the sport, as the last time a Ford was seen in a race or rally was about twelve years ago. The arrival of the brand new Ford Lynx caused many a double take, and the whole racing and rally fraternity are waiting to see how the new car would perform. "We are using this rally as a test bed for the Lynx. Our initial testing shows the car has potential, but we still have quite a way to go. Our aim is to try to finish this event, and bring back the test data for further development." Ian drove a steady pace to finish third in the above 2.0 litre class, and jubilantly declared at the end of the rally, "We finished!" Congratulations, Ian, and it looks like Ford rally fans will have more to look forward to for the forthcoming events.
Jimmy Low and Mohd Hilmi were top contenders for overall placing as were Gunaseelan Rajoo and co-driver Jayaselan Rajoo, but misfortune struck for Jimmy after SS4. A mysterious electrical failure stopped the car dead in its tracks, forcing Jimmy to abandon the rally. Traces of blue smoke emitting from the tailpipe of Genaseelan's Putra 4WD in SS2 got worse as the day went by, and by SS5, he was laying his own blue haze along the rally route. By SS6, he was forced to stop with a damaged engine.
More unfortunate was Ramesh and Kesavathy in a Honda Civic Vtec who never made it through SS1. Eric Yeo and Rod Anders in another Civic Vtec also DNF'ed in SS2.
Visit the Autoworld Photo Album for more pictures coverage.

Note: Pictures are copyright of Autoweb Sdn Bhd. Downloading for private use only. For commercial purposes, kindly contact jaime@autoworld.com.my for pictures without watermark.
Photo Album Links:
1. The Silverstone Tarmac Rally Championship 2002 Round 1 (Album 1)
2. The Silverstone Tarmac Rally Championship 2002 Round 1 (Album 2)
3. The Silverstone Tarmac Rally Championship 2002 Round 1 (Album 3)