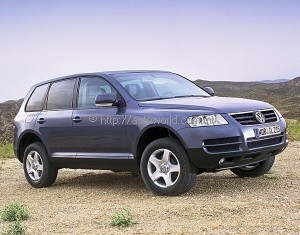 Following in the tyre tracks of the Passat W8 and the Phaeton, Volkswagen will introduce its Touareg SUV, a new model which rides on the same platform developed for the Porsche Cayenne.
The Touareg – the odd name is adapted from that of a nomadic tribe in the Sahara Desert – is said to be notable for its outstanding performance both on and off the road, electronically-controlled permanent 4-wheel drive, double-wishbone suspension, full air suspension with electronically-regulated shock absorbers (available with certain engines), high-torque 6 and 10-cylinder engines – plus long-distance journey comfort.
The VW SUV is 4.75 metres long, 1.93 metres wide, 1.72 metres high with a wheelbase of 2.86 metres. These dimensions qualify it as a true luxury-class off-roader. Short body overhangs, ground clearance of up to 300 mm and a wading depth of 585 mm are further technical requirements for good all-terrain capability. It is claimed to be able to tackle gradients of 100% and keep moving across lateral slope angles as steep as 45 degrees.
The Touareg will initially be offered with a 3.2-litre V6 petrol engine or a 5.0-litre V10 turbodiesel. The V6 engine develops 162 kW (220 bhp) and has a peak torque of 305 Nm, while the V10 TDI is claimed to be the world's most powerful passenger-car diesel. With pump-injector fuel supply and twin turbochargers, it develops 230 kW (313 bhp) and has an impressive 750 Nm of torque available at only 1800 rpm. In the near future, a 5-cylinder TDI and a V8 petrol engine will also be available.
All engines are supplied with a 6-speed gearbox as standard, either manual-shift or automatic according to the engine chosen. Engine power reaches the wheels via a transfer box containing low off-road gears as standard equipment and three lockable differentials. The standard multi-plate clutch acting as the inter-axle differential lock is controlled automatically by the chassis electronics, so that if necessary up to 100% of the traction power can be directed to either axle. A rotary switch in the cockpit activates the differential lock manually if required.
Four-wheel braking-action differential locks (EDS) are a standard feature for precise distribution of the power flow to the road wheels.
The Touareg is not only a thoroughbred off-roader but also an agile, safe form of long-journey transport, declares VW. The use of double wishbones for the front and rear suspension, with an acoustically insulated subframe not only ensures the same low noise levels and high standard of refinement as in a large luxury saloon but also locates the wheels accurately, for the driving
precision of a sporting, conventional passenger car. Air springs and continuous damping control give this off-road model a level of ride comfort far superior to what one might expect, both on the road and across country. By means of a switch in the cockpit, the driver can also select a more sport-oriented or a more comfortable ride.
The 4-door body (less controversial in looks than the Cayenne) is fully load-bearing and galvanized throughout for long-term corrosion resistance. It has exceptional rigidity, not only to tackle the most severe off-road journeys but also to form a basis for the Touareg's high standards of comfort and quality.
The interior is styled in a manner similar to the Phaeton, with many high-quality equipment and trim features that identify it as a true top-class vehicle and promise luxury standards of travel for even the most demanding occupant. They include extremely well-constructed seats, ample steering wheel adjustment and, as an optional extra, separate air conditioning for the rear passengers.
The load area, reached through a large tailgate with a rear window that can be opened separately, can be varied in capacity from 555 to 1,570 litres. The Touareg also has a 3.5-ton trailer load limit and is therefore an ideal towing vehicle.
The Touareg's crash test performance and its safety equipment comply with the highest standards and include front, side and curtain airbags, crash-active head restraints and 3-point seat belts at all seats to ensure that a high level of passive safety is maintained in every area.
Deliveries of the Touareg will begin in Europe during the third quarter of 2002. No prices have been indicated yet.