C&C Bintang Opens New Showroom in KL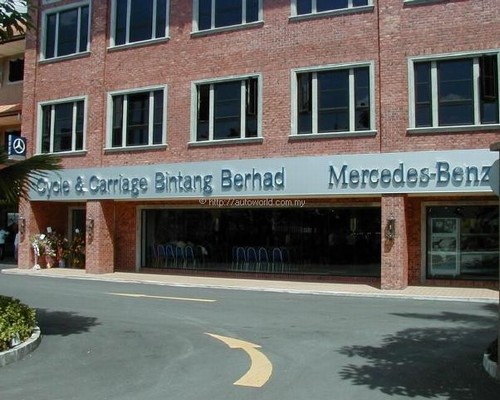 Cycle & Carriage Bintang Bhd today officially opened its 7th Mercedes-Benz showroom in Malaysia in the upper-class Taman U-Thant (formerly Freeman Gardens) area of Kuala Lumpur. The showroom in Regal House (along Jalan Tun Razak), which cost RM1.8 million in renovations and interior decor, is ideally located adjacent to the Royal Selangor Golf Club and also has embassies and diplomats' residences in the vicinity.
Described as a 'state-of-the-art' showroom for Mercedes-Benz cars, the showroom offers premium services to customers and includes a coffee bar and boutique as well as conference and presentation rooms. It also boasts of the latest IT features, including live links to Mercedes-Benz websites on the internet.
"This is our premier showroom and in view of its location and expected clientele, the sales staff have been specially chosen and are university graduates," revealed Lee Eng Eng, General Manager (Sales & Marketing) at C&C Bintang. He said that there are presently seven sales staff but this will be increased in due course as the company recruits suitable candidates.
"We recognise that our customers are getting more knowledgeable so it would only be appropriate for our sales force to be of a very high calibre and we are moving in that direction," he added.
DaimlerChrysler Southeast Asia spokesperson Clara Ang said that the new showroom is undoubtedly one of the best of its kind in the region and is regarded as a benchmark for distributors to refer to. Commending C&C Bintang's investment in upgrading customer services and facilities, DaimlerChrysler Southeast Asia President/CEO Frank Messer said that it was a good demonstration of their Malaysian distributor's commitment to the business and reaffirmed the strong relationship between the German company and its Malaysian partner which goes back many decades.
The new showroom is among a few projects planned by C&C Bintang. During 2002, the company will spend RM25 million to upgrade its head office and showroom in Petaling Jaya, Selangor as well as renovate showrooms in Kuching and Ipoh.
The showroom was officially opened by the Minister of International Trade & Industry, Dato' Seri Rafidah Aziz, who also joined the company's senior management in introducing the new C-Class Sports Coupe. This sporty 2-door version of the latest C-Class generation has prices (excluding insurance) starting at RM320,744.30 and is available with 2.0-litre and 2.3-litre compressor engines and two equipment levels (Evolution and Evolution AMG).
In her address, the MITI minister jokingly said that with such a high price, she fully supports a reduction in import duties so such cars could be affordable to people like her. She said such reductions would become possible in due course when AFTA is applicable for the auto sector in Malaysia. However, she hinted that although import duties may fall, the government could well introduce other forms of duties such as increased excise duties to recover the lost revenues, or introduce measures such as the Certificate of Entitlement (CoE) applied in Singapore.
And in an indirect tribute to the prestige and status of the Mercedes-Benz marque, she noted that whenever she has arrived at functions in her government-issued Proton Perdana V6, her car was usually not allowed in right away as the security guards typically expected ministers to turn up in a Mercedes-Benz.
"It has happened every time and only when I wind down the window and they see me, then only can my Proton be allowed into the premises," she told the guests. "If I had turned up in a Mercedes-Benz, I am sure there will be nothing of that sort." She said that perhaps Proton should work on raising the image of the Perdana.