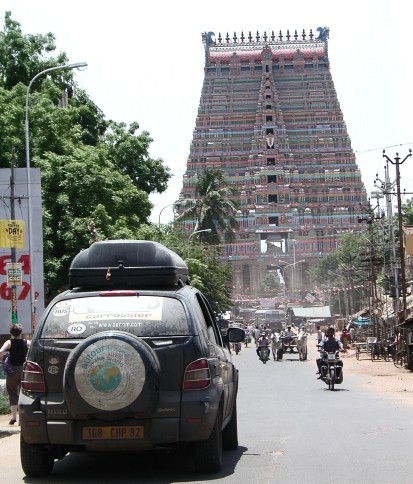 So they drove around India for a longer period before putting the car on a ship from Calcutta to Singapore. "Getting to Singapore was like a 'return to civilization' after so long on the road," said Ponson. "Suddenly we were back in a big western-style city with familiar night life and shops!"
The drive from Singapore to KL along the N-S Highway was obviously a breeze and they will be continuing to Thailand. Although they would like to drive around Indo-China, some difficulties in getting the car in have prevented them so they will ship the car to Jakarta after Thailand. They plan to drive across Java to Bali and then get on a ship again to Perth, Australia.
The Australia section will be mainly a long drive across the southern side of the continent to Sydney or Melbourne and then they will make the cross-Pacific journey to Japan, an important market for Renault, especially with its alliance with Nissan. After Japan, they will make the long trip across the Pacific again to Mexico. Their journey will then head into the southern hemisphere all the way to Tierra de Fuego, the tip of South America. Coming up the eastern side of the continent, they will reach Rio de Janeiro and then cross the Atlantic Ocean to South Africa. Their route through Africa is not fully determined yet but they expect to drive up the eastern side and across North Africa to cross back into Europe at Gibraltar.
North America was left out because of cost reasons as well as time. Besides, Renault has no presence in the USA or Canada so from the main sponsor's point of view, there would be no publicity to be gained.
"The sponsorship money we have been able to collect is enough to cover all our expenses for the whole journey. We have so far spent about RM150,000 but that has not involved much shipping or air travel yet. In all, we will probably spend around RM350,000 by the end of the trip," revealed Ponson.
*Pictures of tour courtesy of the French crew*