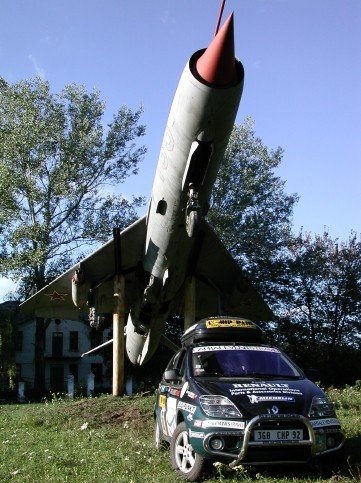 Once everything was ready, they left Paris on June 15th 2000 and headed north to the upper reaches of Norway at the North Cape. From there, they entered Russia and headed southwards through Ukraine. Passing through Ukraine was expensive as they were stopped every 50 kms or so for alleged speeding and had to settle the matter with the police 'on the spot'. At a border crossing in the same region, they were detained for 5 hours for not having proper documentation and only resolved the issue after 'contributing' to the officer's 'personal retirement fund'.
Although they originally wanted to do the trip in 18 months, they revised this to 30 months because they felt they needed to spend more time in some regions to really experience the cultures. And throughout their journey, they have maintained regular contact with magazines and newspapers in France using the internet, sending reports, pictures and even radio broadcasts back.
"We don't have a satellite telephone because when we were about to start the trip, the Iridium network was closed down and the other satellite communications are very expensive," said Granier. "But we can still communicate with Paris using the internet and it is really amazing that there are cybercafes almost anywhere there is habitation. Even little villages in deserts had some place where we could connect our computers. However, because of the sometimes poor connections, we have been sending images by putting them onto a CD and sending by a courier service."
He said that it was surprising that so far, the greatest difficulty they have found in locating an internet shop is in Malaysia! "Maybe it is because many people here have their own connection in their homes or offices so public access is not needed as much as in India or Iran," Granier suggested.
They left Europe and entered Asia after leaving Turkey and crossing into Iran. From there, after a month's break for winter and Christmas, they drove to Pakistan. The journey was through an area known for bandits so they were escorted by the Iranian army and also stayed near army barracks at night. "Most of the time, we drove till about 10 pm before stopping for the day," said Ponson.
Motoring around India and Pakistan, they discovered that the roads were in a really terrible condition (in some places, the maximum speed possible was 30 km/h) and had their first puncture after 50,000 kms. In another part of India, they also damaged two shock absorbers. Granier expects that after the trip is over, the Indian roads will probably be the worst ones they encounter.
It was in Nepal that the car had a serious electrical problem when one of the on-board computerised systems failed. This was not due to unreliability of lack of durability but by the incorrect connection of the battery (reversed polarity).
"The timing was not good because it was the time when the royal family was assassinated and so it took a long time for the replacement part to get to us by air freight," recalled Granier. Of course, they also carry some spares – shocks absorbers, hoses, fuel pumps and lights. They also have some emergency fuel but have so far never had to use it. "Other than the shock absorbers, computerised system and puncture, the RX4 has been very reliable and nothing had broken, failed or fallen off."
"The Renault has a range of around 600 kms on a full tank and we could usually find a station before it went dry. Due to the possibility of unleaded fuel being unavailable in some places, we decided to remove the catalytic converter. Generally, the fuel was okay but in Pakistan, it was very dirty. We had to use a woman's stocking as a filter to remove the dirt in the petrol!" said Ponson. According to him, they have changed brake pads twice so far and the original set of tyres was good but Quasar Carriage changed them here yesterday. Oil changes have been done every 20,000 kms.
After India, the plan was to drive through China but this was not possible for two reasons. One was that the various fees to be paid in the different areas of China meant that they would probably have to pay up to US$20,000. It was also more difficult to get into China from the Indian side as the border controls have tightened up since the US strikes in Afghanistan began.
continued on page 3