Driving Around The World in a Scenic RX4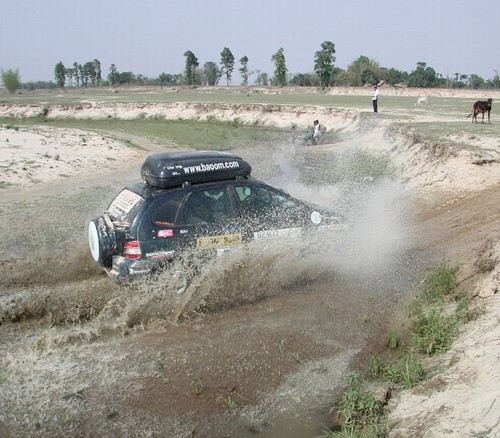 Although air travel now makes it possible to go around the globe without much difficulty (all you need is a lot of money!), there are still people who prefer to do it the old-fashioned way – overland. There's something to travelling by road which allows a closer connection to the land and the cultures in different countries and those who have the time and resources for such tours gain experiences of a lifetime.
That's what three Frenchmen – Laurent Granier, Xavier Ponson and Phillipe Lansac – have been experiencing for the past 15 months. The trio is aiming to drive around the planet in 2½ years, during which time they will pass through some 50 countries and cover 150,000 kms. Unlike the risks and challenges described in the classic book "Around the World in 80 Days", these 21st century adventurers have roads connecting countries, GPS and a reliable means of transport – the Renault Scenic RX4.
"The idea came to us when we were doing our military service at a voluntary project in Colombia," said Granier. "I was working for Renault and Xavier was with another manufacturer. We wanted to set up a project that would enable us to experience a great adventure. A round-the-world drive was chosen after we were inspired by a report which described the journey of other global travellers." The two recruited a third member, Lansac, who was working with Renault in Brazil.
Some people choose to embark on such an adventure by selling off all their possessions and using their own finances but the trio decided to seek sponsors and found a very enthusiastic supporter at Renault's International Operations Department. The department agreed to finance 75% of the expenses as well as supply a Scenic RX4. Some 15 other companies also agreed to participate as sponsors.
Because of Renault's sponsorship, it was decided that the route should pass through regions where there were Renault subsidiaries, dealers or importers, such as Quasar Carriage in Malaysia. Not only could they get servicing but the car could also be shown to customers as a demonstration of its tough capabilities.
To prepare for the drive, they spent two weeks learning how to service and repair the RX4 and also made some additions to the car. Most of the additions were for protecting the bodywork, particularly the underside, against rocks and stones. Heavy-duty shock absorbers were fitted and the air filter was changed to a cyclone-type which is more effective in very dusty conditions. The 2-litre petrol engine remained unmodified as it was deemed good enough for the purpose.
The spacious cabin of the RX4 was fully used and in the boot, special lockers were installed. One of the drawers has an insulated section for storing films while another section is padded to protect cameras and electronic gear (including a CD-burner). For extra cargo capacity, an aerodynamic box is mounted on the roof.
continued on page 2