New Roadtax Disc Next Year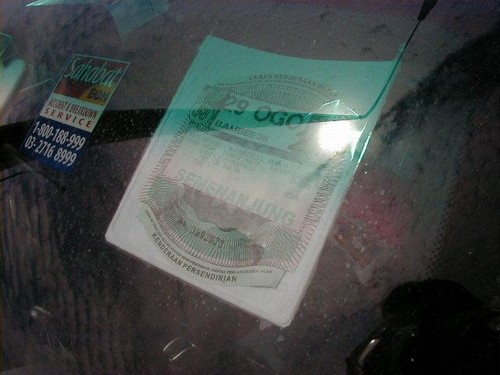 Faded or forged roadtax discs will be a thing of the past when the JPJ introduces a new type of roadtax disc by the end of this year or early next year. In announcing this move, JPJ Director-General Datuk Dr Shahar Sidek said it was to prevent forgeries which have been said to lose as much as RM70 million in revenues annually.
In recent years, police and JPJ officers have been coming across increasing cases of forged roadtax discs as motorists have made use of colour printers or colour photostat machines to duplicate from the originals. Some motorists may do so because they fear the loss of the original but it is still illegal. Others do so because they are driving stolen cars. There has also been a small number of rich people who were found to forge roadtax discs because they did not want to spend the large sums of money on roadtax and insurance for their large-engined luxury cars.
Enforcement officers are therefore taking closer looks at the discs and can detect forgeries because of the paper quality and also the absence of a watermark.
Another problem faced by motorists at times has been the fading of roadtax discs, which costs JPJ 44 sen each, due to poor printing and prolonged exposure to sunshine. This has caused inconvenience to motorists who have to obtain replacements and some have reported having problems with police when they are found to have faded discs.
The new type of roadtax disc is said to be made of plastic and will be attached to the windscreen; if it is removed, the disc will be damaged and therefore made unusable. This measure should also be useful in reducing the theft of roadtax discs which seems to be occurring lately. Robbers steal them to use on other stolen cars which will then have false numberplates. Other security features such as a hologram will also be included on the new discs.
The JPJ chief said that if there is a need to replace the roadtax disc, the procedure would be the same as the present one when a motorist reports it is lost. He added that there would be no extra charge for the new discs.
Meanwhile. AUTOWORLD.COM.MY has spotted a new classification of registration codes which is very unusual. A Proton Waja with the registration plate 'BAMbee 36′ was seen parked outside the EON head office. To date, it is known that there are 'custom' registration codes such as 'PROTON', 'PERODUA', 'SUKOM' and 'LOTUS' but 'BAMbee' is certainly something new. Something to do with the badminton association perhaps?