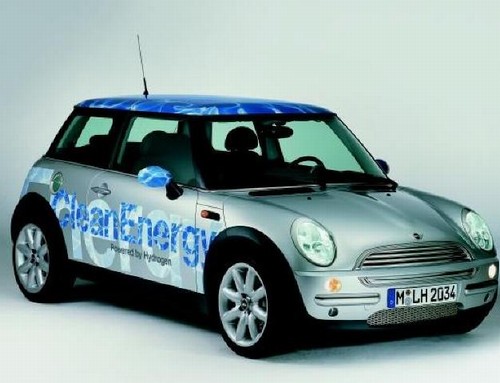 Even before the first customers in Malaysia get their new Minis (deliveries only start next year), BMW has come up with a new concept for the model which uses a hydrogen drive.
The concept, unveiled at the recent Frankfurt Motor Show aims to demonstrate that the combustion engine without carbon dioxide (CO2) emissions can offer an appealing combination of low costs, good packaging, and driving pleasure. And indeed, this combination is absolutely indispensable if hydrogen is to be widely accepted as the fuel of the future.
The technical feature highlighted by the concept car – based on the Mini Cooper – demonstrates the progress BMW has made in the meantime in developing a thoroughbred hydrogen drive. The single-mode 4-cylinder power unit based on a standard Mini 1.6-litre Pentagon engine jointly developed by BMW and Chrysler, for example, might well one day feature cryogenic fuel/air mixture formation. This is the injection of ultra-cold hydrogen in liquified form into the intake ducts.
Cryogenic fuel/air mixture formation, in turn, cools down the mixture drawn into the engine, increases the cylinder charge and, as a result, boosts both engine output and the standard of efficiency. In its power and consumption, the hydrogen engine.
in this future Mini thus has the potential to match the high standard of a modern petrol engine in every respect.
The tank and fuel supply system offer the same high standard of technology: this prototype is the first car of its kind with a specially contoured hydrogen tank beneath the rear seats, allowing optimum use of the space available. So far, only cylindrical tanks have been used for liquid hydrogen in the car, since only tanks of this kind were able to meet the high standard of insulation and safety required.
Now, with the new tank, the supply of hydrogen in the modified Mini Cooper does not take up any more space for the same capacity as a conventional petrol fuel tank. In particular, it does not take away the space available in the passenger and luggage compartments – an impressive achievement.
For the time being, the Mini Cooper Hydrogen is a mere concept and BMW has no definite plans to offer it commercially. Much will depend on the acceptance of hydrogen as a fuel but by putting the hydrogen drive in a compact car, BMW has shown that its CleanEnergy strategy offers 'classless' technology for the future.