Lynx LS Appears in Ford Showrooms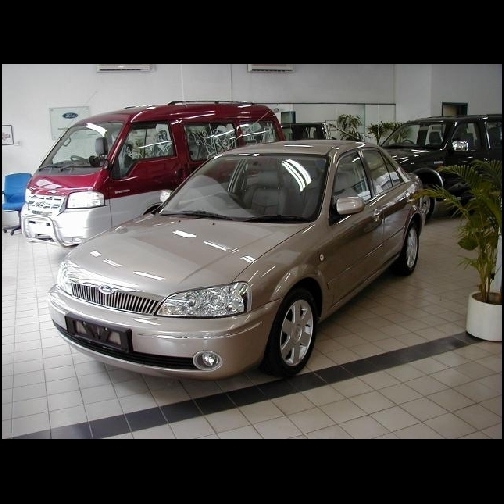 It is clear that Ford Malaysia will very shortly be launching the Ford Lynx LS, the sedan version of the latest Lynx generation. On a visit to the PJ Industrial Park along Jalan Kemajuan, Petaling Jaya, Selangor, our AW staff were surprised to see a Ford Lynx LS sitting in the Ford Concessionaires showroom. Sensing a 'scoop' of sorts, they went in and asked about it and were told that the model was delivered just a few days ago and they are authorised to start selling it. No catalogue was available but the salesman was able to give a confirmed price of RM101,017.73 (with insurance) for a non-metallic version and RM101,951.23 for a metallic finish. Only automatic transmission (electronic 4-speed) is available.
The Lynx LS differs from the latest Lynx sedan sold in Singapore and other countries and has been specially developed for Malaysia, according to Ford Malaysia MD Richard Canny who introduced the prototype at last year's KL International Motorshow. It is a more luxurious upmarket version with distinctive styling and upgraded interior trim.
Not many details were available from the salesman but it is known that the engine is the same as the Lynx LS, ie a 1.6-litre DOHC EFI 4-cylinder 16-valve unit. The salesman remarked that when they drove it, the engine felt exceptionally responsive.
Ford Malaysia staff could not be contacted to get further details of the new product but it is very likely that it will be officially launched very soon since it is in the showrooms. Also in most Ford showrooms is the Ford Escape SUV which is being shown 4 months prior to official launch (production only starts in July) and test-drives are also available. The expected price of the new 2-litre 4WD SUV is around RM140,000 (not sure if that figure includes insurance). According to the salesman, the units in the showroom were specially imported so customers can have a feel of the vehicle earlier but the locally-assembled units will have identical equipment, including dual front airbags and ABS with Electronic Brake force Distribution (EBD).