Art for Life Exhibition at Volvo Showoom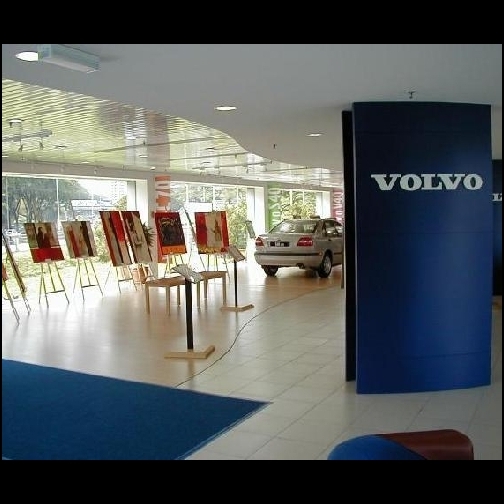 In your father's day, the car showroom was essentially a place where a new car was viewed and an order made. The environment was usually basic and other than posters of products on the walls, there was little else that gave a customer reason to stay longer than necessary. Back then, most showrooms were not even air-conditioned…
Since the 1990s, things have changed and not only are the showrooms air-conditioned but you can even get a decent beverage in some of them. The companies have spent lots to add a touch of class to their showrooms and visitors are often surprised by the ambience. With some showrooms, the upmarket image has been carried even further by having other facilities. At the Volvo showroom near MegaMall in Kuala Lumpur, for example, there is a lounge which looks like it came out of an IKEA catalogue, complete with a waitress to bring you a drink (freshly brewed coffee, if you like that!). The idea is that customers can discuss their purchase in a more informal atmosphere rather than a hard and impersonal table. There's also a theatrette in this prominent showroom which is one of the few that has remained in the same place for three decades.
An Art Gallery was also included as part of the new showroom concept and its inaugural exhibition was recently opened. The exhibition, titled 'Art for Life', showcases 32 vibrant paintings from four versatile artists expressing their personal life impressions on canvas in different techniques and applications.
"Celebrating life is an integral part of the Volvo philosophy and Art – in many instances -celebrates life," said Pang Cheong Yan, Marketing Director for Volvo Car Malaysia Sdn Bhd (VCM). "It is a recurring theme that is captured and interpreted by artists in different mediums and applications. Art itself can also be a source of inspiration. It stimulates the senses, encourages dialogue and reflection and nurtures creativity. In essence, it enriches our lives, giving us a greater appreciation of ourselves and the world around us."
"Several paintings in the 'Art for Life' exhibition are an excellent representation of the 'Volvo. For life' philosophy, particularly the ones with nature as a central theme. Nature has its own intrinsic balance that allows life to grow and flourish. It reminds us of the importance of preserving and caring for our environment. And to have respect for all living beings. These central themes form the basic value systems that are the foundation of Volvo's philosophy. And we believe that by embracing these values, they allow us to enjoy a quality life that is rich and rewarding," explained Mr Pang.
"The Art Gallery is also an excellent customer relationship building platform for us," added Jamal Surani, Managing Director of Federal Auto Cars Sdn Bhd (FAC), the authorised dealer operating Volvo showrooms in Malaysia. "We will be organizing a number of art workshops and lectures at the gallery as many of our customers have an interest in the arts. Conducting such activities is our way of showing our customers that we value them and will provide us with an opportunity to interact with them on a regular basis."
FAC worked closely with VCM to develop and implement the concept of the Art Gallery. "We plan to organize regular exhibitions on a broad range of art mediums throughout the year. It will ensure that the gallery becomes a living and active part of the showroom experience," promised Encik Jamal.
The 'Art for Life' exhibition will be on until May 27th 2001 and admission is free. The showroom, situated near MidValley City/MegaMall along Jalan Klang, Kuala Lumpur, is open from Monday to Friday between 9.00 am ~ 6.30 pm, and Saturday and Sunday between 10.00 am ~ 5.30 pm. For more information, call 03-22746602.