MAA: No Slowdown in Vehicle Sales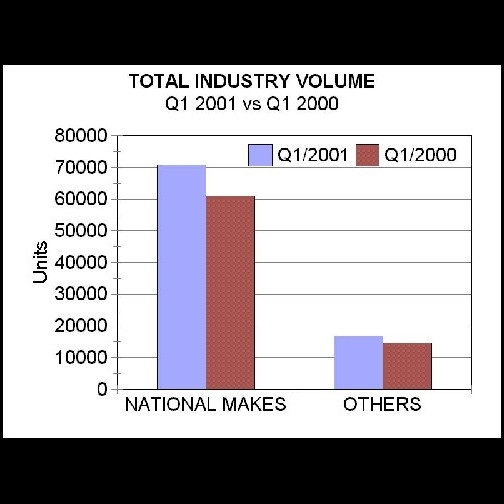 Despite growing concerns of an economic downturn resulting from the US economic situation, the Malaysian car industry seems to be unaffected so far. This is the picture one would get from looking at the first quarter (Q1) new vehicle registration figures released by the Malaysian Automotive Association (MAA), following its annual general meeting today.
According to statistics compiled by the MAA, there was a 16% increase in sales compared to the same period in Q1 2000. National makes (Proton, Perodua, Inokom, HICOM-MTB) recorded a total volume of 70,898 units, 16% more than in 2000. Non-national makes also saw an increase of 14% to 16,726 units, which was 2,071 units more than a year ago.
"The increases are within what we forecast," said MAA President, Aishah Ahmad, adding that the association's forecast had been done as the recessionary trend in the US was becoming very clear.
In the passenger car segment, the non-national makes did not achieve substantial increase – only 5% over 2000 – and this can be attributed to the wider gap with the national makes ever since the ringgit depreciated during the economic recession. Though detailed numbers were not provided, it is known that in the popular 1.6-litre and even 2.0 litre segments, the volumes for non-national makes have shrunken significantly.
"The 1.6-litre segment, in particular, is so small for non-national makes these days that it really makes no business sense to assemble locally," Richard Canny, Managing Director of Ford Malaysia, told AUTOWORLD.COM.MY some months ago when he was introducing the new Ford Lynx S. He repeated the same thing recently when he discussed the 2-litre segment, which he said had also declined by half [for non-national makes] since 1997. Last year, non-national makes accounted for only 3,879 units in the 2-litre segment, a 25% share whereas in 1997, they managed to take up to 54%.
Of the national makes, Proton Edar (formerly USPD), registered the most significant increase of 32%; in Q1 2001, it sold 15,764 units compared to 11,898 units in 2000. Undoubtedly, this was due to the Proton Waja which also boosted sales for EON by 12% to 31,378 units. Perodua recorded a 19% increase to 19,763 units.
For commercial vehicles, all the national makes – HICOM-MTB, Perodua and Inokom – showed declines ranging from 67% for Inokom to 4% for HICOM-MTB. While Inokom's decline was not anything really substantial because it was from 12 units in 200 to 4 units in 2001, the decline in sales of the Perodua Rusa – from 498 units to 329 units – was a surprise. It is possible that the age of this van is catching up and consumers are finding newer alternatives.
Non-national makes showed a small increase of 7% and sold about 6 times the number of registered by national makes – 6,483 units versus 1,009 units. The small 3% increase in commercial vehicle sales in total was regarded as seasonal and not necessarily a reflection of a slowdown in the segment.
"It is normal during the Chinese New Year period that the body-building companies are on holiday so not many vehicles are done and registered," explained Cik Aishah.
In the 4WD segment, the sole national representative is the Perodua Kembara which saw an 8% decline in sales to 2,984 units. Non-national makes had a substantial increase of 47% to 4,291 units and overall, this segment also recorded the highest increase of 18% albeit just 1% more than for the passenger car segment.
The Q1 production figures generally mirrored the sales figures with a 19% increase in output for national makes and a 22% increase for non-national makes for an overall 20% increase.
The figures therefore suggest that there is no recession taking place and in the view of one MAA vice-president, it is still 'perception' rather than reality. "In the market today, there is a lot of talk of a slowdown in Malaysia but in reality, it is not happening and a lot has to simply to do with consumer confidence," said Tan Hoe Pin, MAA Vice-President (policy & regulations).
Mr Tan noted that the government's efforts to keep consumer confidence up is important to the auto industry and believes that things are still okay. He added that an important factor helping the industry is the support of the finance companies which enables people to buy cars.
"Unlike 1998, the finance companies are offering good schemes with long repayment periods and low interest rates, so people can afford to buy vehicles. That's very important to our industry," he said. "Furthermore, we still have relatively low unemployment and that is another helpful factor."
Cik Aishah revealed that MAA member companies had reported that they have long waiting lists so the numbers in the short term will still show positive growth. She is optimistic that the MAA's forecast will remain valid in the coming months.
Prior to the press conference, the MAA Annual General Meeting saw Cik Aishah elected as the association's president for a tenth term. K.C. Khoo of Swedish Motor Assemblies was elected vice-president (manufacturing) while Dato' Michael H.P. Lim was elected vice-president (trade), and Tan Hoe Pin was elected vice-president (policy & regulations). Belinda Lim of Daihatsu (M) Sdn Bhd was elected honorary secretary/treasurer. Six members of the management committee were also elected and they were representatives from C&C Bintang Bhd, Hino Motors (M), ACM, Kah Motor, MTB and Tan Chong Industrial Equipment.
At the same event, the MAA also presented a donation of RM50,000 to five selected charities. The amount was part of the proceeds collected during the KL International Motorshow last year.
"This presentation fulfills our Charity Pledge which we made at last year's motorshow and underscores our association's commitment and contribution to society and towards building a more caring community" said Cik Aishah.
She added that due to the enthusiasm of the public and the industry, the next motorshow will not be so far away and has been brought forward to the middle of 2003. Incidentally, last year's 10-day event was recognised in the Malaysian Book of Records as the largest international motorshow held in the country.