Mini-MPV from M-B to Be Launched in Frankfurt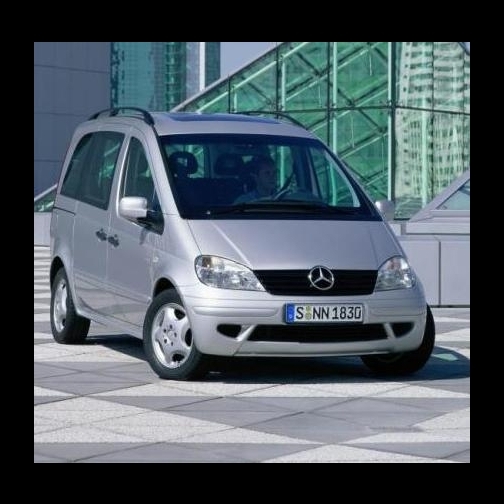 Although the 71st Geneva Auto Salon is on this week, Mercedes-Benz is already drawing attention to another major motorshow later in the year where it plans to launch its new mini-MPV, the Vaneo. The company has announced that it will use the Frankfurt Motorshow in September as the venue for the world debut of its 'premium-class product in the high-growth mini-MPV segment'.
The existence of the Vaneo has been known for some time and in fact, Mercedes-Benz even distributed a couple of pictures of the prototype being tested in winter conditions last year (AUTOWORLD.COM.MY had the story in May). The information available at this time is still brief but clearer pictures are now available.
Though its size is a compact 4.2 metres long, the Vaneo is said to be 'impressively spacious'. It offers 'intelligent adaptability' which is expected to win over target groups whose requirements of a modern mini-MPV are demanding and varied in terms of family, sport and leisure applications and meeting changing day-to-day transport needs.
Extensive market research and car clinics carried out by DaimlerChrysler revealed that future mini-MPV buyers are looking above all for a multi-functional vehicle that falls outside traditional categories. Based on this, the Vaneo has strong interior qualities packaged with a dynamic and appealing exterior. The interior space can accommodate up to five adults and two children or configured to provide load space of up to 3,000 litres – claimed to be the best in its segment.
There are two wide-opening sliding doors and a high tailgate which provide unimpeded access to the large interior, while the optionally available, pull-out load compartment floor makes loading even easier. Rounding off the Vaneo concept is an extensive range of standard-specification safety features which draw amongst other things on the advantages of the proven sandwich-design body first seen in the A-Class.
Like the sedans, the Vaneo will come in three design and equipment lines – "Trend", "Family", "Ambiente" – and customers will be able to choose from a selection of environment-friendly petrol and diesel engines.
The Vaneo will be built in the Ludwigsfelde factory, south of Berlin, and based on current projections, DaimlerChrysler plans to sell approximately 50,000 units annually. This is about half the total number of mini-MPVs sold in Germany in 1999 and by 2003, demand is expected to rise to 180,000 units a year. The European mini-MPV market is expected to grow by approximately 46% between 1999 and 2003, from 486,000 units to 710,000 units.
It is not known if the Vaneo will also be sold in the USA and whether it will have a Chrysler badge. Given that sharing of platforms is a major objective of DaimlerChrysler, it would seem likely that the Vaneo platform could become the basis for a minivan in the Chrysler range too. Additionally, with Mitsubishi in the family, the same platform could also be used for a Mitsubishi product in future.